This Mexican Green Spaghetti brings the flavors of Mexico to your table with a delicious pasta tossed in a rich and creamy poblano sauce. Eat as a main dish or on the side.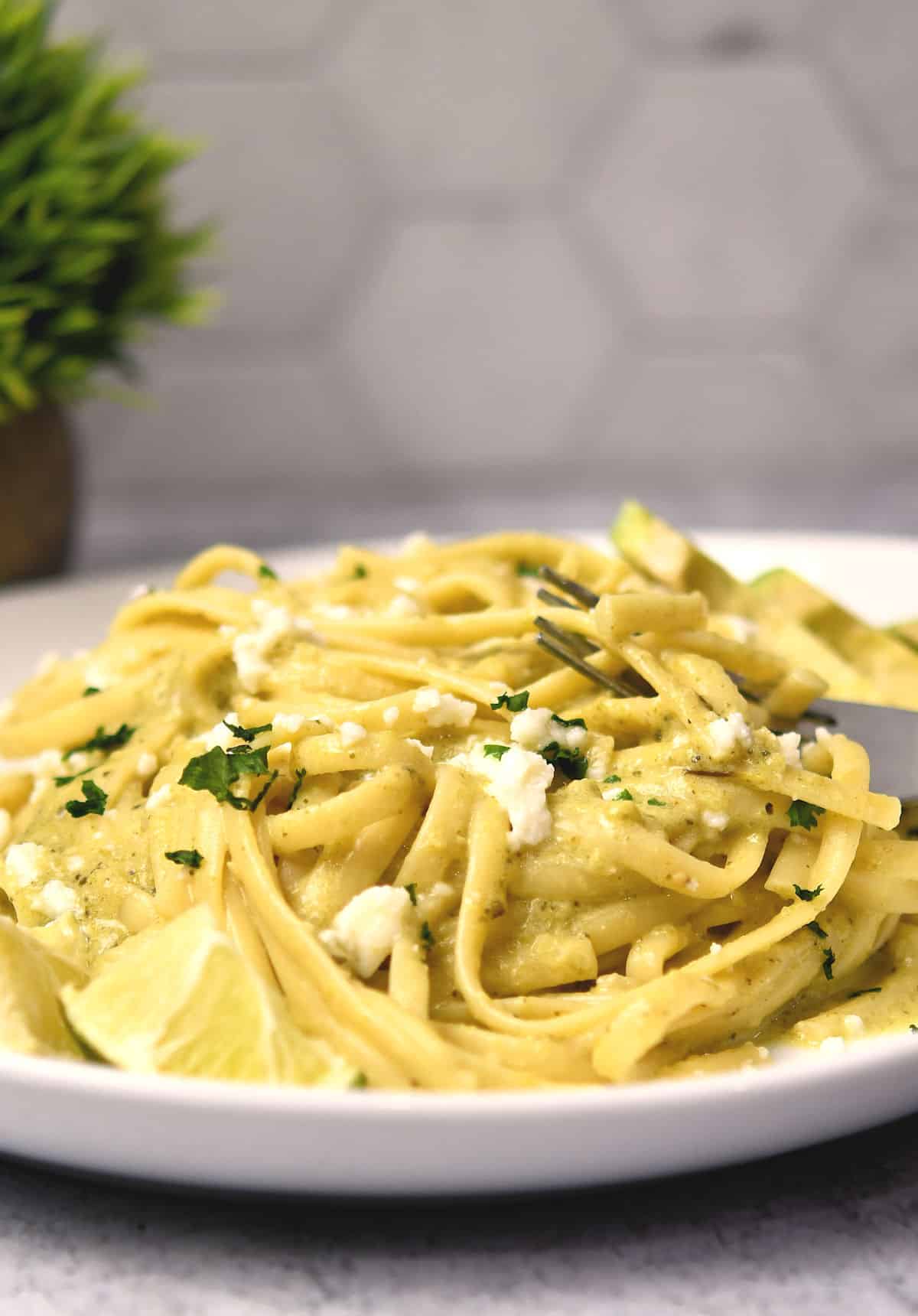 Ingredients
Here's your chance to use flavorful roasted poblano chile peppers and tomatillos in a creamy pasta recipe. If you have some fresh peppers in the garden, you can easily swap out your own instead.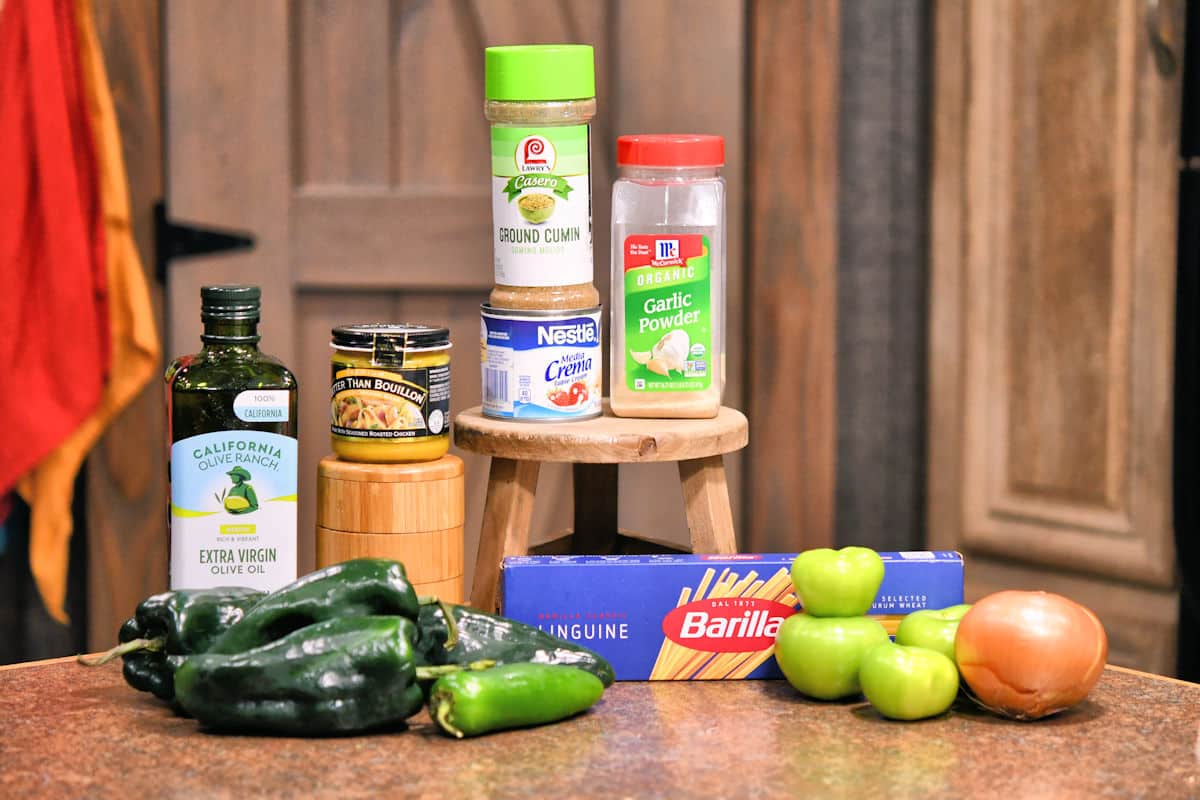 Is Mexican Green Spaghetti Spicy?
With only one jalapeño pepper, you won't have a lot of spicy heat, but there is definitely some spice. You may need to swap out peppers, if you want it to be less spicy. All Anaheim peppers would be one way to reduce it.
Always remember that peppers aren't simply manufactured. They can have different results from pepper to pepper. You may eat a jalapeno with no heat at all or you may need to drink a cup of milk after you eat another. You just never know. It's always easy to add more spicy heat, but you can't take it away.
You can also increase the heat, if you prefer. Have a look at my Scoville Heat Scale to rate your chile peppers.
Do You Need To Peel Poblano Peppers?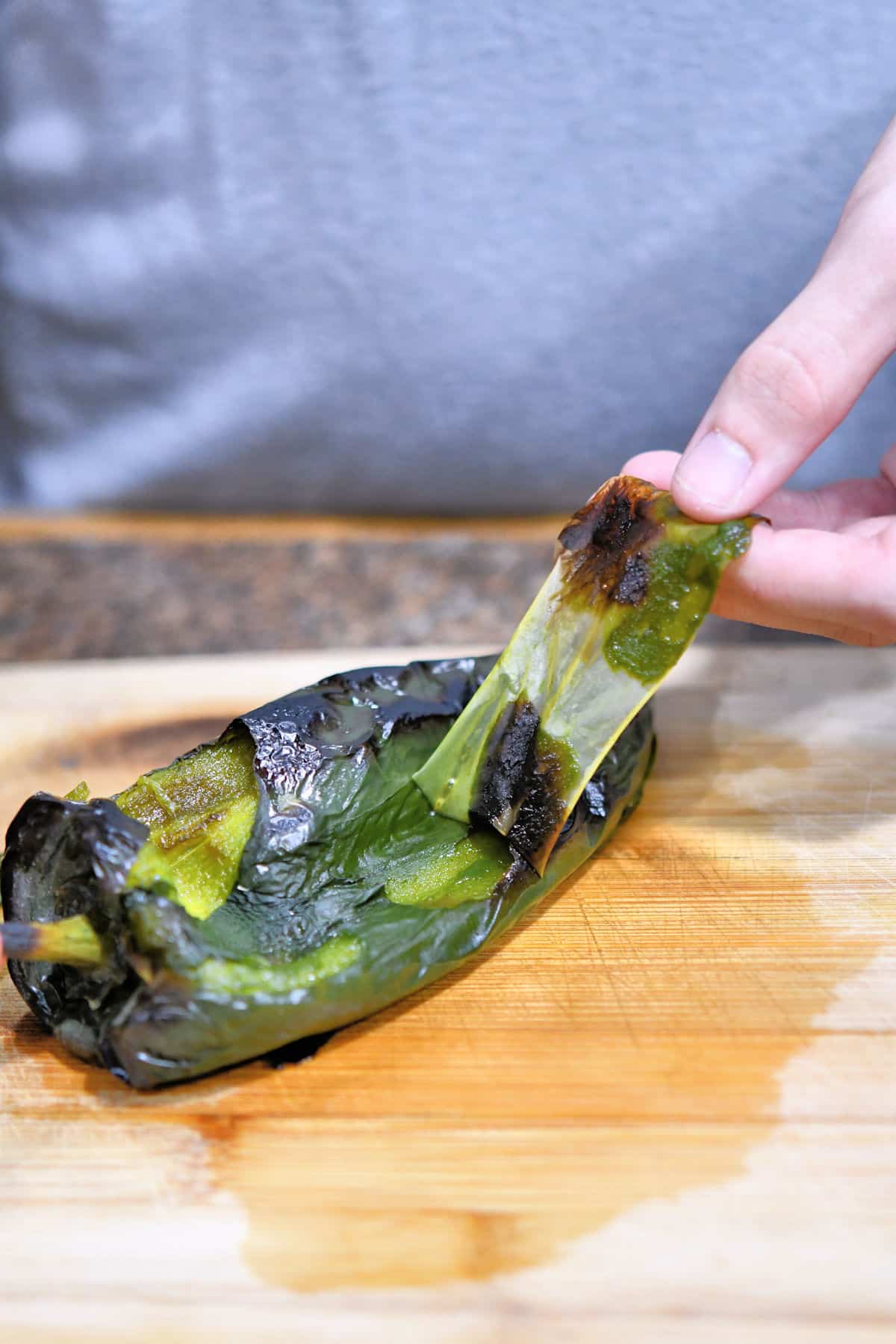 Contrary to a lot of information I've read, I don't necessarily think that you absolutely must char and peel poblano peppers. For this recipe, I wanted roasted peppers because of the slightly smoky flavor, so I charred and peeled them.
If you decide not to char them, with a good blender, peeling isn't always a necessity. You can chop the poblanos and cook them with the rest of the vegetables.
My preference is to broil poblano peppers in the oven, but I've also charred them on the grill.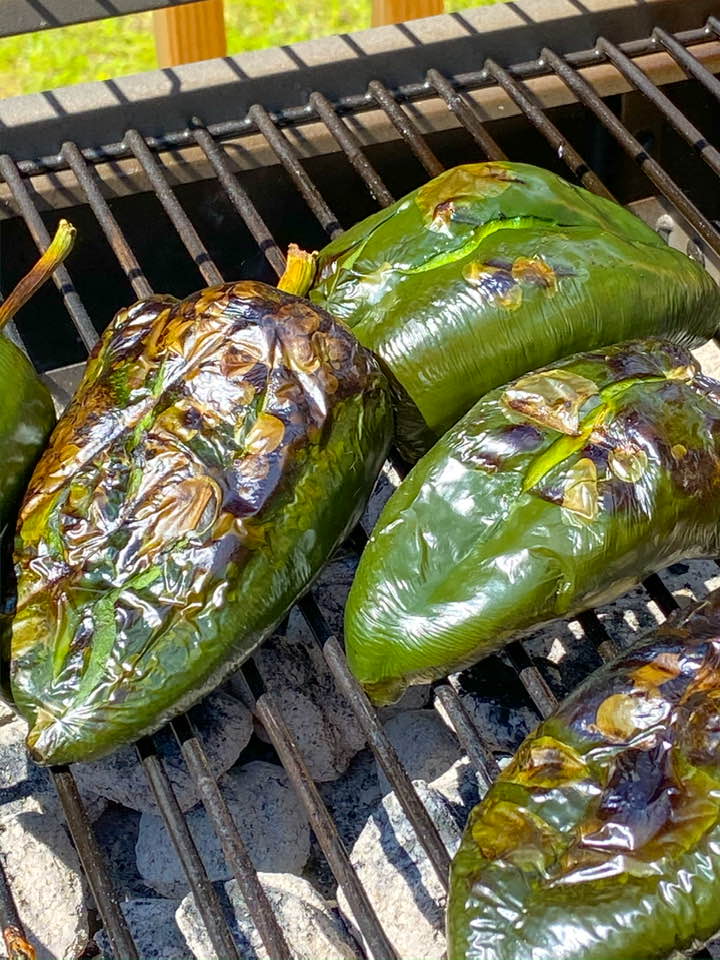 Roasting Poblanos In The Oven
I've roasted poblanos in the oven many times. It seems to work the best for me if I use a really high heat (broil) to cook them quickly.
You have a better chance at getting more of the pepper intact when you cook them quickly, at high heat.
Read more about roasting poblano peppers at Rachel Cooks.
Making The Sauce
Next, for the remaining vegetables, saute in a little bit of olive oil.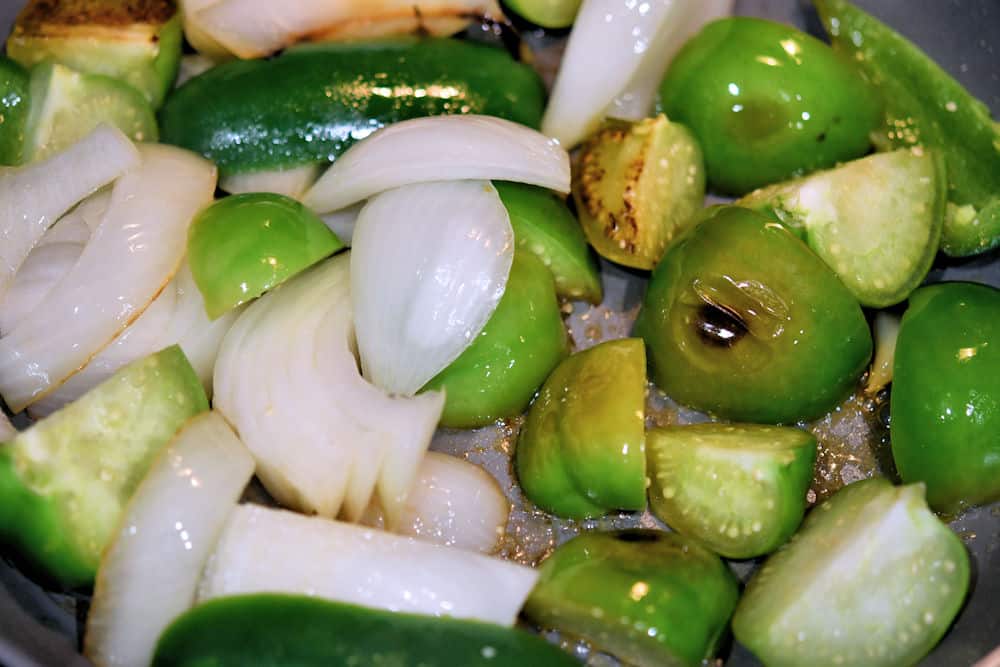 Once your vegetables are soft enough, add them to the blender with the roasted poblano peppers.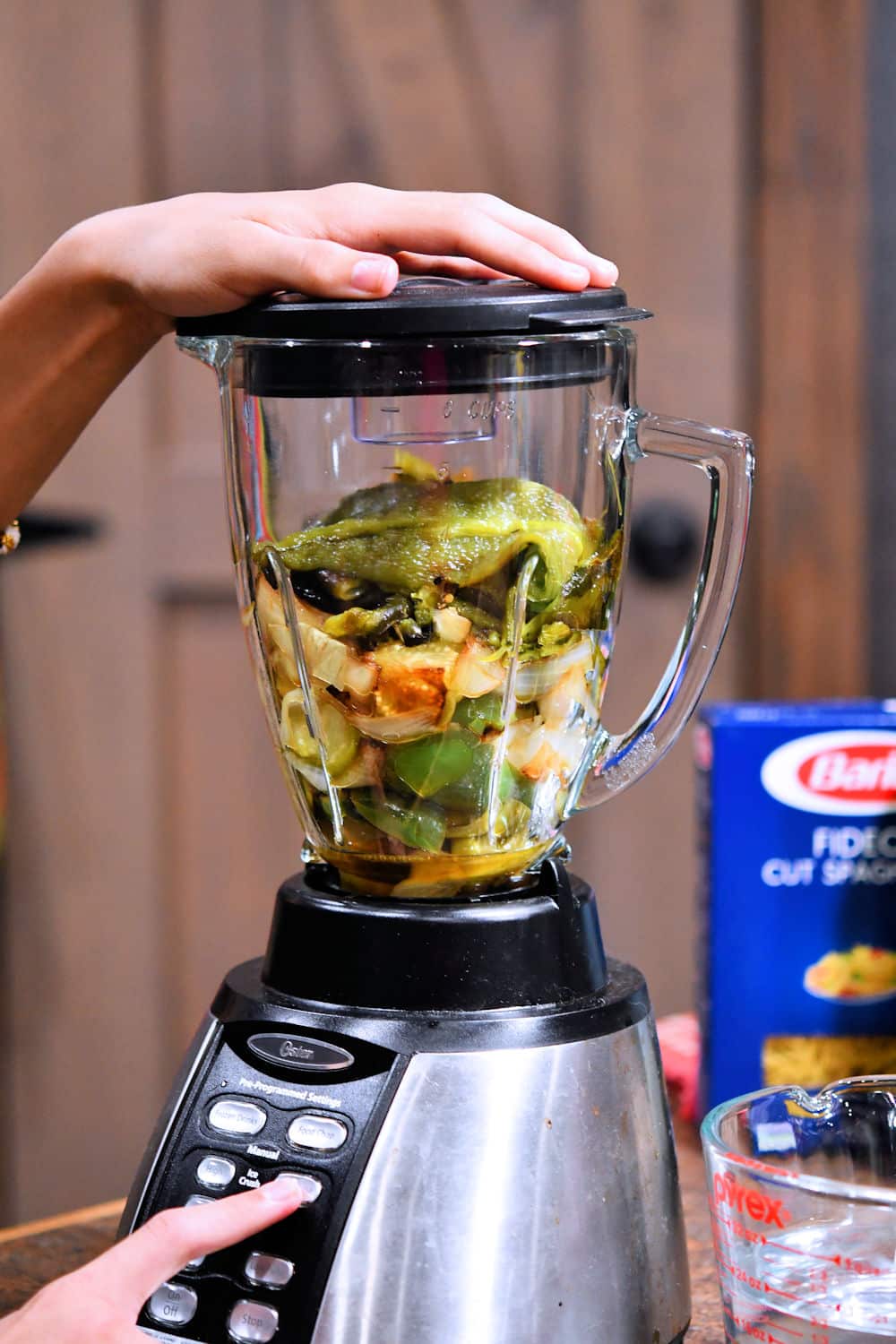 Once blended, you can pour it back in your skillet. Bring it to a boil and let it simmer to thicken it slightly.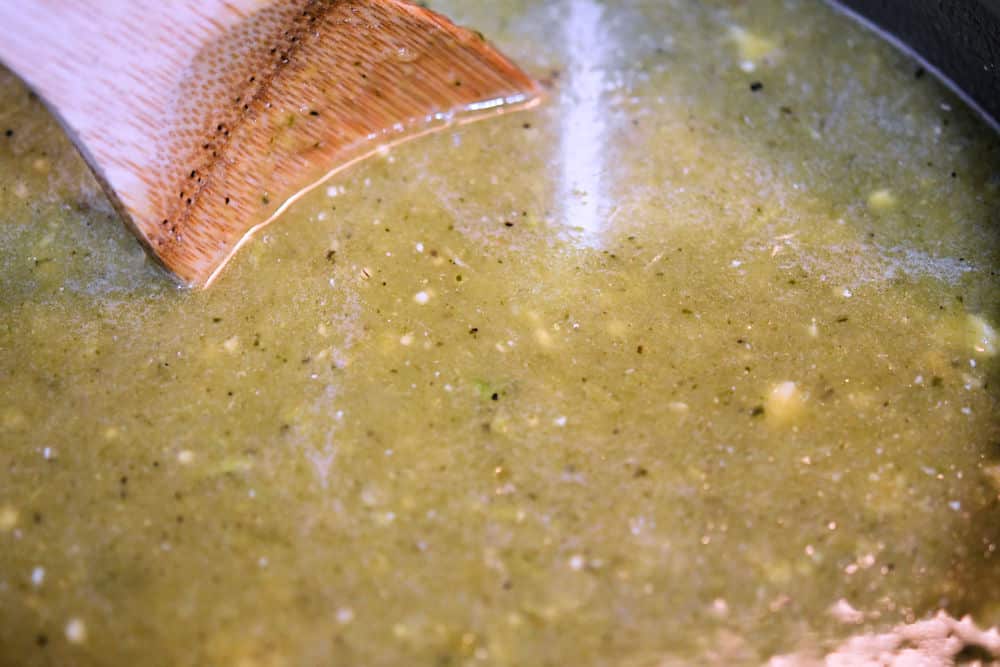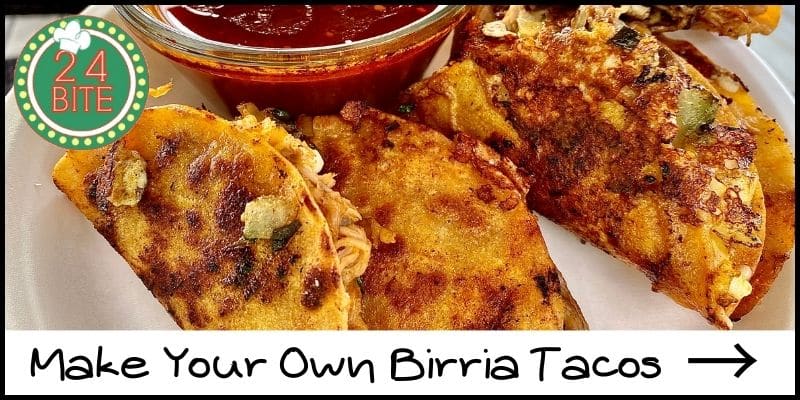 Variations
Chiles. I use Mexican chiles in this pasta verde recipe, but, if you don't have these available, you can use Italian peppers. This helps if you need to make your spaghetti without any spice at all. Green Bell Peppers could be used instead. They don't have the same flavor, of course. Still good.
Cheese. I like to top almost all Mexican food with queso fresco. I can't get Cotija cheese here, but you could use that instead. Feta cheese or even Parmesan cheese could be used.
Media Crema. Media crema comes in cans, about ½ cup each. You can use fresh Mexican crema, if you prefer. Use Half n Half or Heavy Cream. You can even use sour cream. There are no kitchen police. Use what you have available.
I do suggest that you add some Media Crema to your pantry. It's a great thing to have when you need some dairy for a dish but you don't have any fresh. Unlike evaporated milk, it's very thick and works well for all your sauces.
What Is Fideo Cut Spaghetti
Fideo spaghetti is quite popular in Mexican cuisine. It's the kind of thing that many people consider to be a comfort food.
I didn't use Fideo cut pasta this time, but you can certainly use it, if you prefer. In fact, you can use any pasta you like. I've used Vermicelli, Linguine and Fettucine. I love wide egg noodles too so I would have no problems using it either.
When using Fideo, I like to fry it in oil a little bit first then cook directly in the sauce. I have a ground beef recipe of my own Sopa de Fideo here where you can reference cooking the pasta directly in the sauce.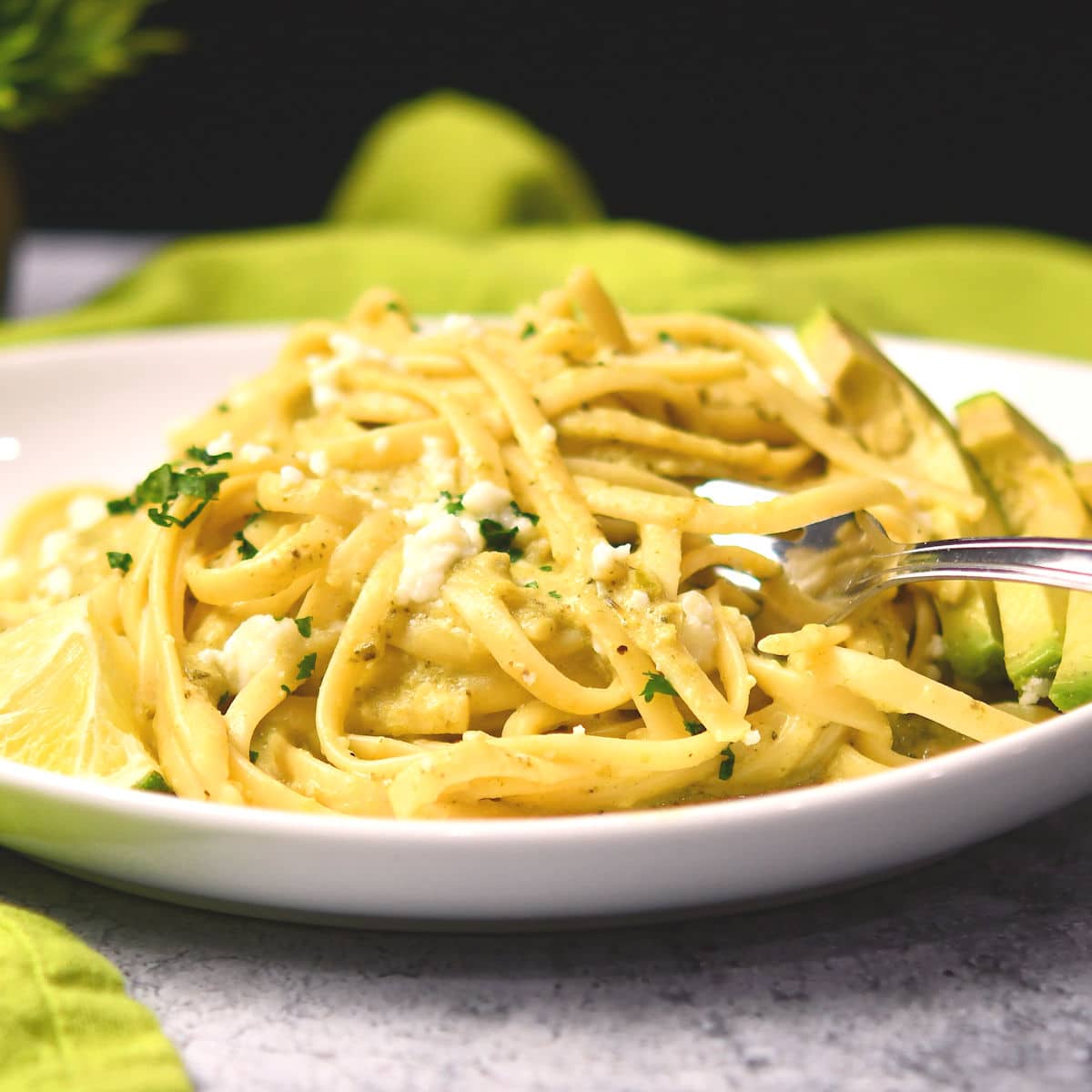 Browse more Mexican food recipes.
Recipe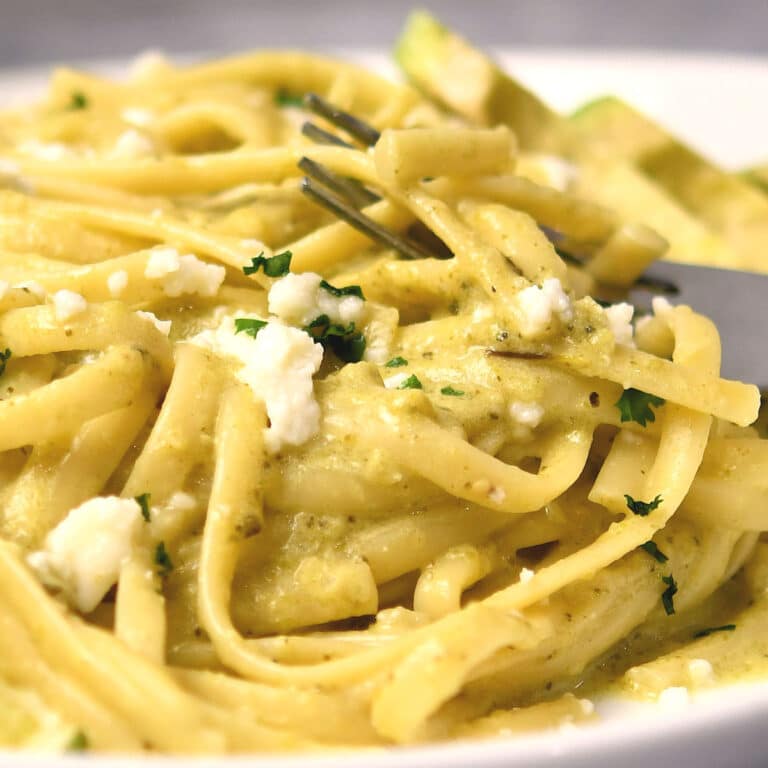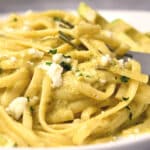 Pin Recipe Now
Mexican Green Spaghetti Creamy Poblano Sauce
Tap to leave a star rating
Save or Print
This Mexican Green Spaghetti brings the flavors of Mexico to your table with a delicious pasta tossed in a rich and creamy poblano sauce. Eat as a main dish or on the side.

For more information, be sure to check the recipe details in the attached 24Bite® post.
Equipment
Stand up or immersion blender

Large skillet

Large Pot

for cooking pasta

Baking Sheet
Ingredients
4

Poblano Peppers

1

pound

Spaghetti

,

reserve 1 cup pasta water

2

tablespoons

Olive Oil

½

Onion

,

quartered

1

Jalapeño Pepper

,

quartered (optional)

4

Tomatillos

,

quartered

1

teaspoon

Cumin

1

teaspoon

Garlic Powder

1

teaspoon

Salt

1

teaspoon

Better Than Bouillon

,

chicken flavor

7.6

ounces

Media Crema Table Cream
Instructions
Set oven to broil (usually about 550℉) and allow to preheat. Place whole poblanos on baking sheet and broil about 8-10 minutes. With tongs, turn the peppers over and broil for another 8-10 minutes.

While the poblanos are roasting, begin preparing the rest of the vegetables. In large skillet on medium heat, place olive oil. Place quartered onion, jalapeno and tomatillos in skillet and allow to cook until soft, stirring occasionally, about 10 minutes. Note: Omit the jalapenos if you want this less spicy. There may still be some heat from the poblanos, but it won't be as much. Set aside.

Prepare pasta according to package instructions. Before draining, RESERVE one cup pasta water and set aside.

Remove charred peppers from oven and place them tightly with plastic wrap immediately. Allow to cool in the bowl, about 10 or 15 minutes. Placing them in an airtight place to cool slightly will make the peels easier to remove.

Using fingers, peel and rub off the charred outer skin of the poblano peppers. Remove stems and seeds then loosely chop the remainder.

Place poblanos, onion, jalapeno, tomatillos, cumin, garlic powder, salt, Better than Bouillon and ONE CUP pasta water in electric blender. Blend until smooth.

In same large skillet as before, add poblano sauce. Bring to boil, lower heat and allow to simmer about 5-8 minutes. Stir in media crema until fully incorporated. Add drained spaghetti and toss to coat.
Note: If there is a video, it will not display while there is an adblocker.
Notes
Serve right away with chopped cilantro, crumbled queso fresco, sliced jalapeno and avocado slices.
Delicious served as a side with roasted chicken breast.
This recipe serves 8 when served as a main course, or 12-16 if served on the side.
Store leftovers in a tightly sealed container for up to three days.
Nutrition Facts
Mexican Green Spaghetti Creamy Poblano Sauce
Amount Per Serving
Calories 268
Calories from Fat 45
% Daily Value*
Fat 5g8%
Sodium 383mg17%
Carbohydrates 48g16%
Protein 8g16%
* Percent Daily Values are based on a 2000 calorie diet.
______________________
Percent Daily Values are based on a 2000 calorie diet. All amounts are estimates and 24Bite® takes no responsibility for actual figures since calculations vary by packaging and supplier. Please calculate the amounts yourself based on package labeling if you have specific dietary requirements. 24Bite®, Kim Guzman or Christian Guzman shall not be liable for adverse reactions or any other outcome resulting from the use of recipes or recommendations on this website or actions you take as a result.
© 2019-2023 Kim Guzman and Christian Guzman. All rights reserved. Subscribe to 24Bite email newsletters.
Follow 24Bite: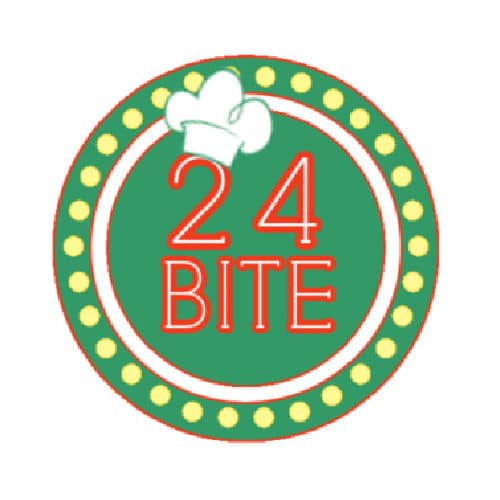 Twitter | Facebook | Pinterest