Takis Taco Salad is a bowl of everything you love about tacos. Ranch dressing is the perfect match for the spicy heat of the chips.
Takis rolled tortilla chips are so popular but, boy, they're hot! I wanted to try them, but could manage only about five before defeat. Mixed in with taco salad, though, you can spread around the heat and still enjoy the flavor.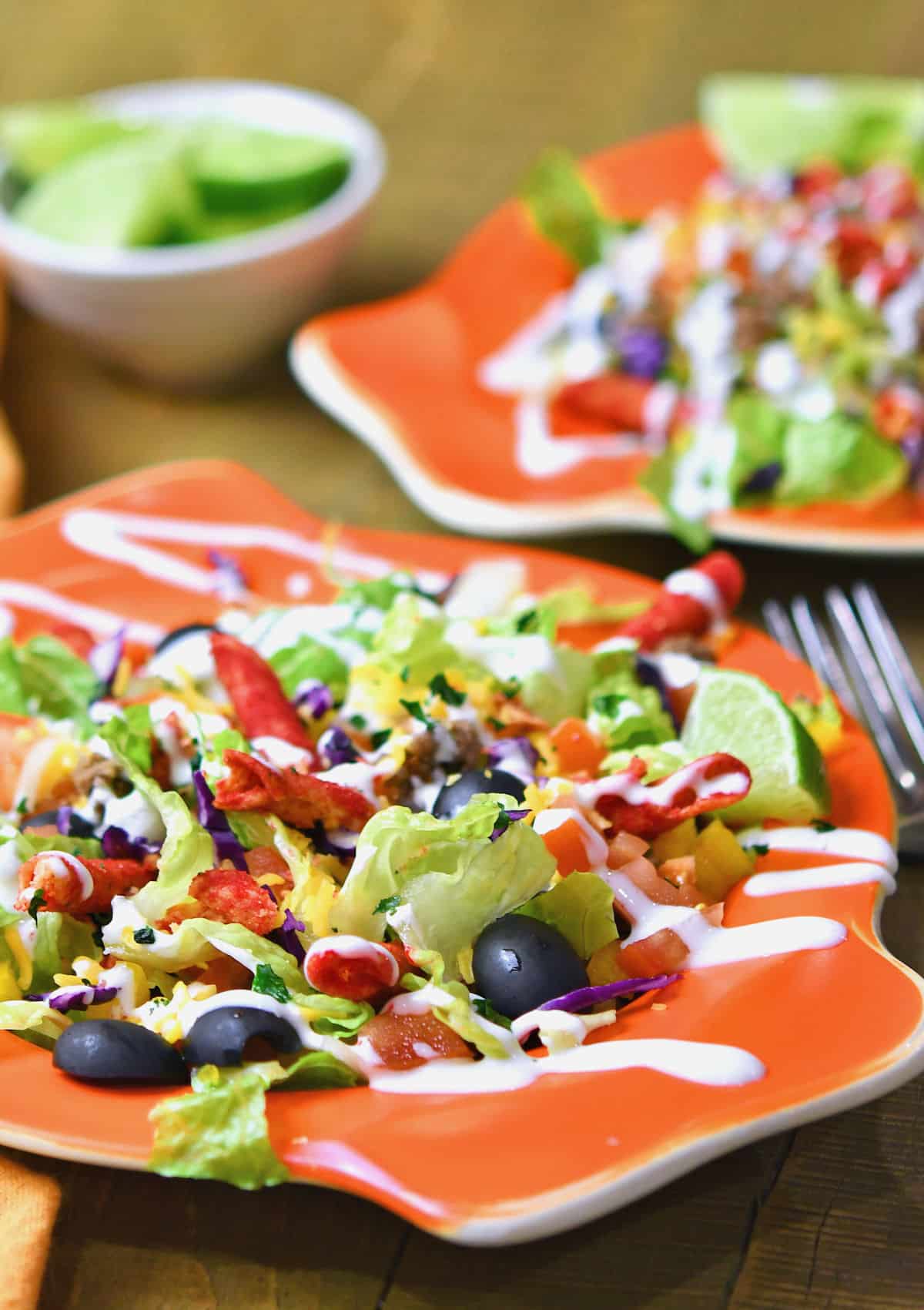 Ingredients
The primary ingredient for this Takis Taco Salad is, of course, the Takis tortilla chips. They are just as flavorful as everyone says but, wow, they're SPICY!
That's the whole reason I developed this recipe. I wanted to spread around the spicy heat so it wasn't so overwhelming.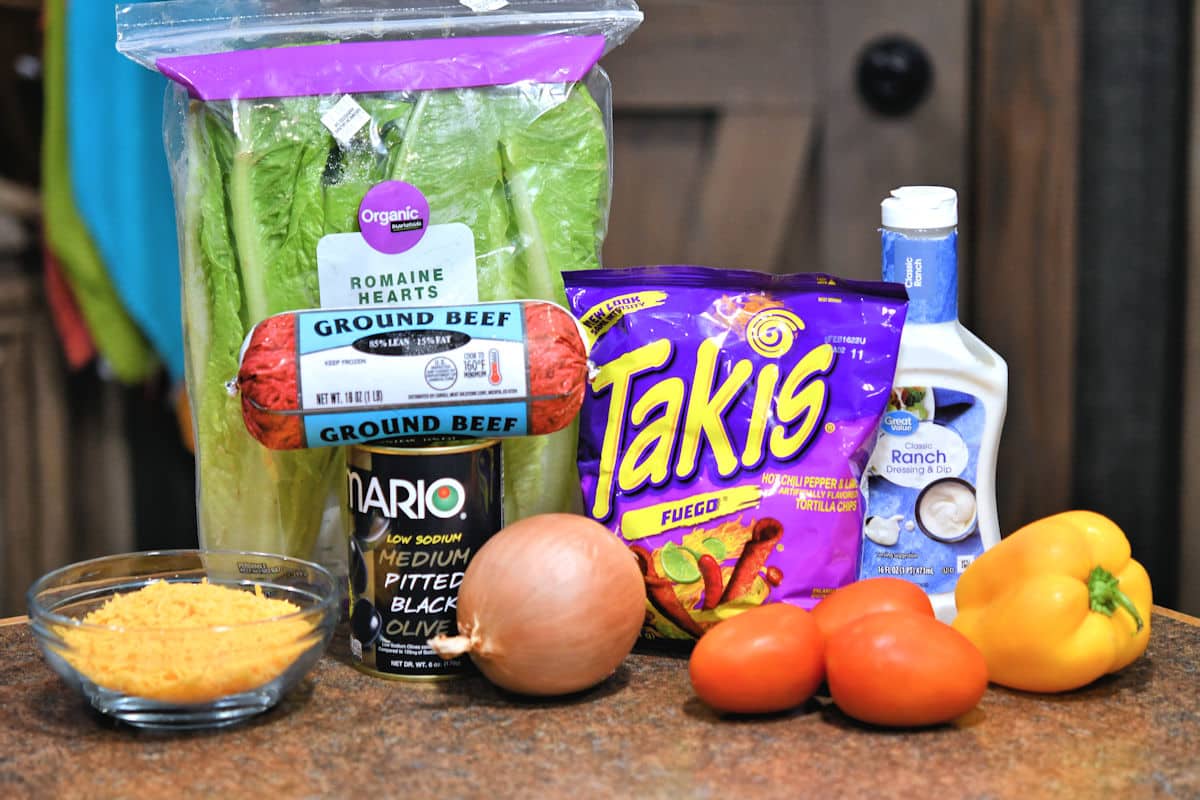 I didn't use many ingredients for the actual taco salad. It's kind of based on the famous Doritos taco salad. I'm sure you've had some version of it at some point. This one has my own little twists.
Everything you usually find in tacos, like onion, tomatoes, bell pepper and cheese. I threw in some black olives as well.
I used Ranch dressing to bind everything together. If you like, you can add about ¼ cup milk to make the dressing thinner. This makes it easier to use as a topping as well.
What are Takis?
Takis are made in Mexico and distributed through the Barcel company. Imagine round tortilla chips, rolled into a tube and seasoned with intensely spicy heat.
At the time of writing this post, there were five flavors available. I've used the Fuego flavor in this recipe. It's described as tasting like "a bite of lava." ha! Definitely a good reason for me to spread it around a bit, in a salad.
The other flavors are Blue Heat, Crunchy Fajitas, Nitro and Guacamole. Yum! I can't wait to try the Guacamole flavor.
Homemade Taco Seasoning
I first told you that there were only a few ingredients and I meant it. Except…. if you want to make your own taco seasoning.
I like to take the add-everything-you've-got approach when making taco seasoning.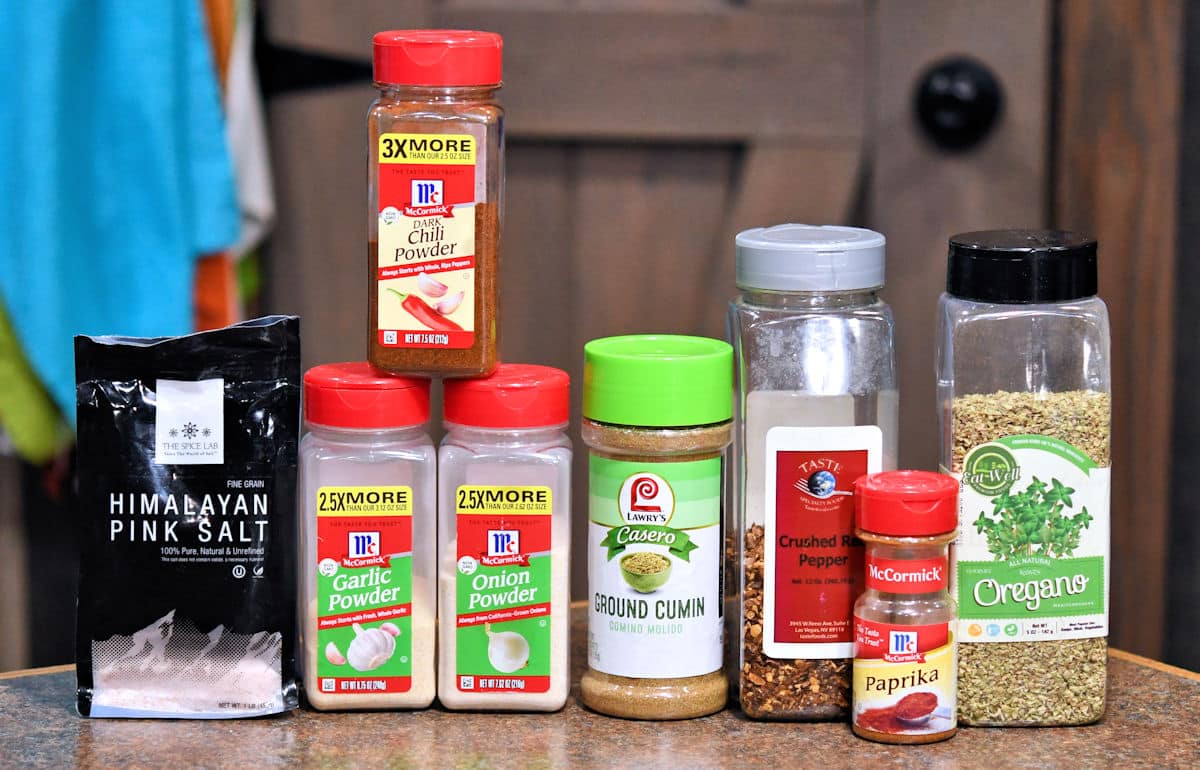 If you like chipotle, add some chipotle powder. Or, add some cayenne. Maybe you want to add more crushed red pepper. You can easily customize it to your specific tastes and heat level.
To do more research on the spice levels of different chiles or peppers, take a look at my Scoville Heat Scale.
If you want to pick up one of those little ready-made packets of taco seasonings, that's completely okay! I'll never tell.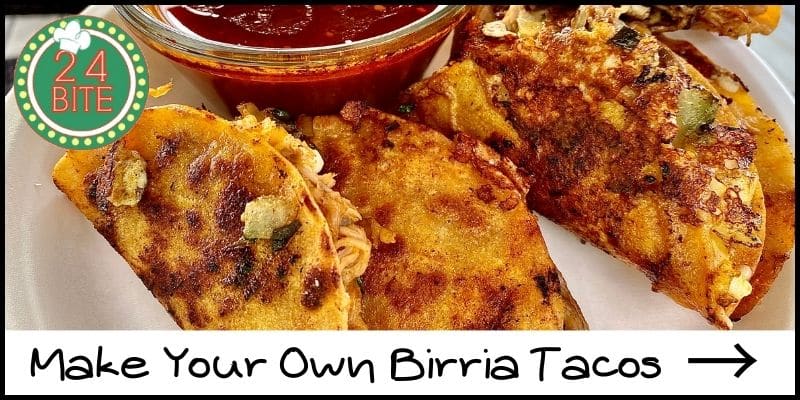 Making Taco Salad for Later
If you want to take this salad to any kind of gathering, I suggest that you make everything then bring it in separate containers. Toss it once you are ready to serve.
You'll need separate containers for each. 1) ground beef, 2) lettuce and vegetables 3) cheese 4) dressing and 5) Takis.
Taco Salad Serving Bar
It would be so easy to make a salad serving bar. How fun!
Place a bit of lettuce on plates and bowls. Prepare separate bowls for all your favorite toppings, including the Takis.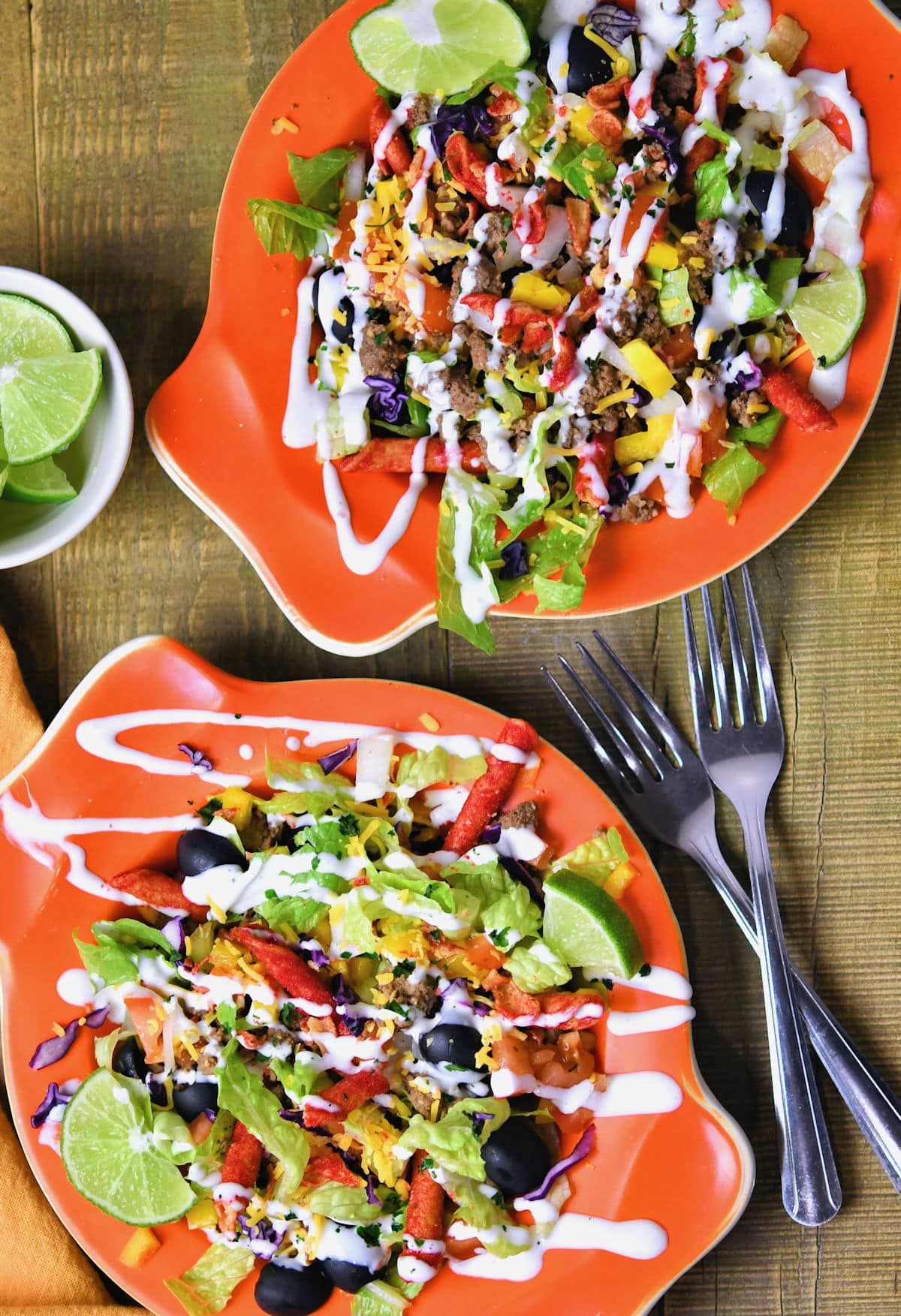 Your guests can serve themselves with everything they love. This would be a HUGE hit at a teenager birthday party. Trust me.
I like to add a little bit of milk to the dressing to make it easier to make a topping.
Don't forget to use the Takis crumbs in the bag. You can sprinkle them on top.
Avocado slices would be a perfect accompaniment as well.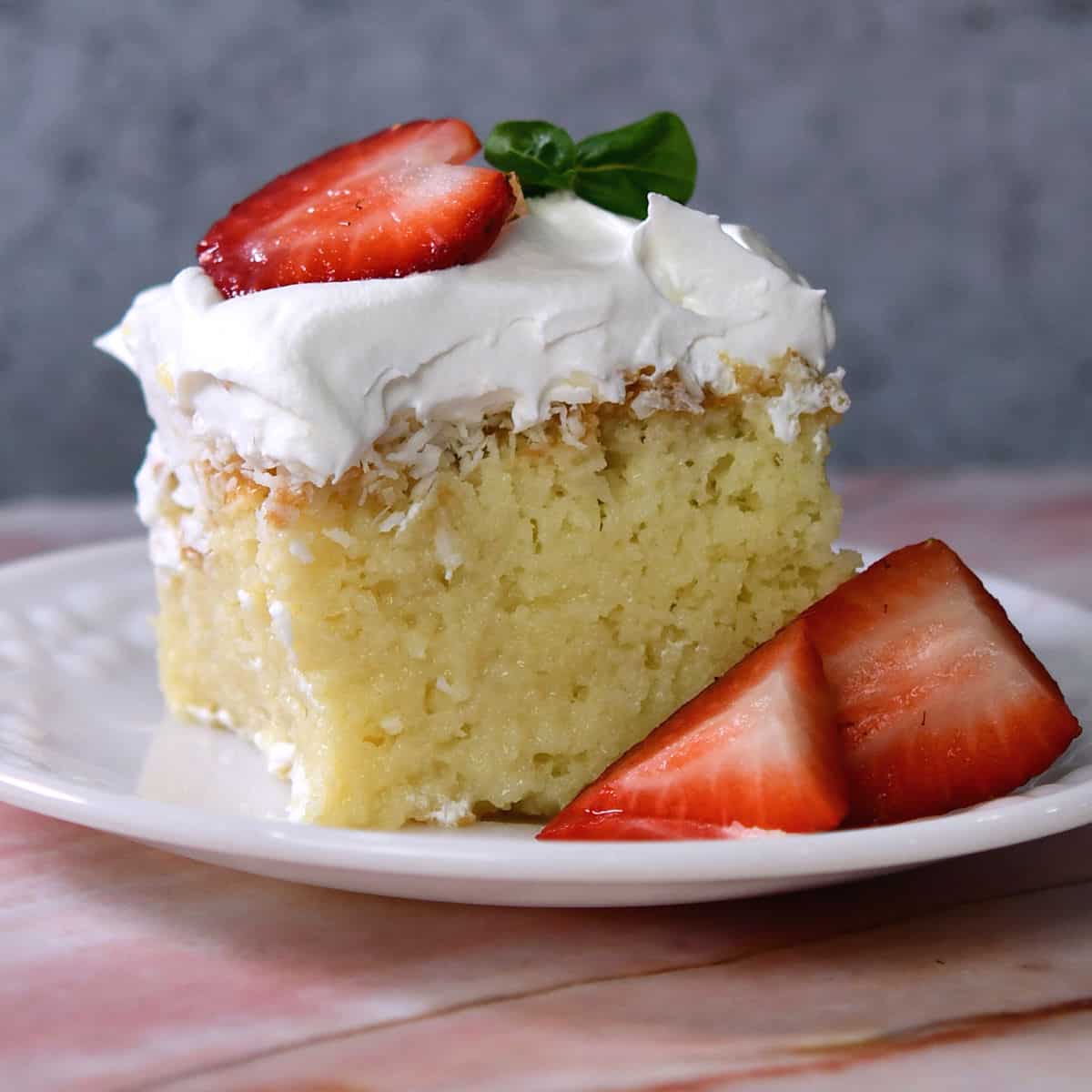 You know what would be perfect at the party too? This incredible Coconut Tres Leches Cake. It's just the thing to cool off that Takis chips heat.
Recipe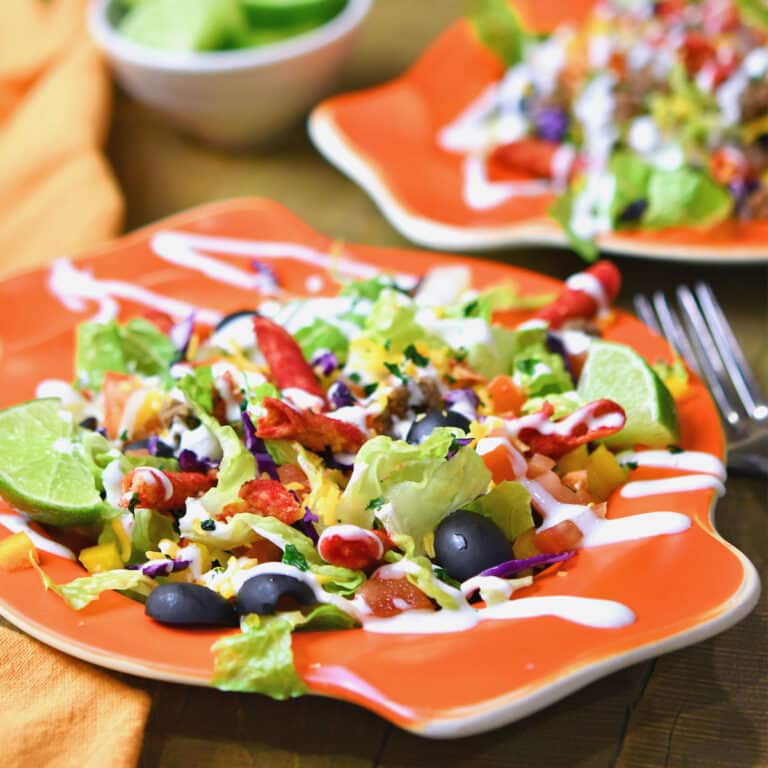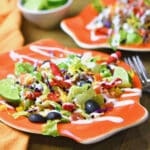 Pin Recipe Now
Spicy Takis Taco Salad Recipe
Tap to leave a star rating
Save or Print
Takis Taco Salad is a bowl of everything you love about tacos. Ranch dressing is the perfect match for the spicy heat of Takis.

For more information, be sure to check the recipe details in the attached 24Bite® post.
Ingredients
Taco Seasoning
1

teaspoon

Red Chili Powder

½

teaspoon

Cumin

½

teaspoon

Garlic Powder

½

teaspoon

Onion Powder

½

teaspoon

Salt

¼

teaspoon

Paprika

¼

teaspoon

Oregano
Taco Salad
1

pound

Ground Beef

½

cup

Water

2

Romaine Lettuce

,

Romaine Lettuce Hearts, chopped

3

Roma Tomatoes

,

chopped

½

Onion

,

chopped

½

Bell Pepper

,

chopped

3

ounces

Black Olives

,

whole or sliced

1 ½

cups

Cheddar Cheese

,

shredded

1

cup

Ranch Dressing

4

ounces

Takis Rolled Tortilla Chips

,

slightly broken into smaller pieces (don't discard the crumbs)
Instructions
In a small bowl, mix all taco seasoning ingredients together and set aside.

In a medium bowl, mix together ground beef and water. Use your hands, if possible. Mix the water in well.

Place ground beef mixture in a medium skillet and cook, while stirring and breaking apart, if necessary. Cook until meat is no longer pink. Drain off the fat. Since this is a cold salad, if you don't want any solid fat on the ground beef, place it in a strainer and run water over it to remove as much fat as possible.

Mix in all of the seasoning mix into the cooked ground beef and return to skillet to heat through. Set aside. (If you don't want this to hit the lettuce and wilting it too quickly, you can put the ground beef in the refrigerator to chill a bit before adding.)

Chop the lettuce, tomatoes, onions and bell pepper and place in large bowl.

Add all remaining ingredients (including ground beef) to the large bowl and toss. (If not serving immediately, see notes.)
Note: If there is a video, it will not display while there is an adblocker.
Notes
Takis tortilla chips are fairly spicy. I like some spicy foods but I'm a lightweight with these. If you want something less spicy, you can break up regular corn chips or tortilla chips.
If you like it more spicy, though, you can add some spicy chiles to the taco seasoning. Cayenne pepper powder should do the trick. You can also add some chopped jalapeno.
If you're preparing this taco salad to serve later, I suggest that you keep things separate and mix together right before serving. Separate containers for 1) ground beef, 2) lettuce and vegetables 3) cheese 4) dressing and 5) Takis.
Serve with sliced avocado and yellow rice. Garnish with lime and cilantro.
If you want to use the dressing as a garnish for the top, instead of tossing together, add about ¼ milk to make it thinner.
If you prefer, you can use a little packet of prepared taco seasoning instead of making it yourself.
Nutrition Facts
Spicy Takis Taco Salad Recipe
Amount Per Serving
Calories 378
Calories from Fat 288
% Daily Value*
Fat 32g49%
Sodium 817mg36%
Carbohydrates 11g4%
Protein 14g28%
* Percent Daily Values are based on a 2000 calorie diet.
______________________
Percent Daily Values are based on a 2000 calorie diet. All amounts are estimates and 24Bite® takes no responsibility for actual figures since calculations vary by packaging and supplier. Please calculate the amounts yourself based on package labeling if you have specific dietary requirements. 24Bite®, Kim Guzman or Christian Guzman shall not be liable for adverse reactions or any other outcome resulting from the use of recipes or recommendations on this website or actions you take as a result.
© 2019-2023 Kim Guzman and Christian Guzman. All rights reserved. Subscribe to 24Bite email newsletters.
Follow 24Bite: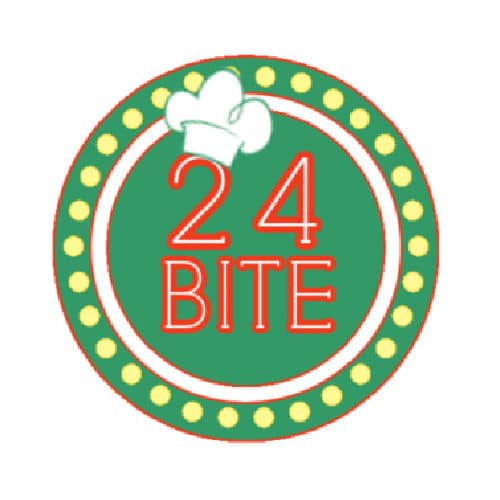 Twitter | Facebook | Pinterest