Warm up with a bowl of spicy zucchini soup made with the delicious caramelized flavor of oven roasted poblano chiles. It's an explosion of flavor for your tastebuds.
Recipe | Gluten Free | Do You Need to Peel Poblano Chiles? | Calabacitas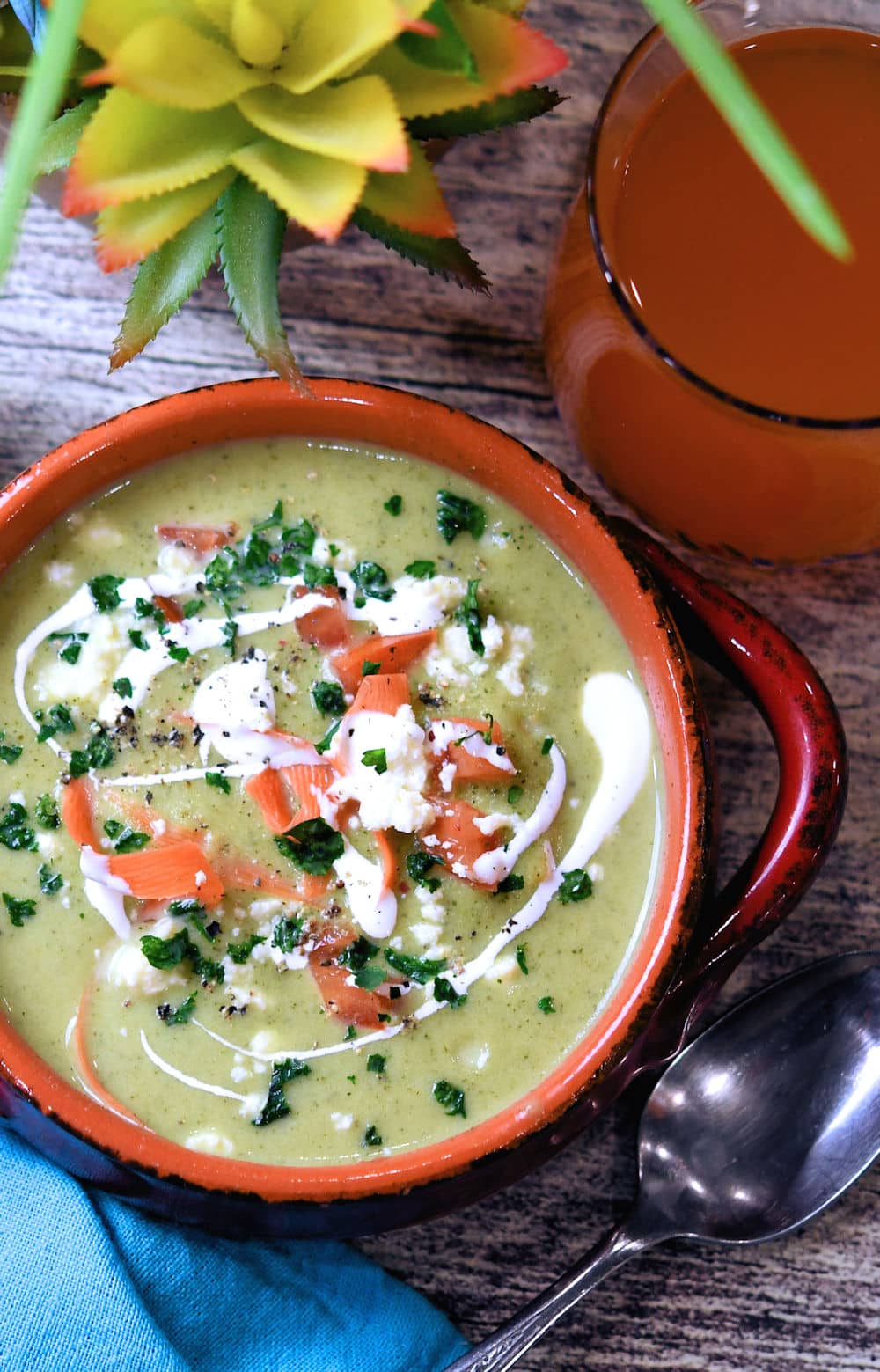 Ingredients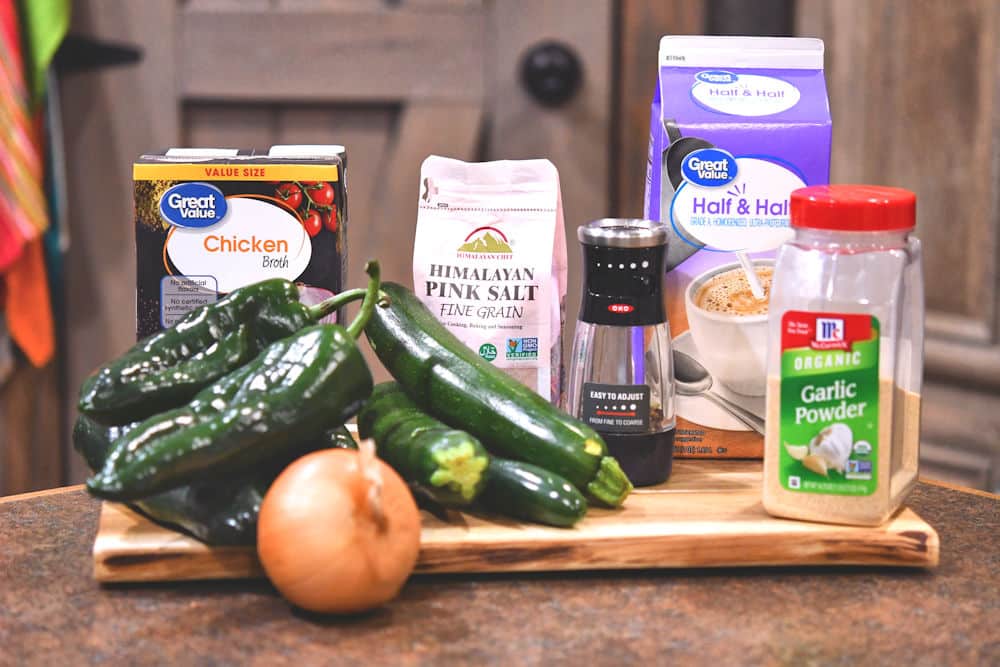 This is a great, quick soup made of only a few ingredients.
Zucchini or calabacitas
Poblano chiles
Onion
Chicken broth or stock
Half n half or cream
Seasonings
Spicy Green Chiles
The green chiles I've used in this recipe are mostly poblano with one lonely jalapeño chile. The poblano chile is fairly mild as far as chiles go. It's got a little more kick then a bell pepper, for instance.
In order to get more heat to this spicy zucchini soup, I've add the one hotter pepper, but you can use something with more heat, if you prefer. I would stick to a green chile, like serrano. You don't want to change the color of the soup.
Have a look at my Scoville Heat Scale to get a better idea of what peppers you want to include to achieve your perfect spicy heat.
Is This Soup Gluten Free?
Yes, this soup is 100% naturally gluten free! There are no wheat products in this soup because it's not necessary. The zucchini and poblano chiles create the creamy texture without the need for any thickeners.
Do You Need to Peel Poblano Chiles?
For this soup, I recommend that you first roast the chiles under a broiler. Roasting the poblanos will bring out a sweet, caramelized flavor that gives this soup its mild taste.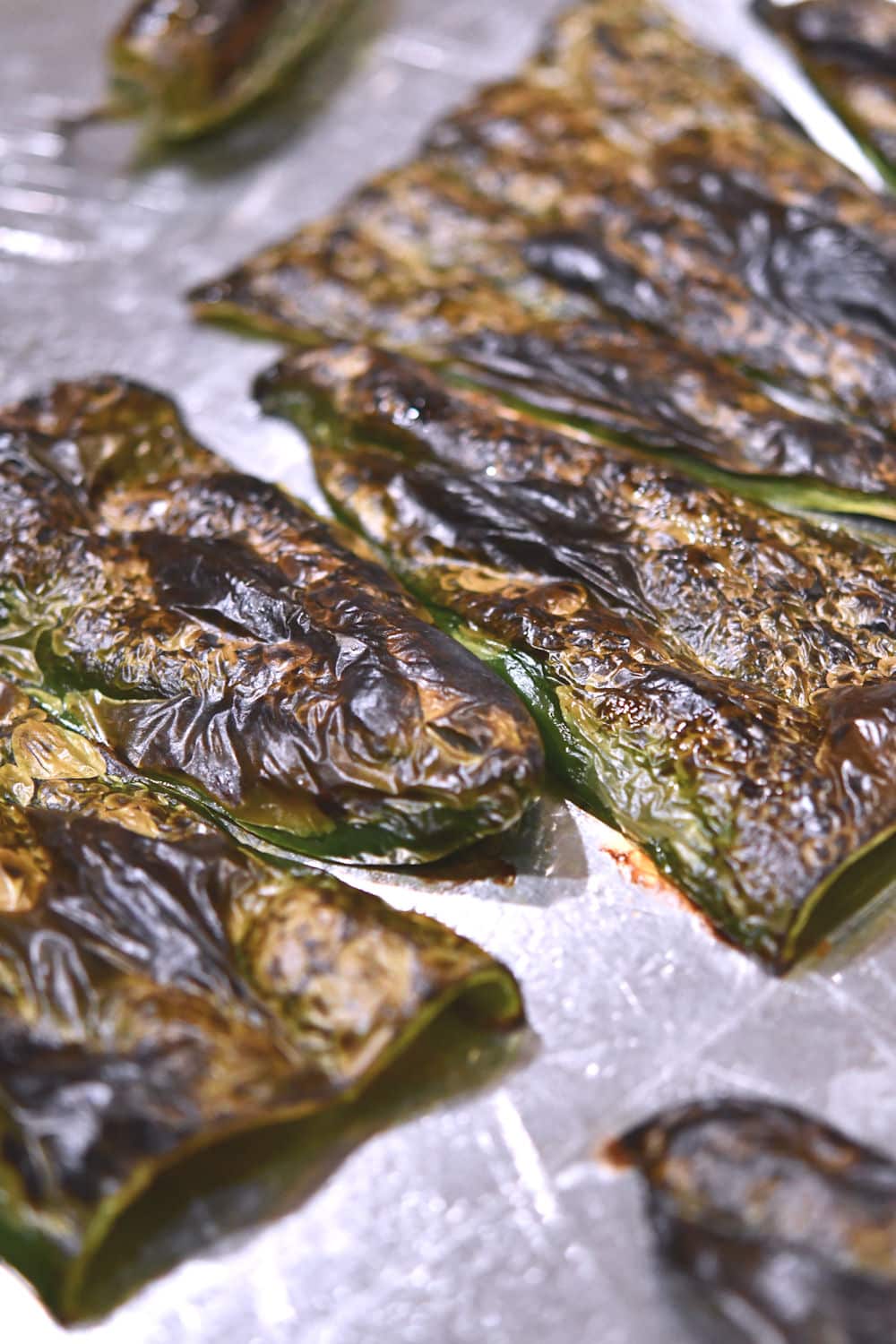 The skin of the poblanos will get blackened when roasted. That paper thin peel needs to be removed. It's burnt and that burnt taste will transfer to your food.
Remember that you just want the juicy, tender meat of the poblano chile.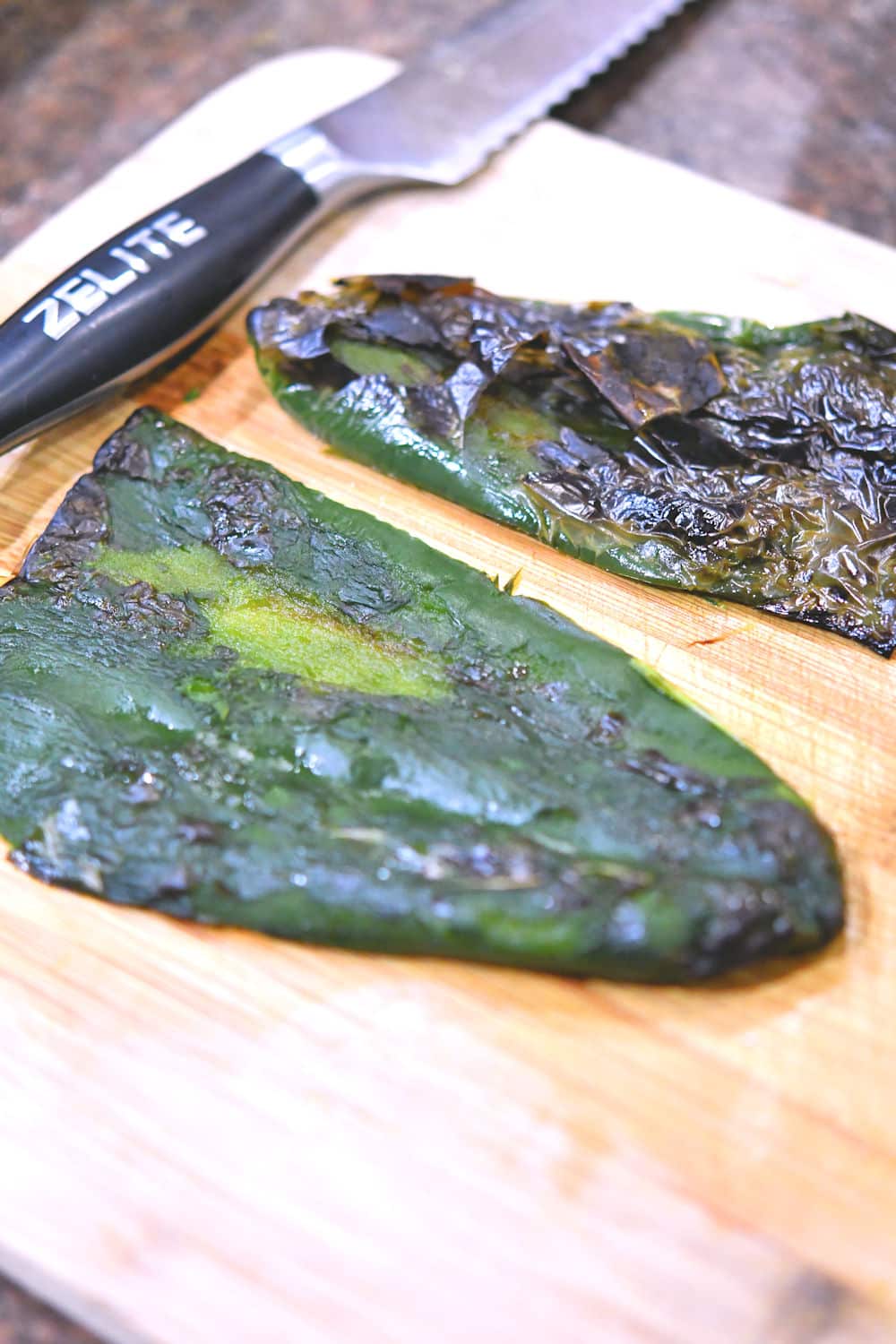 Gently remove that out skin layer by rubbing the pepper with your fingertips.
If I was making chiles rellenos, I would leave the pepper intact during the roasting. Since I'm going to place the entire thing in the blender, it's easier to remove the seeds before roasting.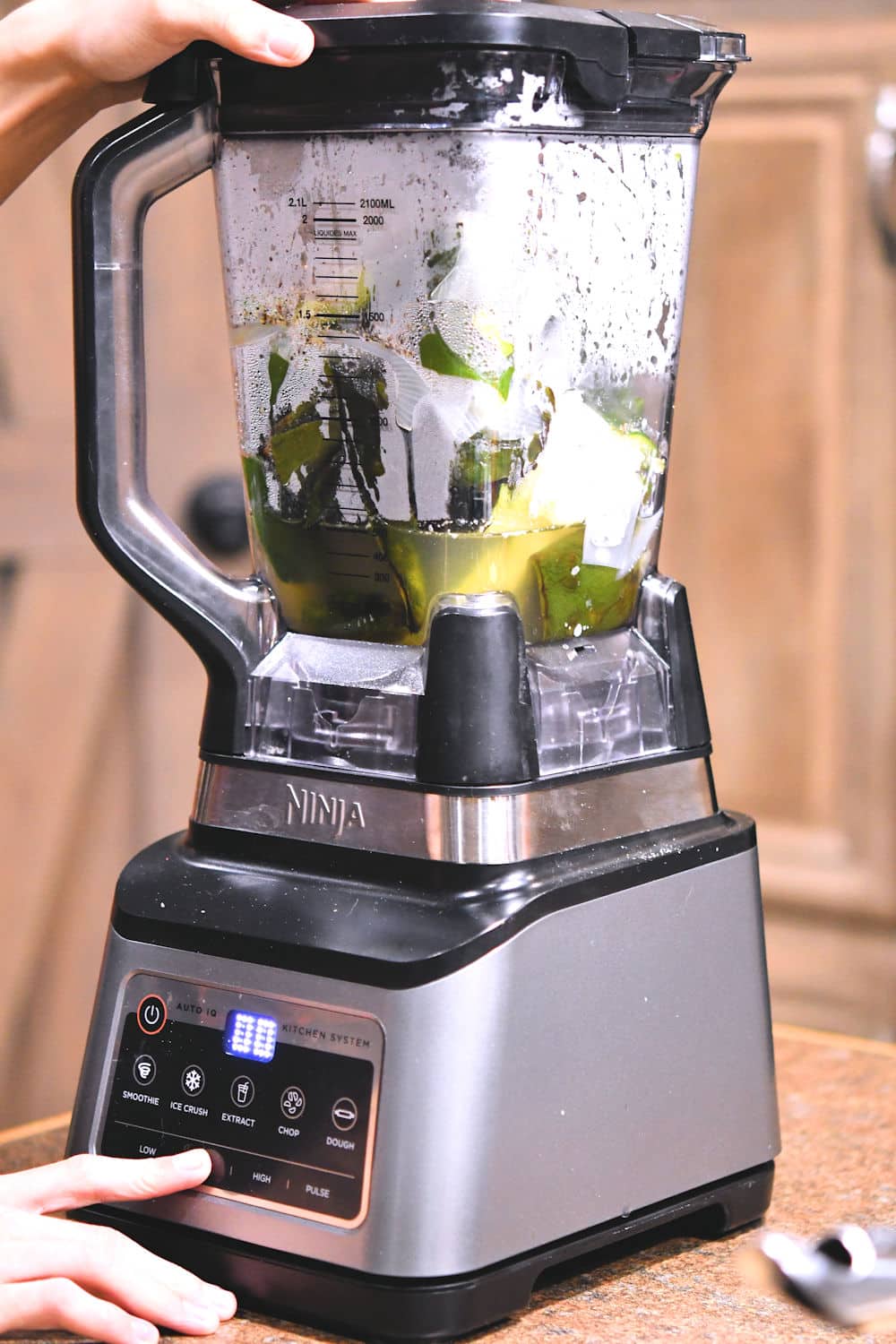 Everything goes into the blender to process until smooth. Remember that, since these vegetables are already cooked, they will only need a quick heating on the stovetop to bring them together for finishing.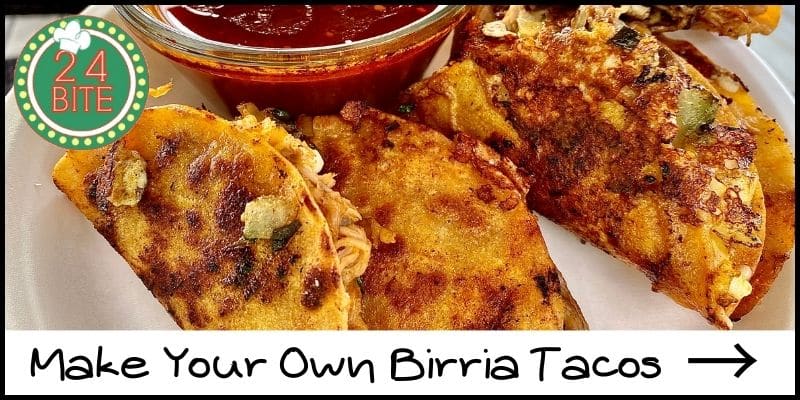 Have a look at this Ninja Professional Plus Kitchen System (aff link) at Amazon. It's the one we use and includes the blender, a food processor bowl and two to-go cups.
What's the difference between calabacita and zucchini?
This seems to be a very loaded question. Let's start from the beginning.
In Spanish, calabacita basically means "little squash". In the US and specifically in our grocery store, calabacita is the name of a particular zucchini-like squash.
Here in Arkansas, and other places in the US, a calabacita is not as long as a zucchini squash. It's lighter in color and more marbled. It's a little sweeter and milder than a typical zucchini.
In Mexico, this same vegetable we call calabacita is called Italian Zucchini, or calabacita italiana. Yes, in Mexico, it's Italian. Stay with me here.
Also in Mexico, there is a dish that is called Calabacitas which is usually made with either zucchini or could be made with other squash as well.
Little Zucchini
In conclusion, for purposes of this recipe, I'm just going to say that calabacita is a little zucchini. You can use any little zucchini you like.
I wouldn't use the football sized zucchini some of you grow in the summer! Try to use the smaller, more tender zucchini.
How to Store Spicy Zucchini Soup?
This soup will keep in the refrigerator for about 3 or 4 days.
If you need to freeze it, prep it without the cream. Store in the freezer for up to 4 months. Add the cream when you're ready to serve.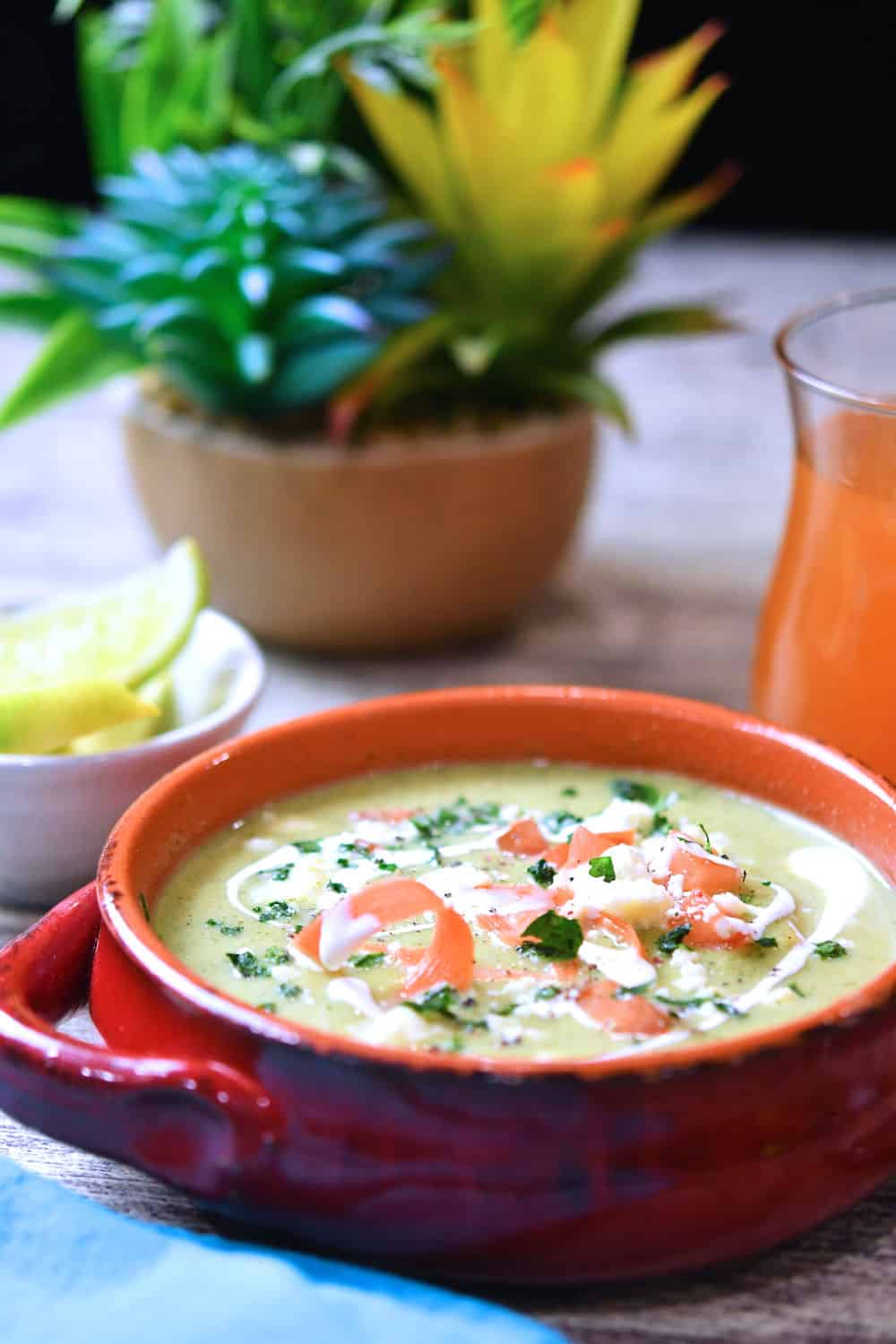 Other Suggestions
If you would like to make this soup more hearty, try adding leftover rotisserie chicken. Fully cooked rice or pasta are also tasty additions.
Other Soup Recipes
Soup is a favorite around here, especially during the winter months. Here are a few of my favorites, or have a look at all 24Bite Soup Recipes.
Recipe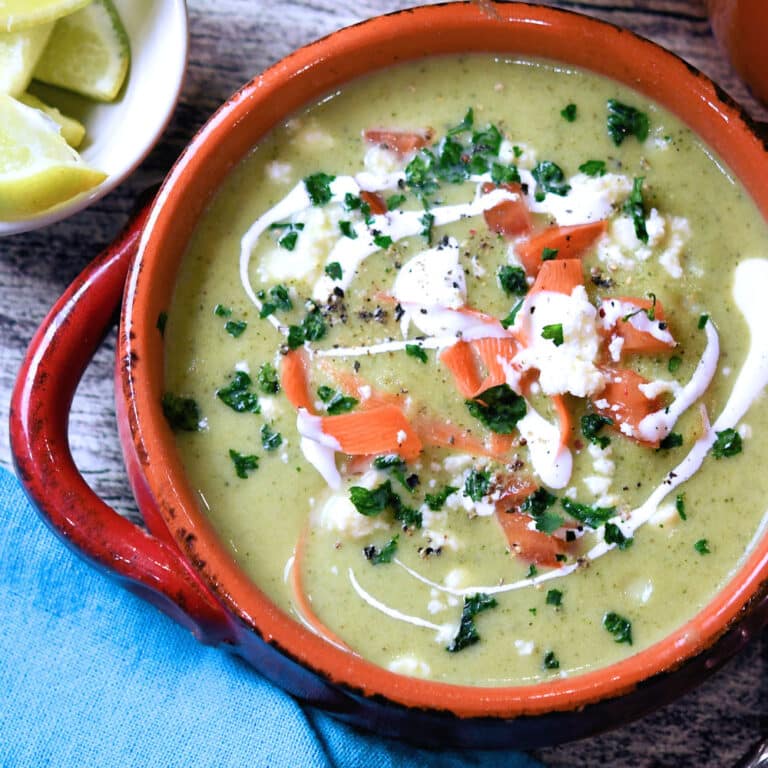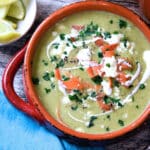 Pin Recipe Now
Roasted Poblano Zucchini Soup
Tap to leave a star rating
Save or Print
Warm up with a bowl of spicy zucchini soup made with the delicious caramelized flavor of oven roasted poblano chiles. It's an explosion of flavor for your tastebuds.

For more information, be sure to check the recipe details in the attached 24Bite® post.
Equipment
Baking Sheet

Stand up or immersion blender

Large pot for stovetop
Ingredients
4

Poblano chiles

,

fresh, about 1.25 pound

Cooking Spray

,

like Pam

1

Jalapeno chile

,

fresh

3

Zucchini

,

or calabacita, about 1 pound, cut into 1 or 2" pieces

1

Yellow Onion

,

quartered

1

teaspoon

Salt

1

teaspoon

Garlic Powder

1

teaspoon

Ground Pepper

3

cups

Chicken Broth

,

or stock, divided

1

cup

Half n Half

,

or heavy cream
Instructions
Set oven to broil (usually about 550℉) and allow to preheat. Slice poblano chiles in half, remove stems, seeds and membranes. Spray baking sheet with a light coating of cooking spray. Place poblano halves with skin side up on baking sheet, along with the whole jalapeno. Broil close to heating element 10-20 minutes until skin is blackened.

While the poblanos are cooking, begin preparing the rest of the vegetables as instructed. Place in a pan and cover with water. Cook on medium high heat until tender, about 10-15 minutes.

Remove charred chiles from oven and place into a tightly covered bowl. Allow to cool in the bowl about 10-15 minutes, or until cool enough to handle. Placing them in an airtight container like this will allow them to "sweat", making them easier to peel.

Using fingers, gently peel and rub off the charred outer skin of the poblano chiles. It should also be easy to remove the peel, stem and seeds from the jalapeno as well.

Place the peeled chiles in the blender. Drain the zucchini and onion then place them in the blender. Add salt, garlic powder and pepper to blender along with ONE CUP of chicken broth. Process until smooth.

Pour blender mixture into pan and add remaining chicken broth. Stir well. Heat on medium until heated through. Add half n half and continue heating for about three minutes more. Serve immediately.
Note: If there is a video, it will not display while there is an adblocker.
Notes
Serve immediately or chill and serve cold.
Garnish with Mexican crema, queso fresco, cilantro and grated carrot for a little crunch.
Nutrition Facts
Roasted Poblano Zucchini Soup
Amount Per Serving
Calories 76
Calories from Fat 36
% Daily Value*
Fat 4g6%
Sodium 634mg28%
Carbohydrates 9g3%
Protein 3g6%
* Percent Daily Values are based on a 2000 calorie diet.
______________________
Percent Daily Values are based on a 2000 calorie diet. All amounts are estimates and 24Bite® takes no responsibility for actual figures since calculations vary by packaging and supplier. Please calculate the amounts yourself based on package labeling if you have specific dietary requirements. 24Bite®, Kim Guzman or Christian Guzman shall not be liable for adverse reactions or any other outcome resulting from the use of recipes or recommendations on this website or actions you take as a result.
© 2019-2023 Kim Guzman and Christian Guzman. All rights reserved. Subscribe to 24Bite email newsletters.
Follow 24Bite: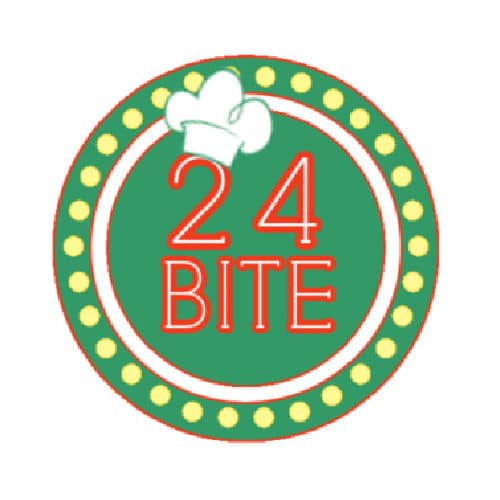 Twitter | Facebook | Pinterest