Baked meatballs are so much easier than stove top frying and they're lower in fat too! Here's my gluten free version. Add your favorite sauce or eat them plain. To make your entire meal gluten free, be sure to use gluten free pasta as well.
About three months ago, I decided to change my daily diet routine to omit bread, rice and pasta. I didn't want to omit all carbs; just bread, rice and pasta. I've been pretty loyal to this plan and I've been feeling a lot better. I've lost 10 pounds too!
One of the things I like to do is make a "snack plate". I'll cut up things like cucumber, tomato, boiled eggs, then I add some sliced banana or halved grapes. I like to add pickles or olives. Maybe an ounce of cheese. Or sometimes, I'll put some cottage cheese on the plate. I just basically fill the plate with little bits of as many different things as I can fit.
A regular in my snack plate regime is baked meatballs. Of course, I'm trying not to eat a lot of wheat, so I had to come up with something else to replace my usual breadcrumbs. I started using oats instead and I really don't notice any difference in flavor at all.
I prefer to use cheddar cheese instead of a more traditional cheese, like parmesan. It's the orange color of the cheese that gives the baked meatballs more of a look like crispy meat that you would normally get in a skillet on the stove top.
We started off by beating an egg briefly with a fork then adding milk and worchestershire.
Christian minced three large cloves of garlic. This is a really handy tool for mincing garlic. It's easy to use and does a great job. I suggest rinsing it out immediately after use so it's not difficult to clean.
Here are the oats. You can absolutely use breadcrumbs instead. I used them for years. Just use the same amount as suggested for the oats in the recipe.
And here is Christian, using the plastic food service gloves. He really can't stand touching this stuff. ha!
This is a pan that I bought with a rack a couple of years ago. I like to use it for baked chicken wings and…. of course, baked meatballs!
I always line it with foil first because I use this pan often and I want to keep it nice.

Checkered Chef Baking Sheet and Rack Set – Aluminum Cookie Sheet Tray/Half Sheet Pan for Baking with Stainless Steel Oven Safe Cooling Rack
Serve with Gluten Free pasta for a complete meal.
Gluten Free Baked Meatballs
Print Recipe
Baked meatballs are so much easier than stove top frying and they're lower in fat too! Here's my gluten free version. Add your favorite sauce or eat them plain.
Ingredients
1

Large egg

beaten with a fork

1/2

Cup

milk 2%

2

Tablespoons

Worchestershire sauce

3

Large garlic cloves

minced

1/2

Cup

uncooked oats

1/2

Cup

cheddar cheese

shredded

1

Teaspoon

oregano

1

Teaspoon

salt

1

Teaspooon cumin

1/2

Teaspoon

ground black pepper

1/2

Teaspoon

ground ancho pepper

1

Pound

ground beef 70% lean

non-stick cooking spray
Instructions
Preheat oven to 425 degrees.

In large bowl, mix egg, milk and sauce.

Add garlic, oats, cheddar cheese and spices. Mix well.

Add ground meat and mix with your hands for best results.

Make 16 evenly sized meatballs.

Line a sheet pan with foil and then top with an oven safe wire rack. Spray the rack with the cooking spray. Place the meatballs evenly on the rack.

Bake for 18-20 minutes until done.

Delicious alone or with your favorite sauce. Calorie count is per meatball.
Nutrition
______________________
Percent Daily Values are based on a 2000 calorie diet. All amounts are estimates and 24Bite™ takes no responsibility for actual figures since calculations vary by packaging and supplier. Please calculate the amounts yourself based on package labeling if you have specific dietary requirements. 24Bite™, Kim Guzman or Christian Guzman shall not be liable for adverse reactions or any other outcome resulting from the use of recipes or recommendations on this website or actions you take as a result.
© 2019-2020 Kim Guzman. All rights reserved.
Follow 24Bite: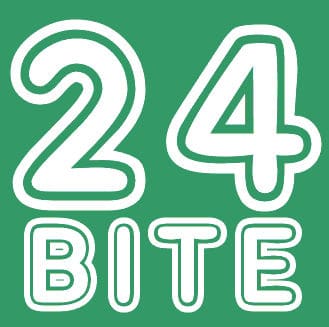 Twitter | Facebook | Instagram | Pinterest
Pin It: