This website contains affiliate links. Any purchases through affiliate links will provide me with the income necessary to keep this site available at no extra cost to you. Please see
Privacy Policy
 page for more information.
I love pizza! Experimenting with different types of pizza may be my favorite thing to do now that my mom taught me how to make the pizza dough she always uses.
This pizza dough recipe is perfect for two pizzas and is easy to make in the bread machine. The most important things to know are 1) proof your yeast and 2) refrigerate the dough so it gets elastic. Karin's Easy Peezy Pizza Dough Recipe
Read more about how I make the dough in my recipe for Chicken Alfredo Pizza.
The Cordon Bleu Chicken Pizza includes my Creamy Mustard Sauce. If you have any of this leftover, be sure to use it on your favorite sandwich because, WOW!
Print Recipe
Cordon Bleu Chicken Pizza
A delicious flatbread pizza with the flavors of Chicken Cordon Bleu with a fantastic creamy mustard sauce.
Ingredients
1

cup

heavy cream

2

tablespoons

dijon mustard

2

tablespoons

parmesan cheese

shredded

3

tablespoons

all purpose flour

1

large

chicken breast

cooked and chopped

8

oz

ham

chopped

2

cups

mozzarella

shredded

2

prepared, uncooked pizza crusts

see link above

cooking spray
Instructions
If you are using homemade pizza dough, begin at least 3 hours before you plan to prepare the pizza to complete the kneading and rising process. It's better to refrigerate for 3 or more hours after that, but it's not entirely necessary, if you're in a time crunch. Halve the dough equally and roll out on a lightly floured surface.

In small bowl, add cream, mustard, parmesan cheese and flour. Mix briskly with a fork until all lumps are removed.

In small saucepan on low heat, cook cream mixture until thickened, about 10 minutes. Set aside.

Preheat oven to 425°.

Spray pizza pan with cooking spray. Place crust on pan and pinch the edges a little, if you like. This helps to catch the sauce from spilling over.

Spread half the sauce on each pizza. Evenly distribute chicken and ham. Top each pizza with half the mozzarella.

Cook for 15-20 minutes, or until done. Cool slightly and cut each pizza into 8 pieces, for 16 pizzas total.
Follow 24Bite: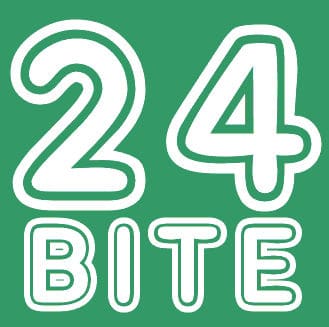 Twitter | Facebook | Instagram | Pinterest
Pin It: