This creamy Cold Spinach Artichoke dip recipe is a popular appetizer or snack, often served with crackers, chips or bread. Serve it hot or cold.
If you love the Walmart dip but can't get to Walmart, this is your chance to make this delicious dip easily at home.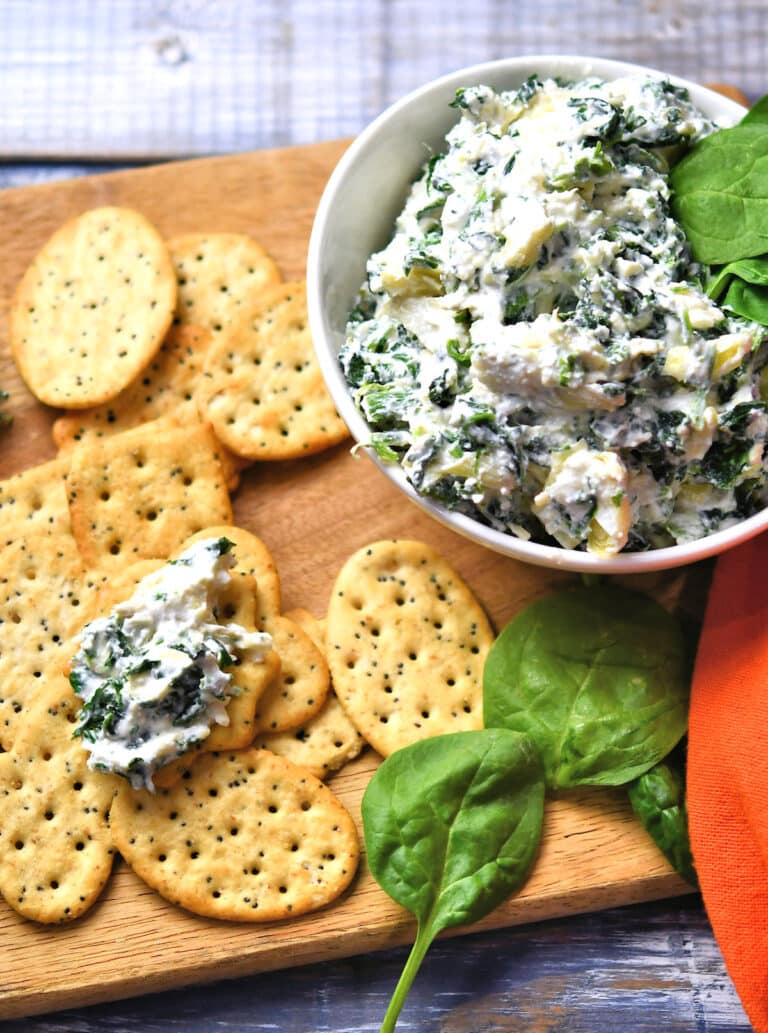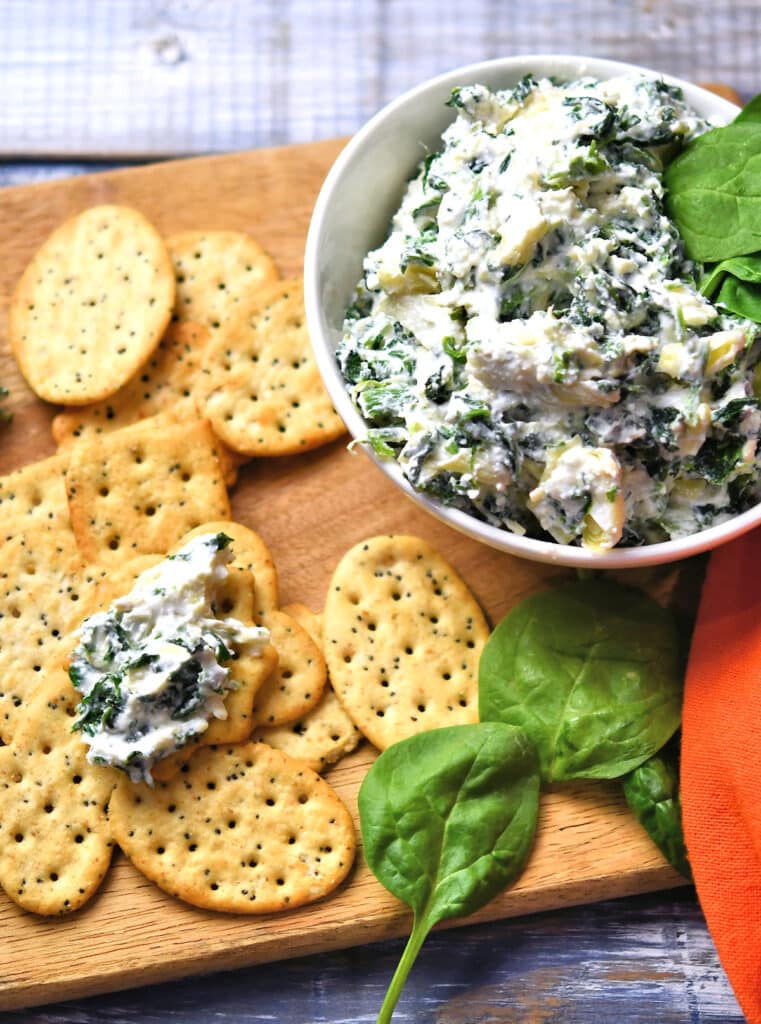 Ingredients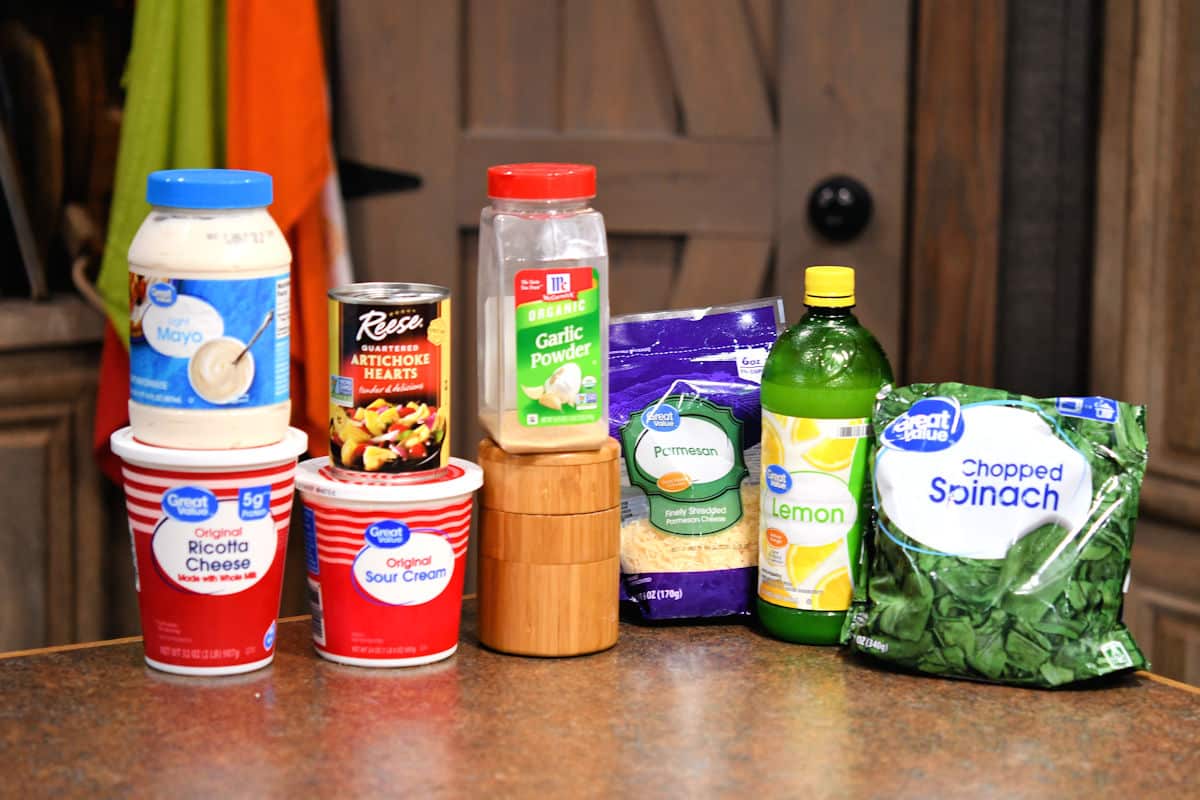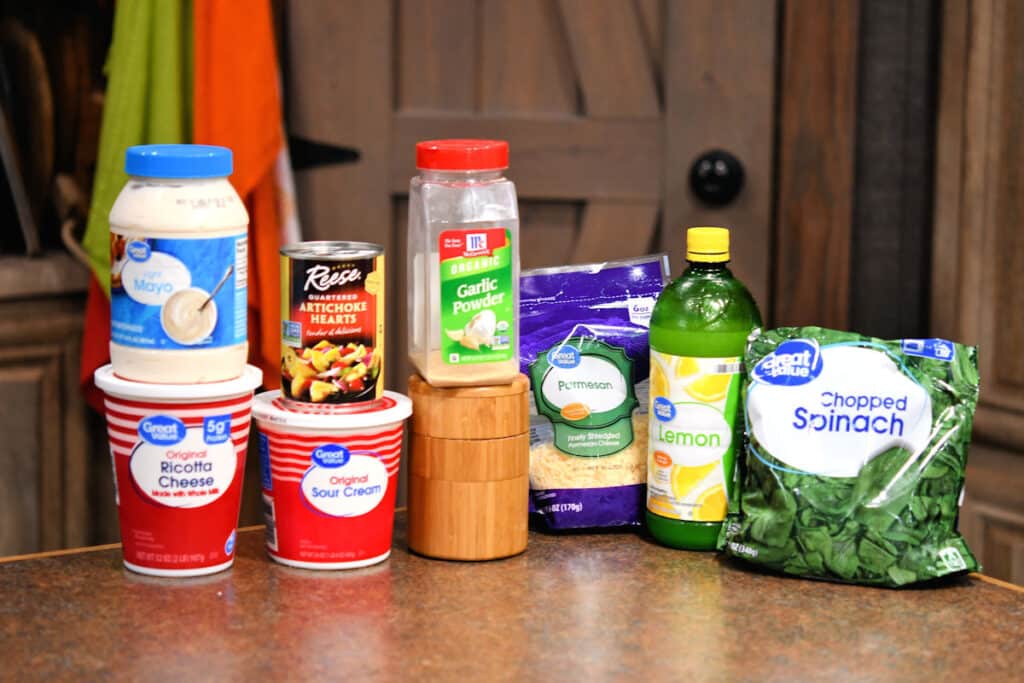 Spinach and Artichoke Hearts. Perhaps the most difficult part of this recipe is squeezing out the spinach and artichoke. You need to use a colander and/or cheesecloth. I used a piece of cheesecloth. Really squeeze out the water.
The rest of the recipe is very easy. The entire process takes only about 15 minutes.
Mayonnaise and Sour Cream. If you don't have one of them, you could use plain Greek yogurt instead.
Ricotta Cheese. I've made this with cream cheese in the past. This time, I wanted something more creamy. Cream cheese makes the dip a little thick. Ricotta cheese is great for flavor but also perfectly creamy for chips and crackers, even when cold.
Can This Spinach Dip Be Served Hot?
Yes, definitely! I know that I've made "Cold Spinach Artichoke Dip" but it's honestly delicious hot or cold. I really love it cold, personally, but I'm not going to turn it down hot, golden and bubbly.
You can heat it in a 350° oven for about 25 minutes. Serve it with bread cubes or even tortilla chips. You can also put it in the center of Hawaiian bread, using the cubes for dipping.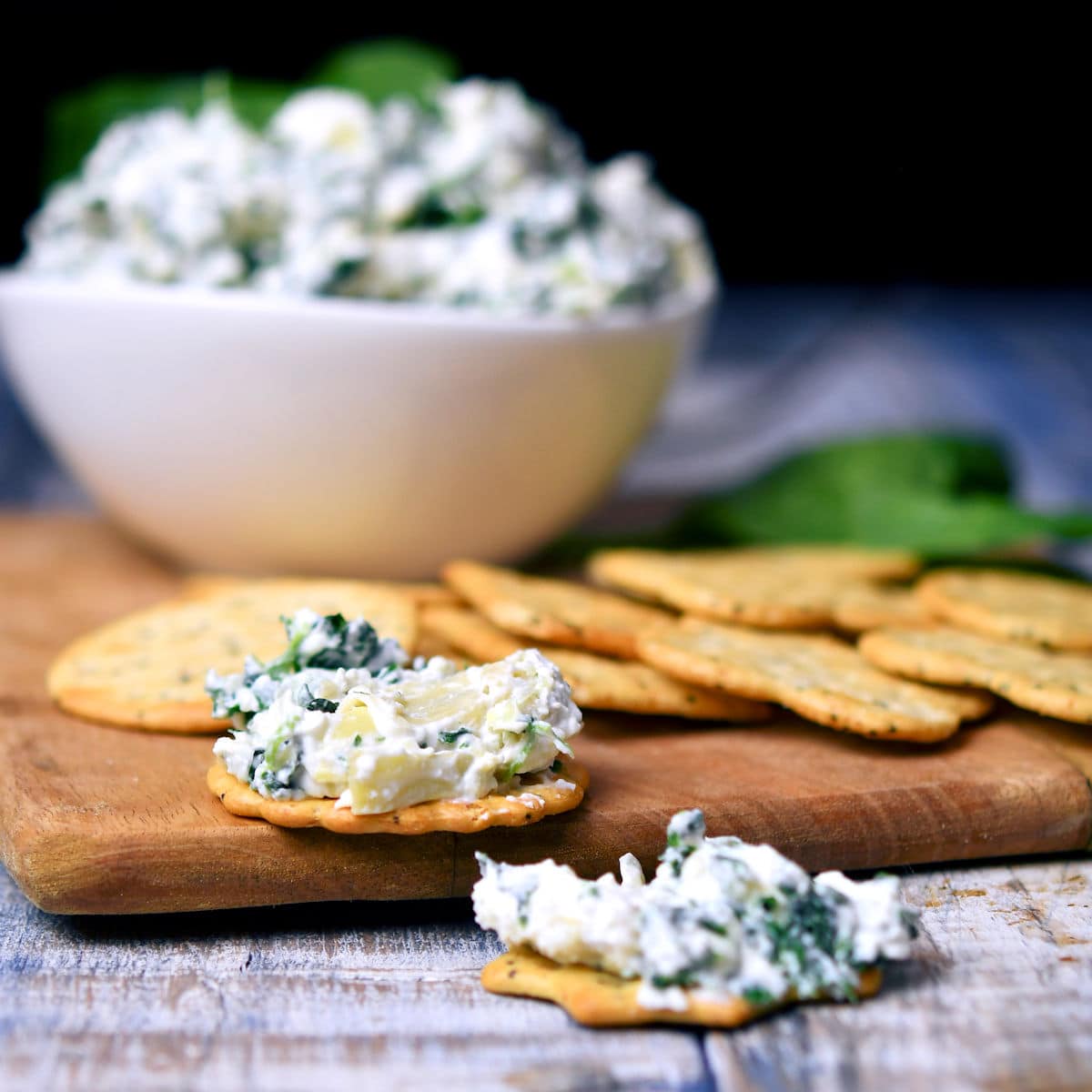 Why Is My Dip Watery?
I can think of two reasons this can happen. The first reason is obvious. You need to remove as much liquid as possible from both the frozen spinach and the artichoke hearts. If you have too much water, it will certainly make the dip watery.
The other reason isn't as obvious. If someone is double-dipping or eating the dip with a spoon and sticking the spoon back into the container, you're going to have a saliva situation.
Not getting too technical, there are enzymes in saliva which start digesting food. So, if you get some in your food, it's going to start breaking it down, even if it's in a container in the refrigerator.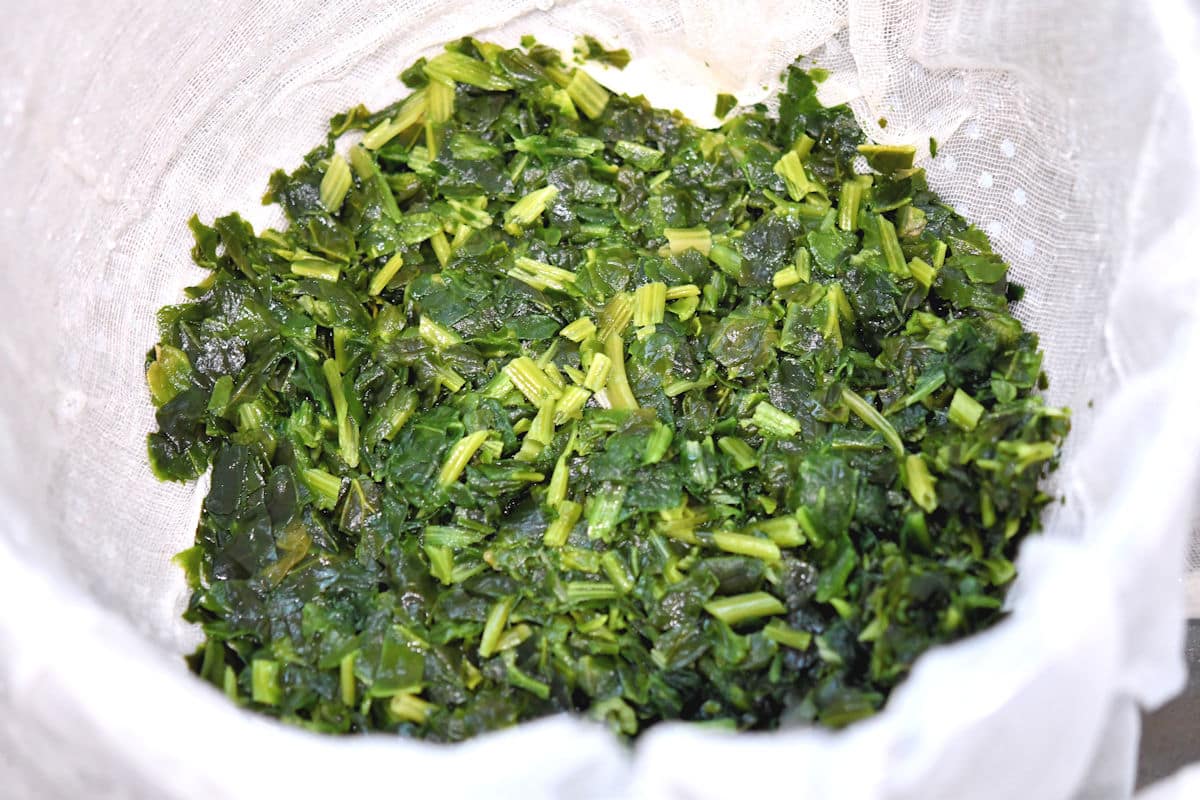 How To Store
You can store leftover spinach artichoke dip in the refrigerator for about 5 days. Cover it with plastic wrap or in an airtight container.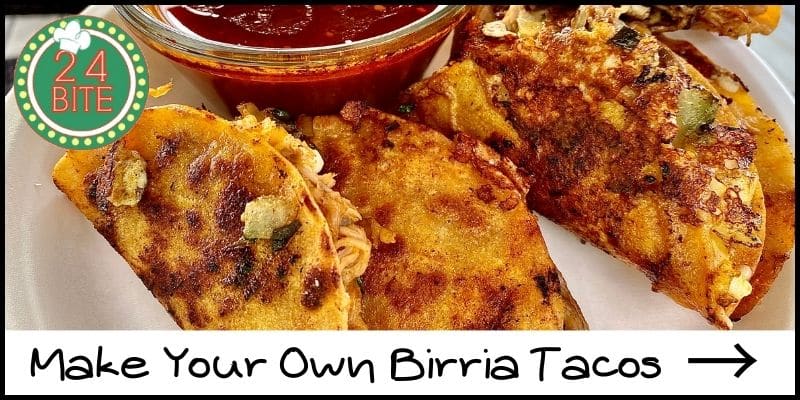 How To Use Leftover Dip
You can eat a serving of the dip on the side of any meal. Eating it with a spoon is perfectly fine. You can eat it with crackers, bread cubes or chips. To make it more healthy, use celery and carrot sticks or cucumber slices instead.
Use the dip to replace mayonnaise on a sandwich. Toss with a fresh batch of hot pasta. Spread it on a pizza and top with with mozzarella. With all these different ideas, you won't have to worry about freezing it.
Can You Freeze Spinach Artichoke Dip?
This dip can be frozen in an airtight container, although I wouldn't call it optimal. Freezing any dairy will usually change the texture. It will produce ice crystals which could make the dip watery when thawed.
Freeze it up to 3 months, but it's not my favorite way to use up the leftovers.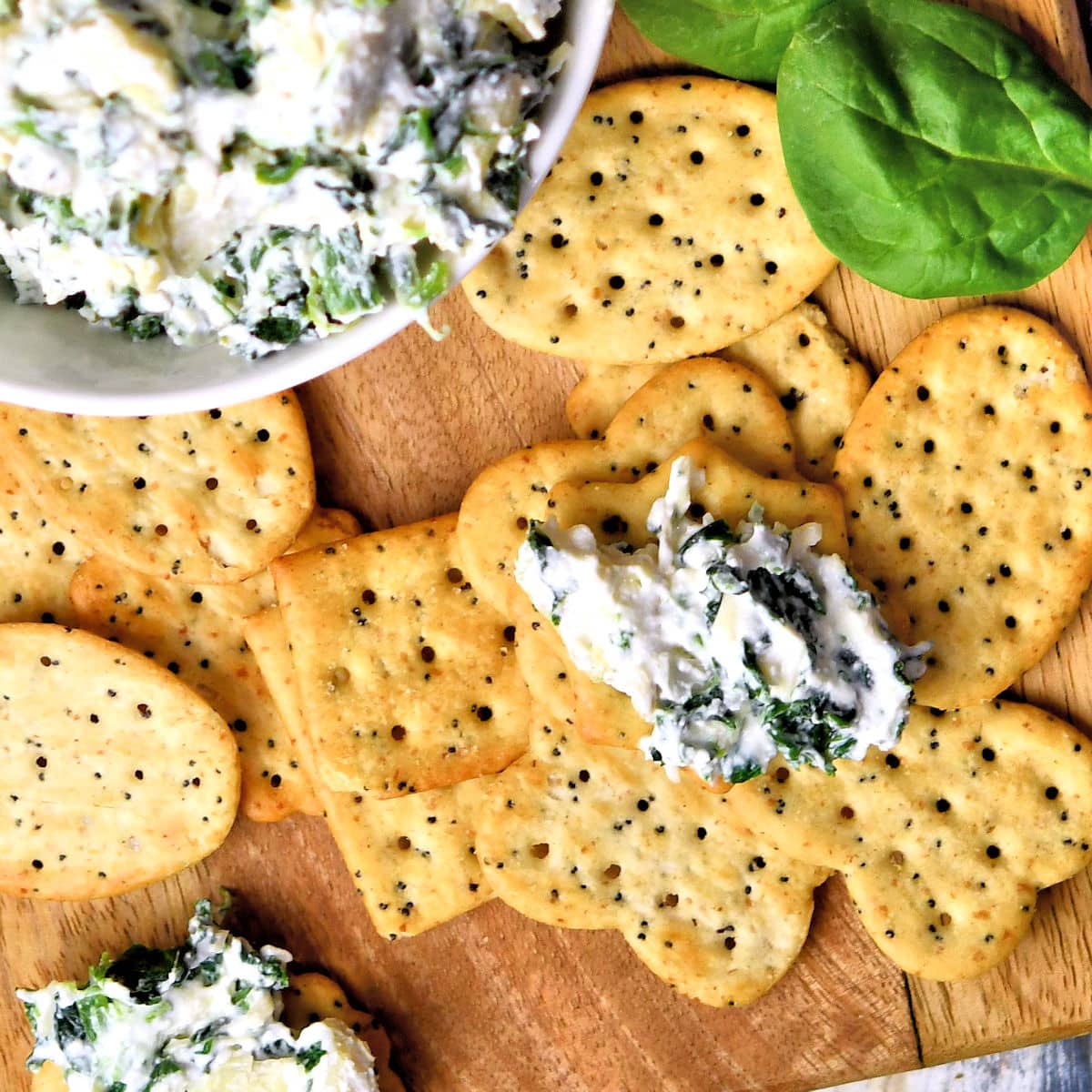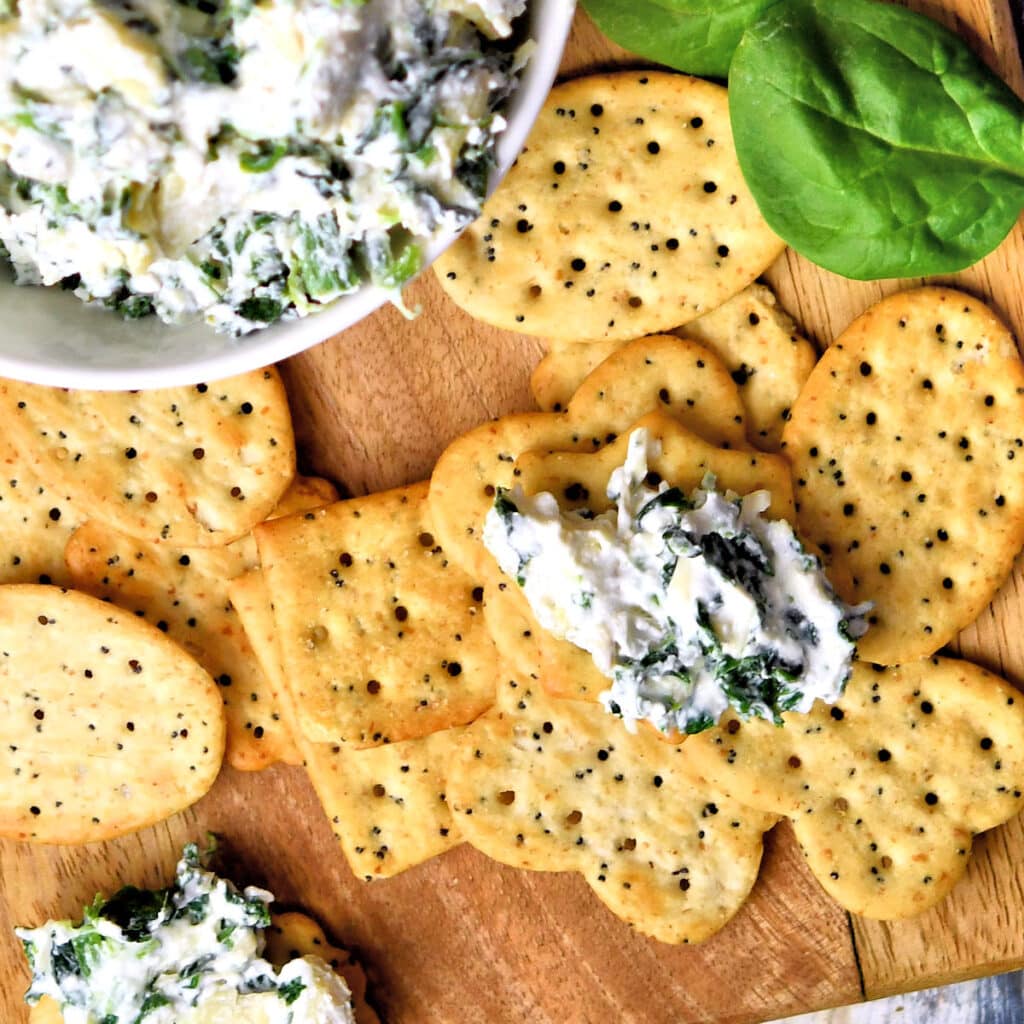 You May Want To Try
These are some other great recipes that you may like to try, especially if you like Spinach as much as I do.
Recipe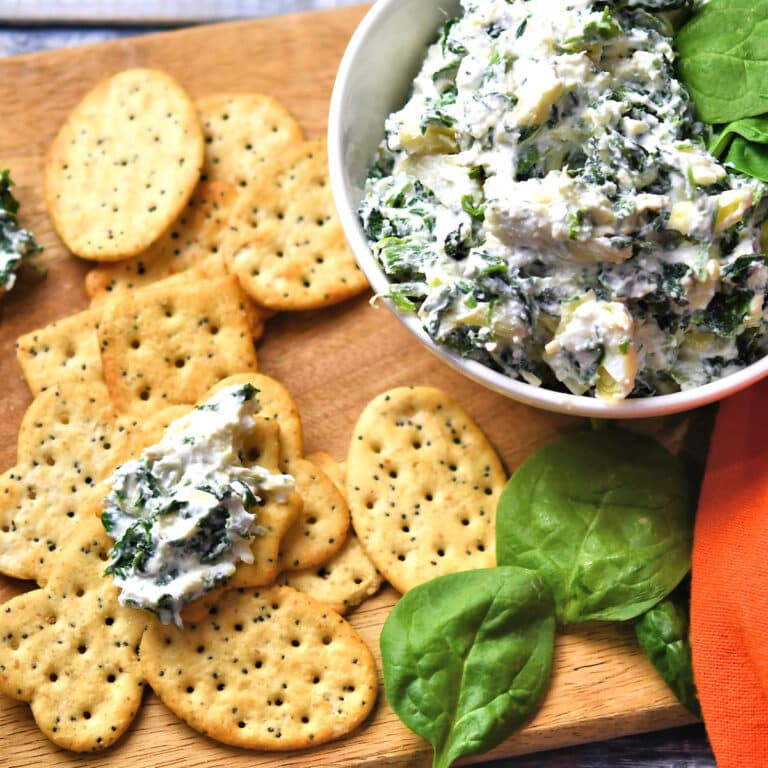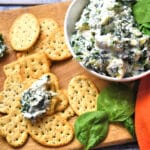 Pin Recipe Now
Cold Spinach Artichoke Dip
Tap to leave a star rating
Save or Print
This creamy Cold Spinach Artichoke dip recipe is a popular appetizer or snack, often served with crackers, chips or bread. Can be served hot or cold.

For more information, be sure to check the recipe details in the attached 24Bite® post.
Ingredients
12

ounces

Frozen Spinach

,

thawed, drained very well

14

ounces

Artichoke Hearts

,

canned, drained very well, chopped

¾

cup

Ricotta Cheese

¾

cup

Sour Cream

½

cup

Light Mayonnaise

½

cup

Parmesan Cheese

,

grated

¼

teaspoon

Garlic Powder

¼

teaspoon

Salt

1

tablespoon

Lemon Juice

,

bottled
Instructions
Place thawed chopped spinach in a colander and/or cheesecloth to squeeze out as much liquid as possible. Set aside.

Open and drain canned artichoke hearts and chop lightly. Place in the same colander and/or cheesecloth to squeeze out the liquid. Pat with a paper towel to remove any other liquid. Set aside.

With medium mixing bowl, stir together ricotta cheese, sour cream and mayonnaise completely.

In a separate bowl, with a spoon, stir together Parmesan cheese, garlic powder, salt and lemon juice. Once distributed, stir in spinach and artichoke.

Fold the spinach mixture into the Ricotta cheese mixture.
Note: If there is a video, it will not display while there is an adblocker.
Notes
Can be eaten right away or chilled in an airtight container in the refrigerator for up to 5 days.
Serve with crackers or chips. You could also use carrots or other cut veggies.
To serve as a hot dip:
Preheat oven to 350°. Spray small baking dish with cooking spray. Place dip into dish and spread evenly. Bake 25 minutes or until starting to get golden and bubbly around the edges.
Nutrition Facts
Cold Spinach Artichoke Dip
Amount Per Serving
Calories 83
Calories from Fat 54
% Daily Value*
Fat 6g9%
Sodium 265mg12%
Carbohydrates 4g1%
Protein 4g8%
* Percent Daily Values are based on a 2000 calorie diet.
______________________
Percent Daily Values are based on a 2000 calorie diet. All amounts are estimates and 24Bite® takes no responsibility for actual figures since calculations vary by packaging and supplier. Please calculate the amounts yourself based on package labeling if you have specific dietary requirements. 24Bite®, Kim Guzman or Christian Guzman shall not be liable for adverse reactions or any other outcome resulting from the use of recipes or recommendations on this website or actions you take as a result.
© 2019-2023 Kim Guzman and Christian Guzman. All rights reserved. Subscribe to 24Bite email newsletters.
Follow 24Bite: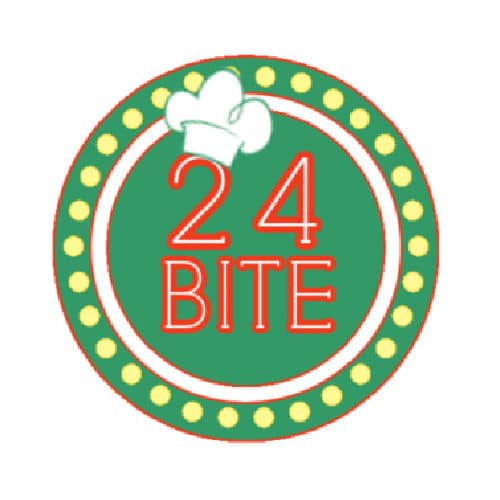 Twitter | Facebook | Pinterest