This Baguette Recipe is made with the ease of a Bread Machine, making it the easiest you'll find. It takes any meal to the next level.
When you can hear the bread crunch as you break off a piece, you'll automatically reach for that hot, homemade soup so you can scrape up every drop.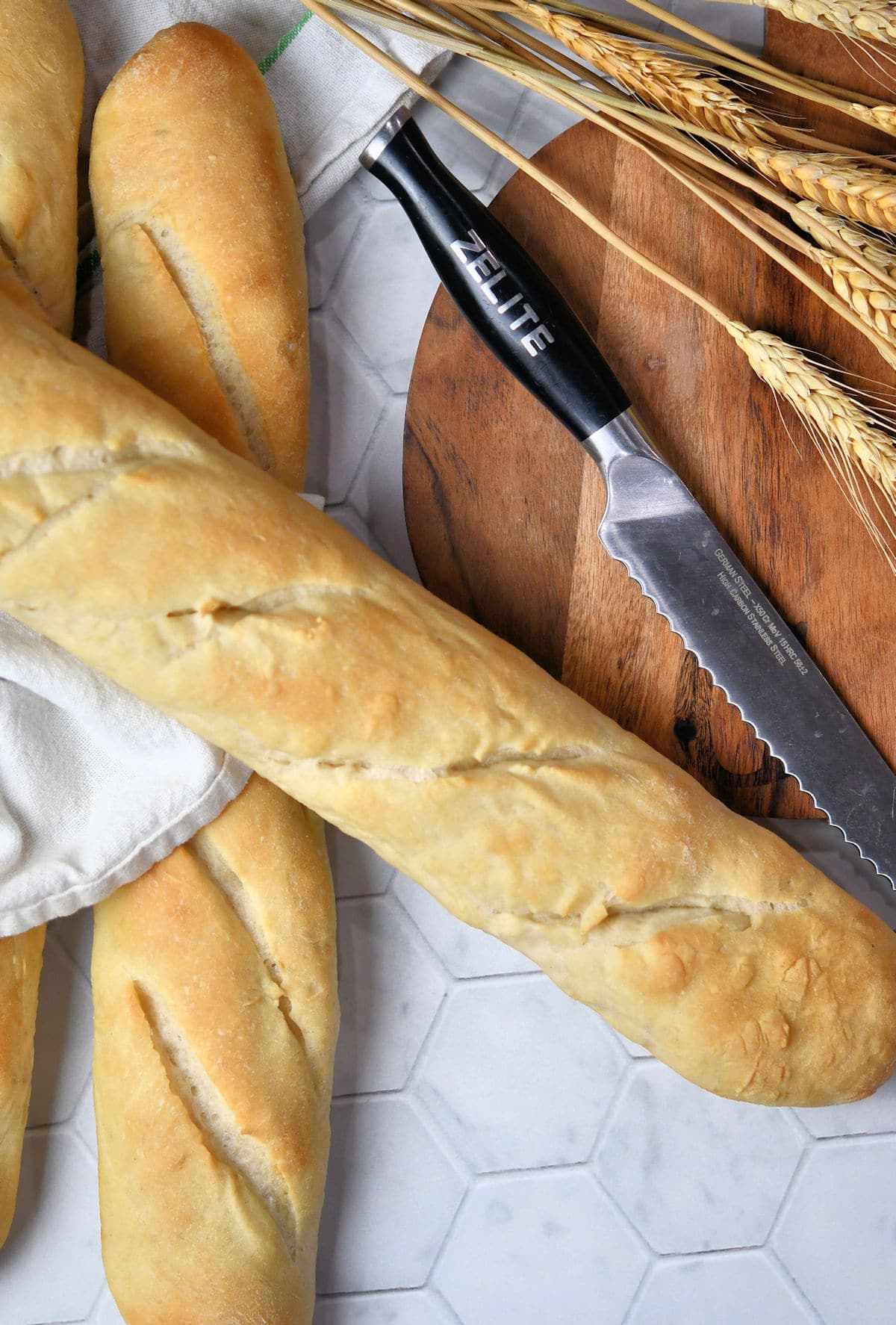 Ingredients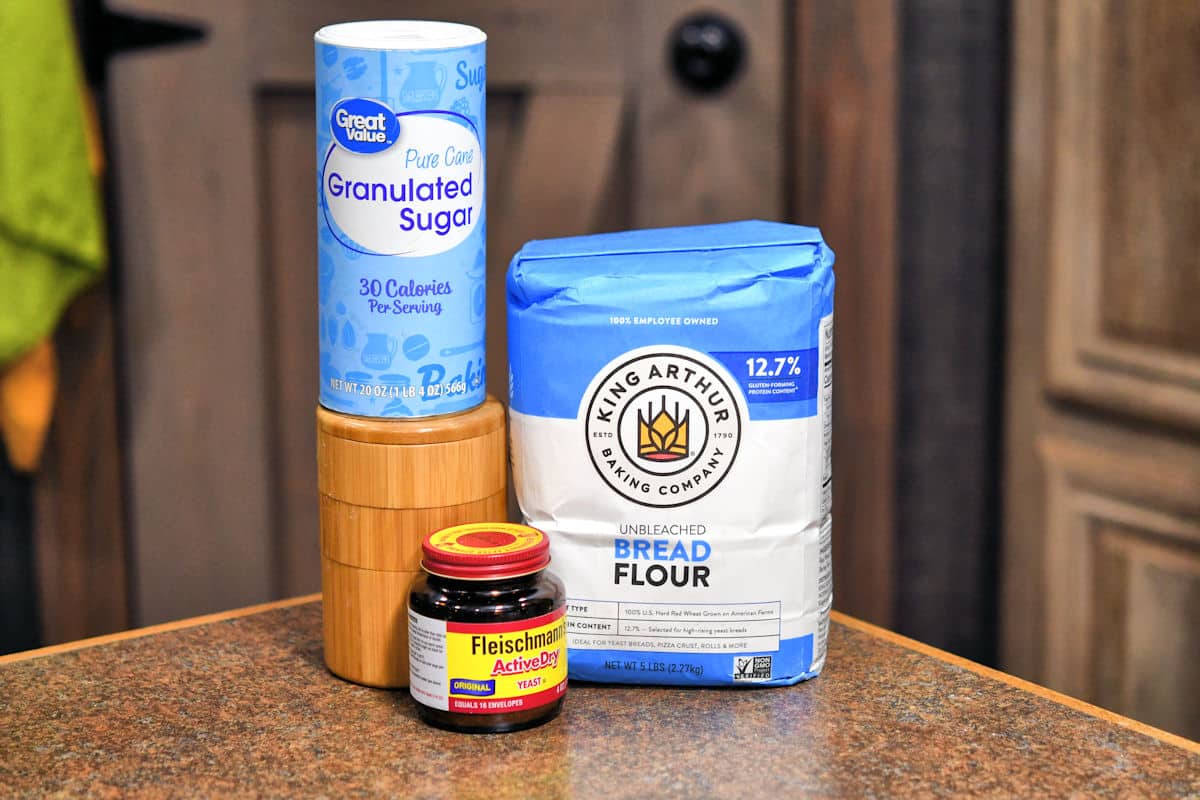 There are only five ingredients in my baguette recipe. You'll find:
Bread Flour
Granulated Sugar
Yeast
Sugar
Water
You'll notice right away that there is no butter or oil required in this baguette recipe. You'll notice this right away when you turn out the dough for shaping. The dough starts off really sticky. Don't worry. That's what you want.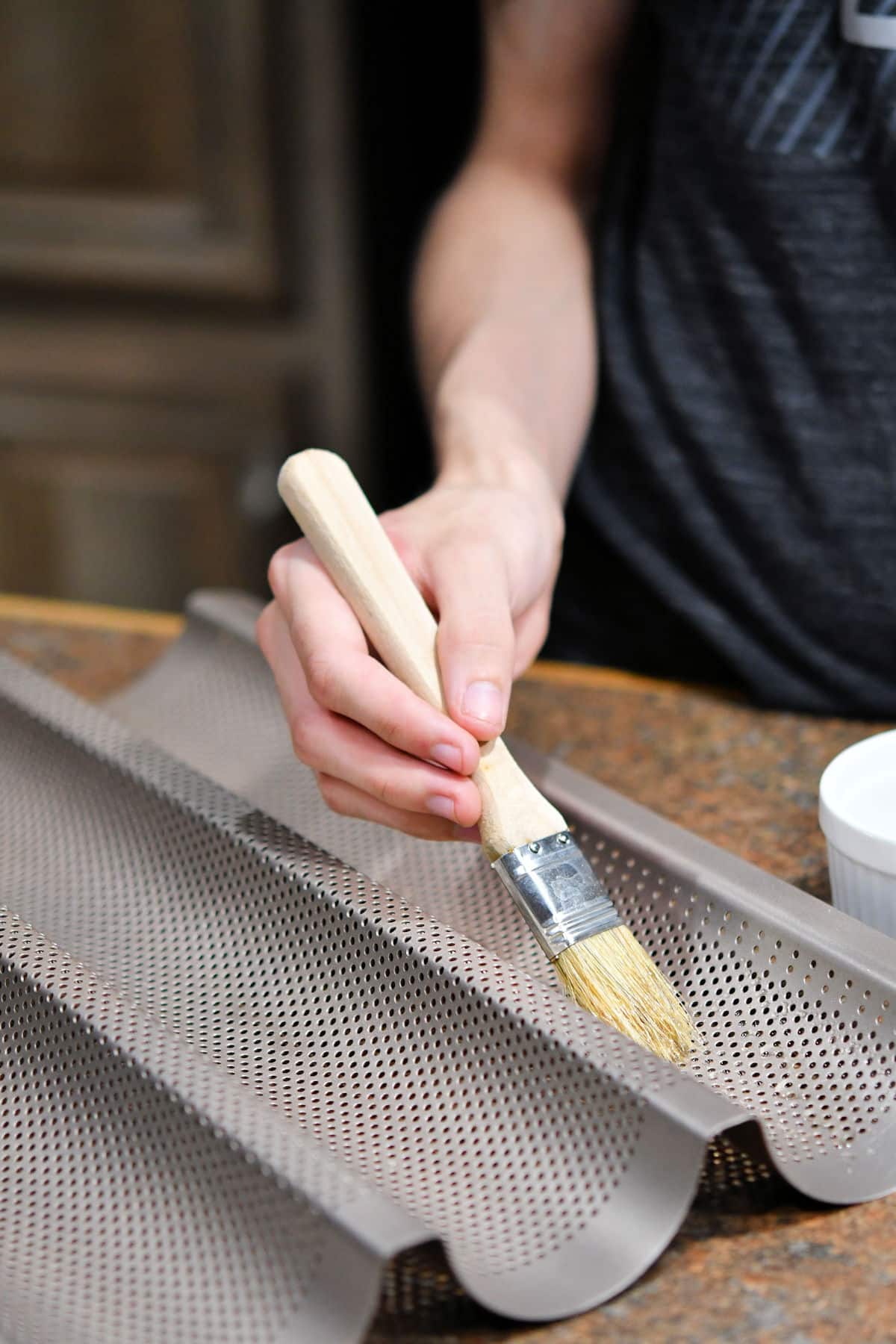 Using Sugar For Baguette Dough
If you're already familiar with making Baguettes, you may notice that I've included a little bit of sugar. The traditional baguette, according to French law, doesn't include the sugar. (Yes, there really is a French Bread Law.)
In France, yes, there is an actual law. There is only 4 ingredients in this bread: water, flour, salt and yeast.
The difference by bread and the traditional French Baguette is that, the 4-ingredient version is best if you make a a sponge of the dough. A sponge starts the dough rise in a fermenting process.
Since this is a bread machine recipe, I don't have a fermenting step. Everything goes into the bread machine. To make up for this, I've fed the yeast a small amount of sugar to help the rise more quickly without the extra sponge step.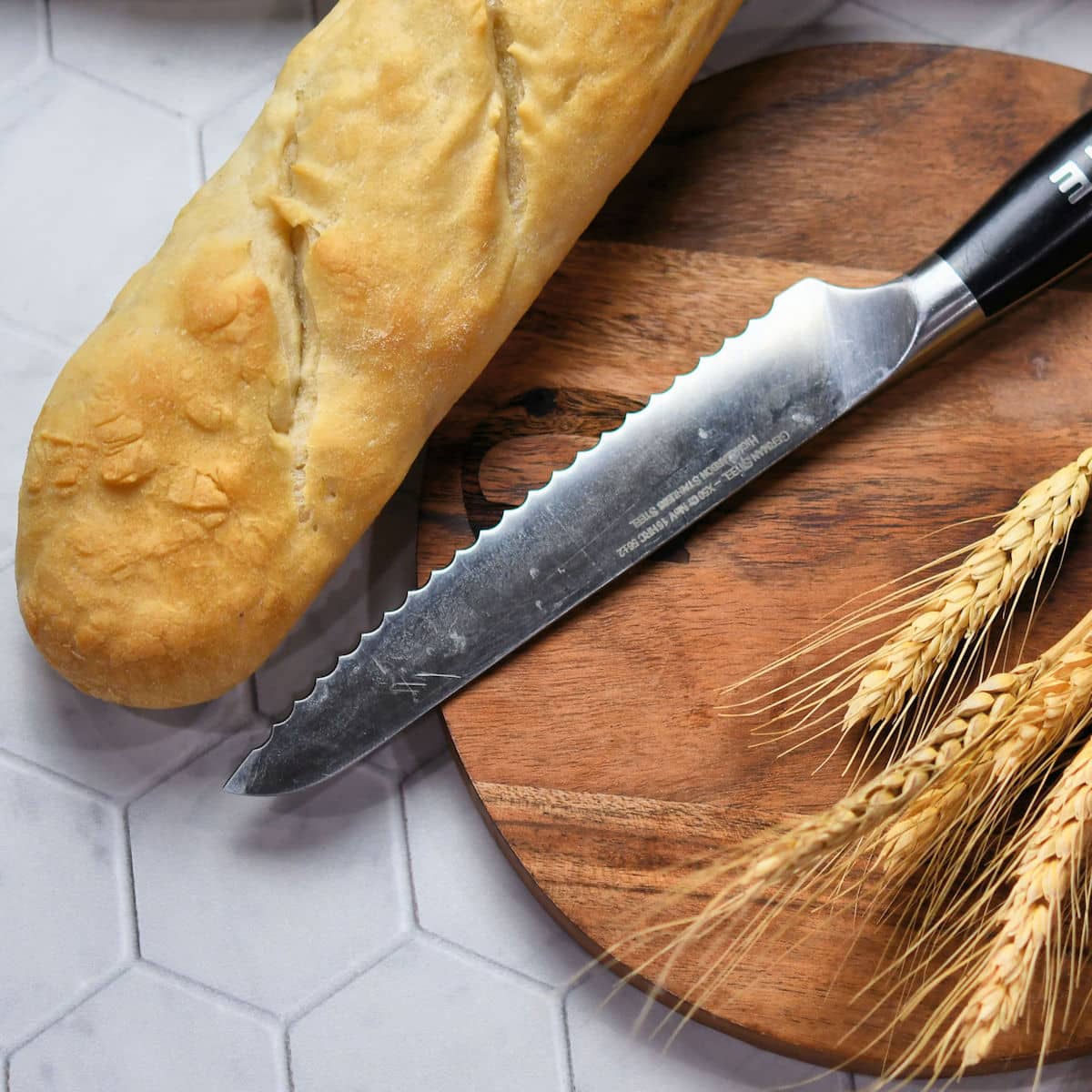 What's The Difference Between French Bread And A Baguette?
The obvious is that French bread is wider than a baguette. More importantly, you don't do all the special water treatment that you do with baguettes.
You'll see in this recipe how water is used frequently in order to get that crusty exterior you don't have with French bread.
A baguette is just the right size and texture so you can break off a large chunk of bread. French bread is softer on the outside, making it nice for slicing or filling for garlic bread.
Baguette Crust Color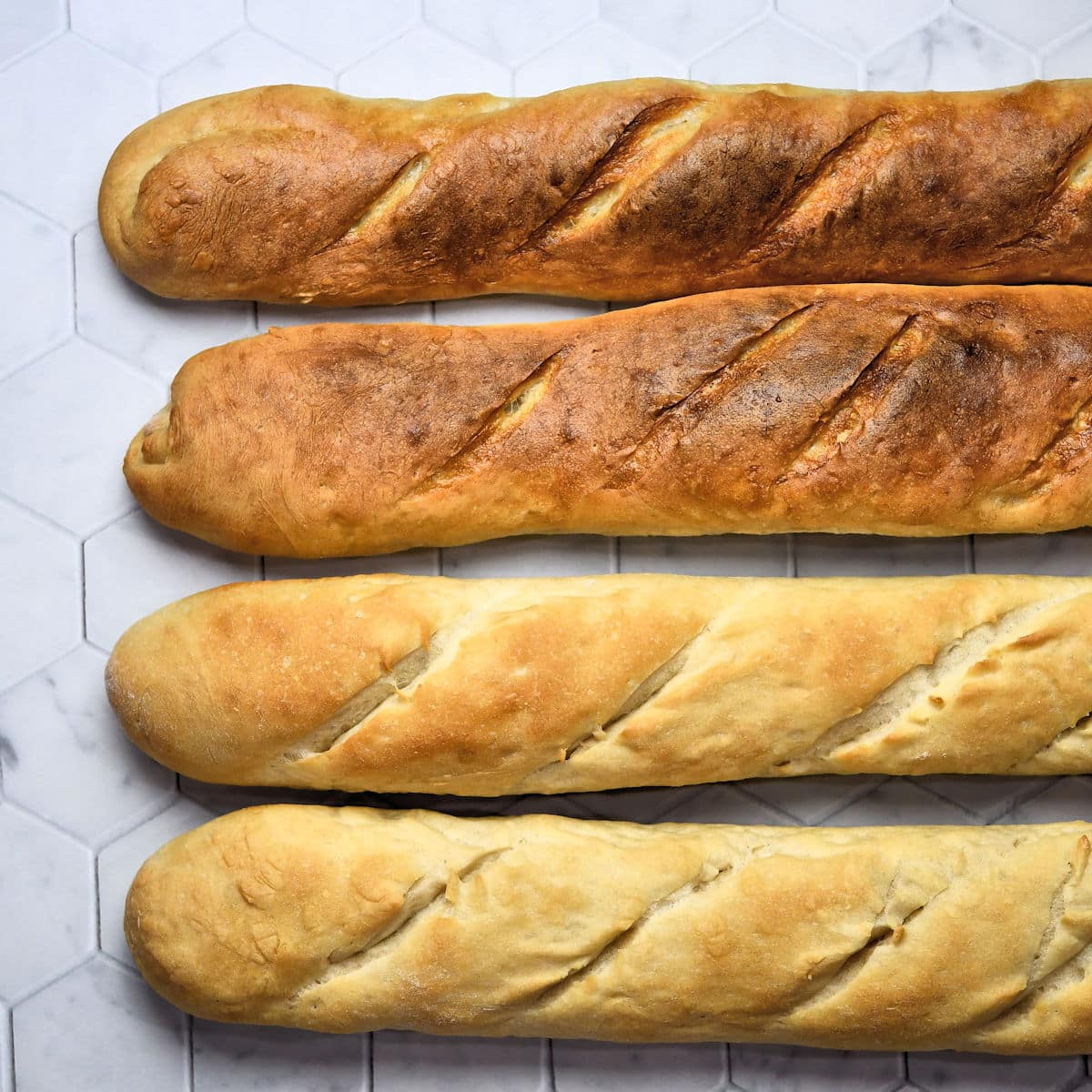 I prefer a golden crust on my baguettes. The two in the bottom of the photo look perfect to me. They're a golden yellow.
But, if you prefer a darker crust, that's easy too. Don't be tempted to bake it longer. Remember that there's no butter or oil, so there's nothing to stop the bread from drying out too much.
Just turn on the broiler and toast the tops for about 2-4 minutes, until your desired color.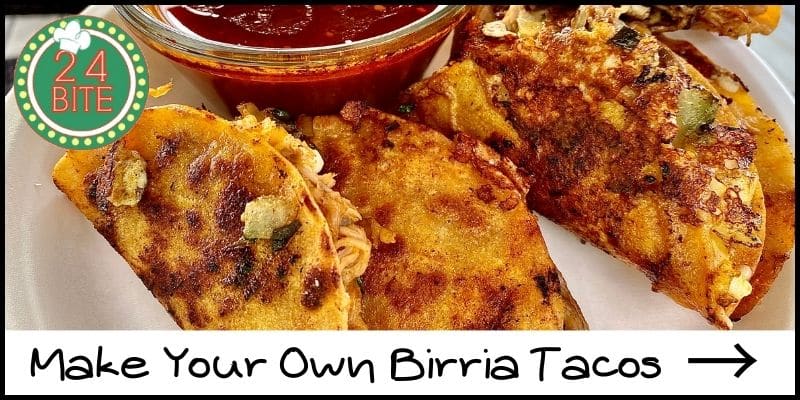 What If You Don't Have A Baguette Pan?
If you don't have a baguette pan, we bought this one at Amazon. It's a great accessory and is under $20.
But, if you don't have one, you can use a makeshift pan by making rises and slopes with parchment paper. Place parchment paper over some cardboard paper towel rolls then place the shaped dough in between. PVC pipe? That will work.
Use your imagination and I'm sure you'll find something. You just need it during the rising process. Then, you can move them to a baking pan.
Why Do You Steam Baguettes?
You'll notice right away that there is a lot of extra water added in this recipe. It starts with a casserole of water on the lower rack of the oven. It ends with a liberal spray of hot water right before the baguettes go into the oven.
All this extra water helps form the crust on the outside of the bread. It is what makes your baguette everything you love about your baguette.
Why Do You Cut Slashes Into Baguettes?
Making the slashes (or slits) in the bread helps to control the direction the bread rises in the oven while it bakes.
I found that the slashes were the most difficult part. Scoring fluffy bread dough turns out to be a little difficult to get right. To make it easier, I've allowed the bread dough to rise a little longer to form a surface that makes it easier to score.
You can either use a sharp knife or a bread lame, which is a razor blade. If you don't get the lame "just right", you get some dragging and the cuts aren't clean.
Don't worry about perfection, though. You aren't really going to mess up a good, tasty bread simply by having lopsided cuts.
How To Serve Baguettes
You can break off chunks of bread and scrape up some soft creamy butter. I could absolutely make a meal out of that.
I love basil pesto so much. It takes only 30 days to grow enough basil to harvest for my Basil Pesto Recipe. So good!
You can serve a fresh Baguette with any of my Soup Recipes or something as easy as a fresh green salad.
Try more of my Bread Maker Recipes for more of a variety.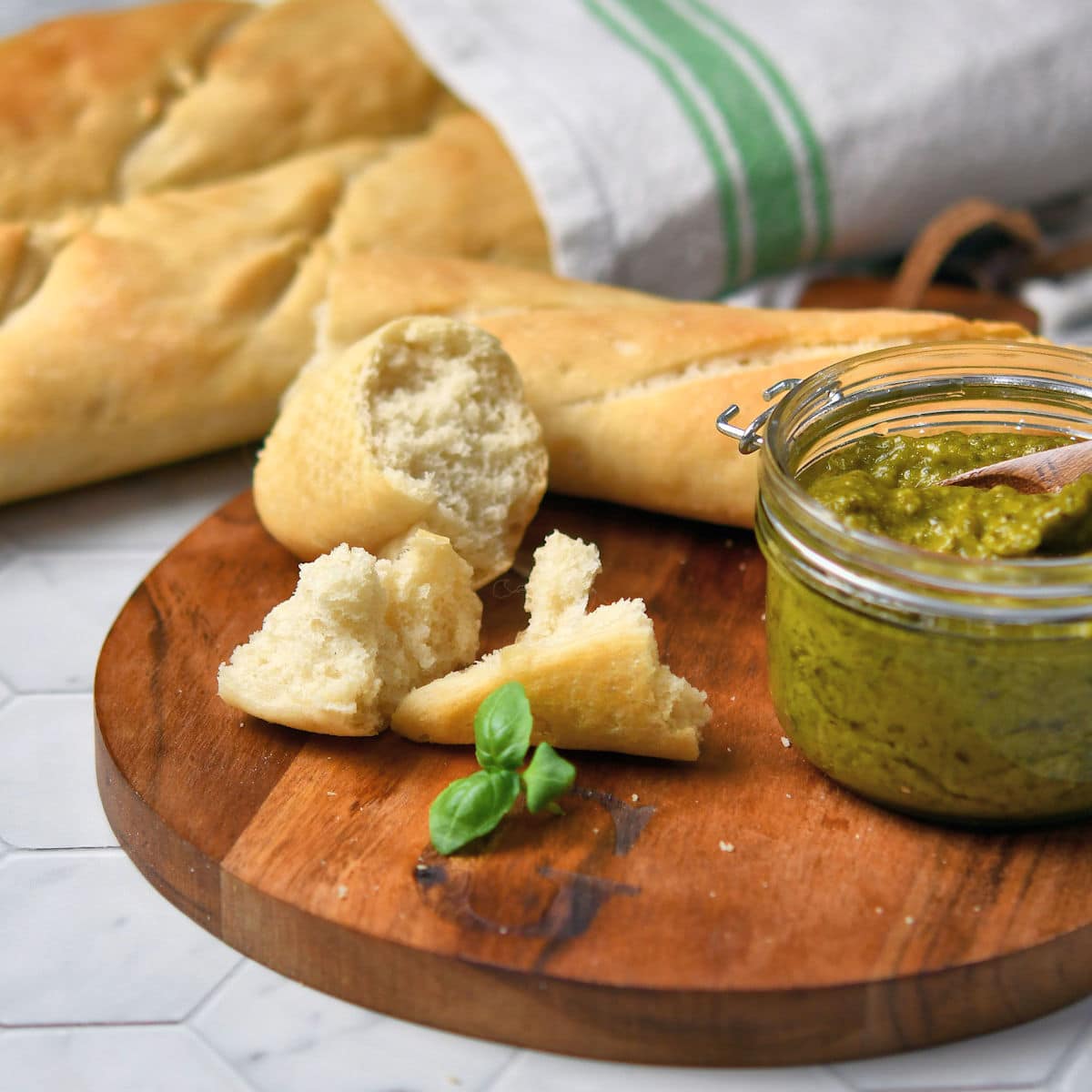 Recipe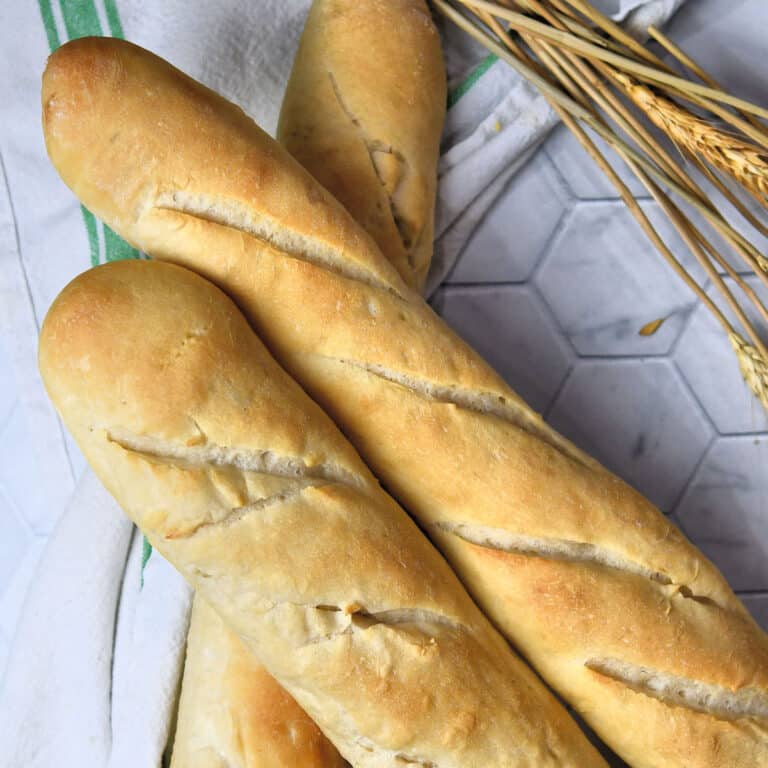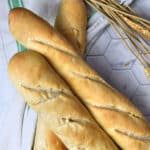 Pin Recipe Now
Bread Machine Baguettes Recipe
Tap to leave a star rating
Save or Print
This Baguette Recipe is made with the ease of a Bread Machine, making it the easiest you'll find. It takes any meal to the next level.

For more information, be sure to check the recipe details in the attached 24Bite® post.
Equipment
Bread Machine (Cuisinart Bread Maker 2 Pound used)

Baguette Pan or Baking Sheet

Pastry brush

Parchment Paper

if using Baking Sheet

Clean, Dry Cotton Towel

Spray Bottle

Casserole

any size from 8" square to 9×13", needs to be quality enough to go into 425° oven

Bread Lame

or very sharp knife

Wire Cooling Rack
Ingredients
Dough
1 ½

cups

Water

,

very warm, about 105-110℉

2 ¼

teaspoons

Yeast

,

or one packet

1

teaspoon

Granulated Sugar

4

cups

Bread Flour

1

teaspoon

Salt

Cooking Spray

,

like Pam
Instructions
Proof the yeast: In a small bowl or glass measuring cup, stir together water, yeast and sugar until mixed well. Set aside.

After 5-15 minutes, check the yeast to see that it has a nice foam layer to ensure the yeast is viable. If there is no foam layer, check your yeast. It may be expired and you'll need to try again.

Place yeast mixture, then flour, then salt in bread pan. Set bread machine to make dough only. It will take about 1 ½ hours.

Spray with cooking spray or brush a small amount of oil on Baguette Pan (or use parchment paper). Set aside.

Remove dough from bread pan onto a floured surface. The dough will be quite sticky. Cut into 3 equal pieces. Press or roll out to a rectangle about the length of the baguette pan with at least 4" in width. Starting at the bottom of the long side, carefully pull up and roll until you are able to make a long roll. (Rolling it up helps the direction of rise.) Place, seam side down on baguette pan. Cover with towel and allow to rise until doubled. Usually takes about 60 minutes but could be different based on your kitchen and the time of year.

Place one oven rack in the middle of the oven (for baking the Baguettes). Place a different oven rack below it (for the casserole dish). Place a casserole with water into the cold oven on the lower rack (to produce steam). Preheat oven to 425℉. The casserole needs that time in order to start producing the steam.

Once oven has preheated, using a bread lame (or sharp knife), make ½" deep slashes into each uncooked baguette. Fill a spray bottle with very hot water and spray the baguettes generously with water. You want the tops wet, but you don't want to drown them. Place the baguette pan in the oven.

Bake for 20 minutes or until golden. If you like a more toasty looking baguette, allow to broil for about 2-3 minutes, until desired color.

Remove baguettes to a wire cooling rack. Allow to cool completely before storing.
Note: If there is a video, it will not display while there is an adblocker.
Notes
If you are unable to get a Baguette Pan, you can use a regular baking sheet. Parchment paper helps keep them from sticking. The Baguette Pan helps maintain the shape of the baguettes to keep them long and skinny. But, it's completely okay if they lose a little of that shape on a baking sheet. They will still taste incredible.
Nutrition Facts
Bread Machine Baguettes Recipe
Amount Per Serving
Calories 154
Calories from Fat 9
% Daily Value*
Fat 1g2%
Sodium 196mg9%
Carbohydrates 31g10%
Protein 5g10%
* Percent Daily Values are based on a 2000 calorie diet.
______________________
Percent Daily Values are based on a 2000 calorie diet. All amounts are estimates and 24Bite® takes no responsibility for actual figures since calculations vary by packaging and supplier. Please calculate the amounts yourself based on package labeling if you have specific dietary requirements. 24Bite®, Kim Guzman or Christian Guzman shall not be liable for adverse reactions or any other outcome resulting from the use of recipes or recommendations on this website or actions you take as a result.
© 2019-2023 Kim Guzman and Christian Guzman. All rights reserved. Subscribe to 24Bite email newsletters.
Follow 24Bite: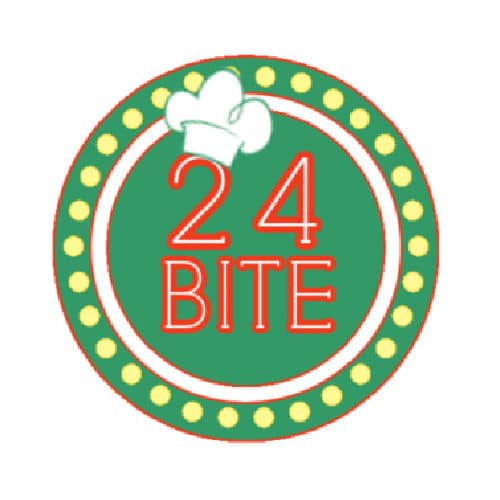 Twitter | Facebook | Pinterest