Chocolate sandwich cookies with peanut butter filling remind me of oatmeal cream pies except with chocolate. It's the perfect combination.
These delicious, fun cookies have one of the best flavor combinations since peanut butter and jelly. Real chocolate cookies with a dreamy filling made with peanut butter and powdered sugar.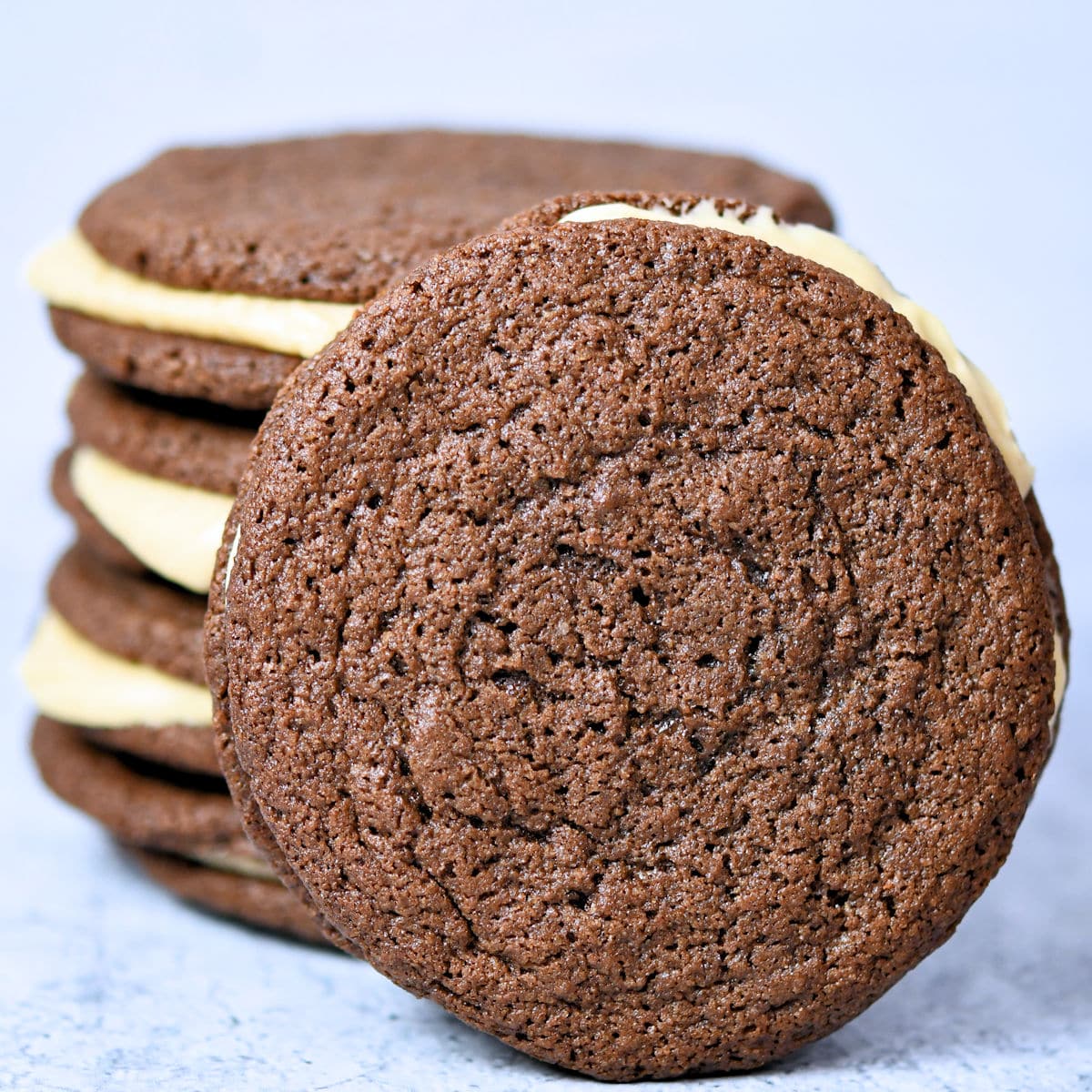 Ingredients for the Cookies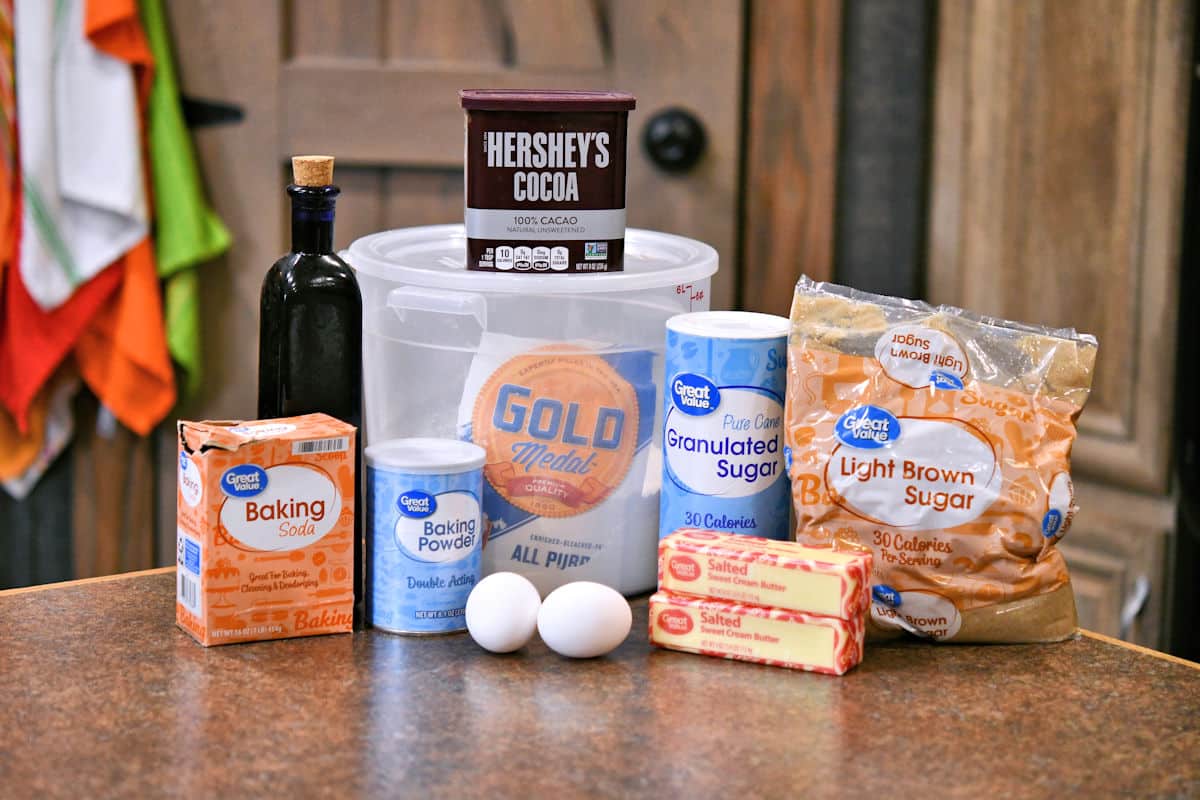 Granulated Sugar and Brown Sugar
I use more brown sugar than regular sugar because it makes for a softer cookie. I prefer the kind of cookie that bends than the ones that break.
How can I make softer cookies?
Speaking of soft cookies. I've learned in the past to always use quality cookie sheets. They really do make a difference.

Also, you don't ever want to bake your cookies until they're completely cooked through. Let them finish up their baking after you take them out of the oven. The heat of the cookie will finish it up.
Don't worry if your cookies turn out crispy, though! Once you put in the peanut butter frosting and let it sit overnight, the cookies will soften up beautifully.
Can I Substitute Salted For Unsalted Butter?
I prefer to use unsalted butter for sweets. I don't always have it on hand at the same time that I want to make cookies, though.
My easiest solution is to remove ½ teaspoon salt for every stick of salted butter. For this recipe, I used salted butter.
If you want to substitute Unsalted Butter, add ½ teaspoon for each stick, or 1 teaspoon total to the recipe.
Can I Use Melted Chocolate Instead of Cocoa Powder?
Yes, you can substitute melted chocolate but you will need to do some easy calculations.
For every tablespoon of cocoa powder, you can substitute ⅓ of a one-ounce block of unsweetened chocolate. At the same time, you will reduce the butter by one teaspoon for that same amount of powder.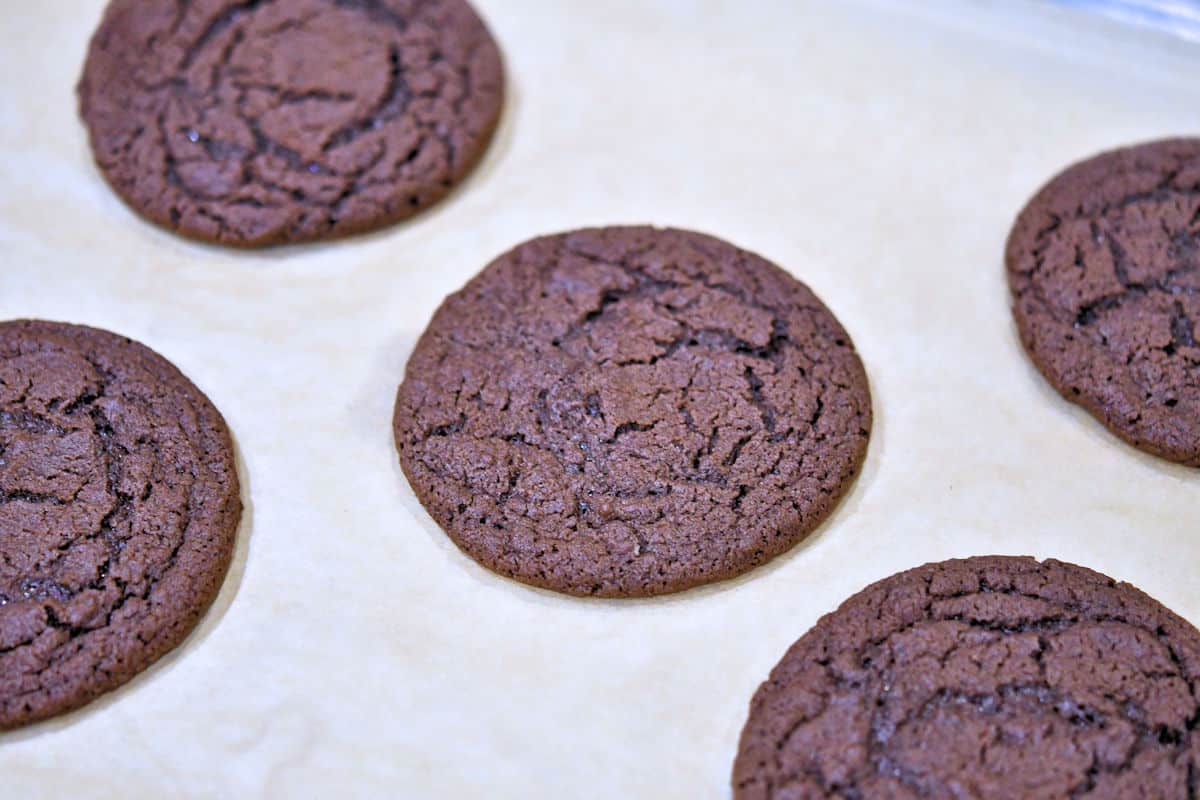 Can I Substitute Hot Cocoa Mix for Cocoa Powder?
I'm a big fan of using what's in the pantry but I wouldn't substitute hot cocoa mix for cocoa powder.
Hot cocoa mix has very little cocoa powder because it's mostly sugar. It would be difficult to make those kinds of calculations.
Ingredients for the Frosting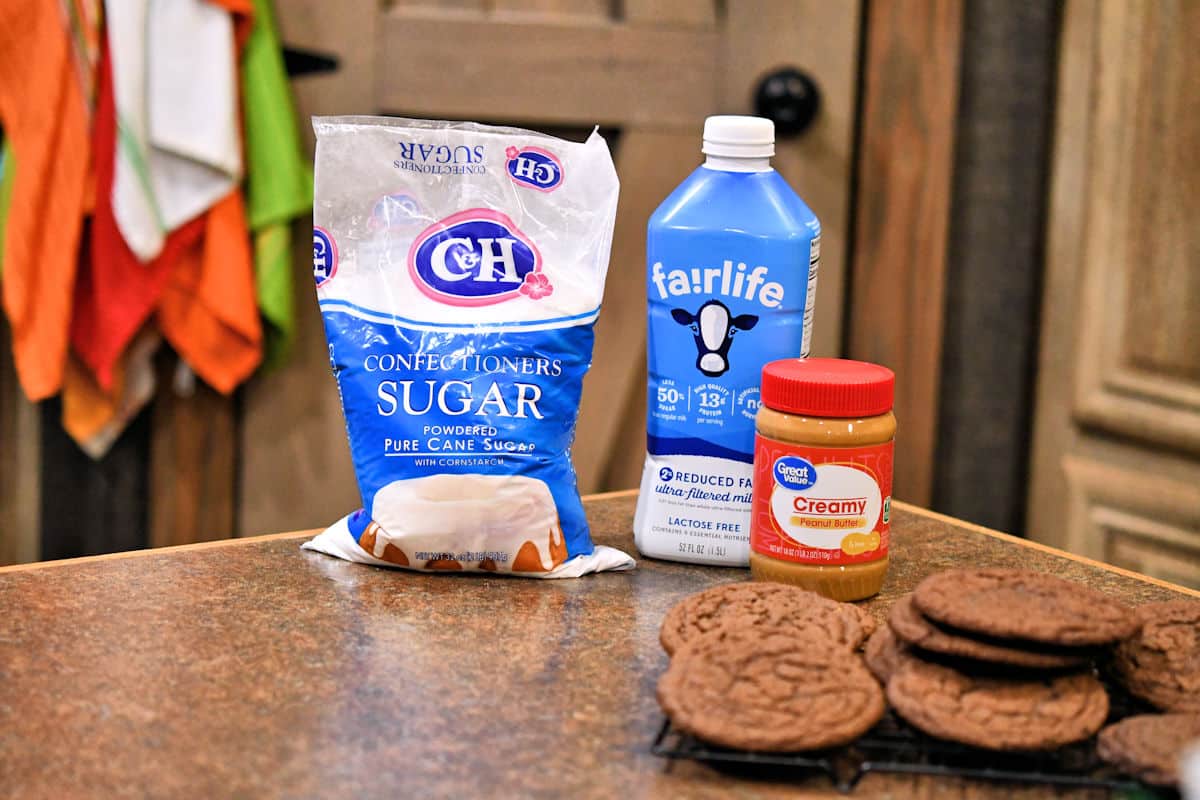 Powdered Sugar
Whatever you do, check the powdered sugar before you use it. If there are lumps, you will have lumpy frosting.
No one wants lumpy frosting!
Measure out your powdered sugar into a sifter and sift away.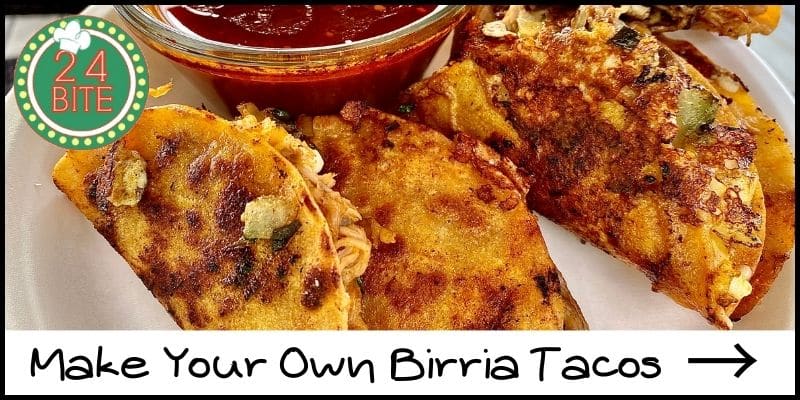 How Do I Sift Powdered Sugar Without A Sifter?
If you don't have a sifter, that's okay! Personally, I don't like using our sifter. It seems to take forever.
If you don't have a sifter, measure out your powdered sugar into a fine mesh strainer. Over a bowl or dish, hold the strainer with one hand and tap the side of it with the other.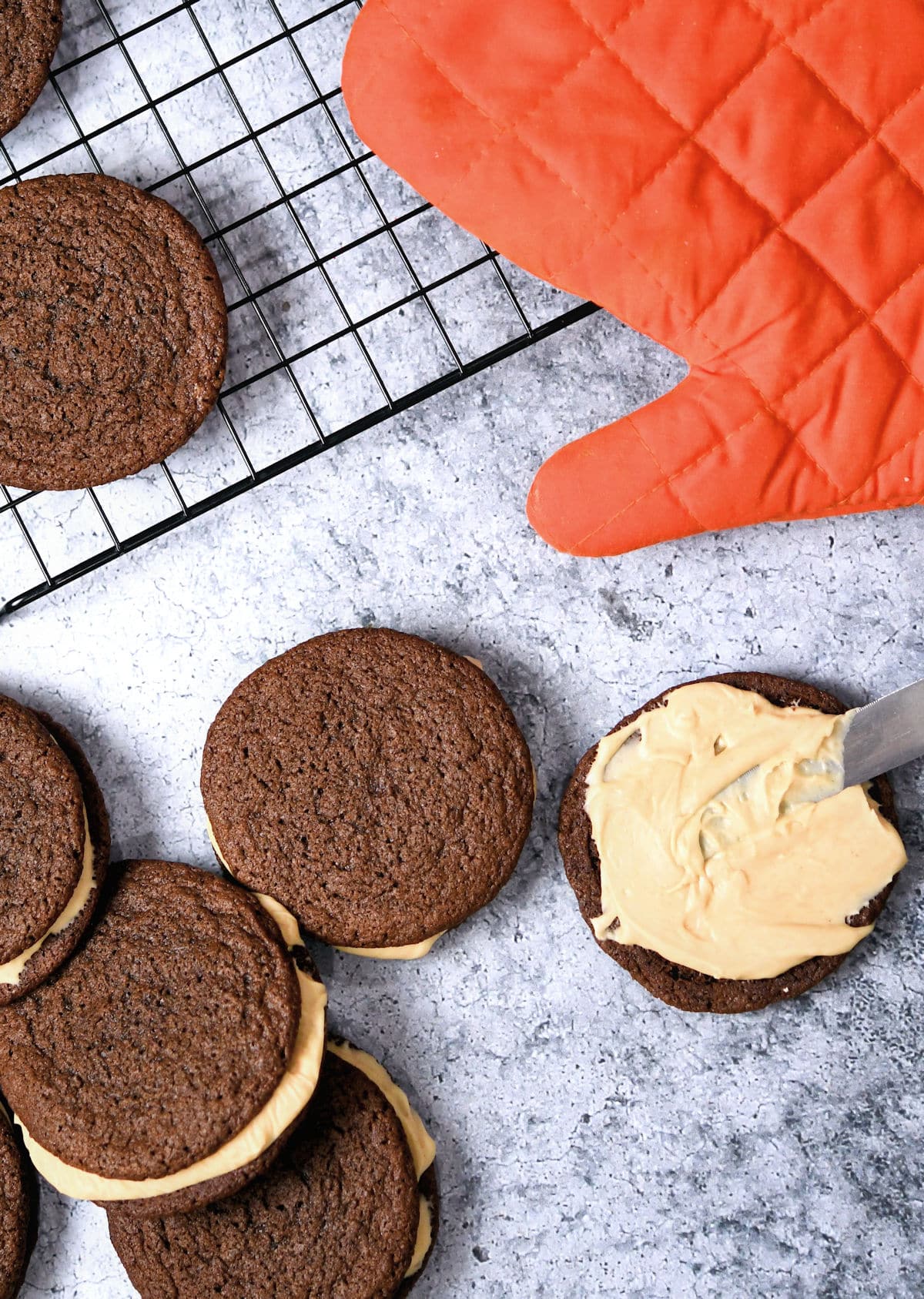 Peanut Butter
Use smooth peanut butter for the frosting. You don't want bimpity bumpities, right? I thought we already discussed this with the powdered sugar.
Make sure the peanut butter is at room temperature. You certainly don't want it refrigerated. You'll probably never get frosting that way.
Can I Use Cream Filling Instead?
Yes! If you're not in the peanut butter camp, try cream filling instead. King Arthur has a great recipe for cream fillilng.
Storage
You can keep these cookies on the counter in an airtight container for about 4 days. If your kitchen is pretty hot, you may want to keep them in the refrigerator instead.
More Cookies, Please
Since 24Bite is about learning to make the things you crave, I can't imagine not having cookies. Here are some more cookies I've made.
If you like, check out all my Cookie recipes here.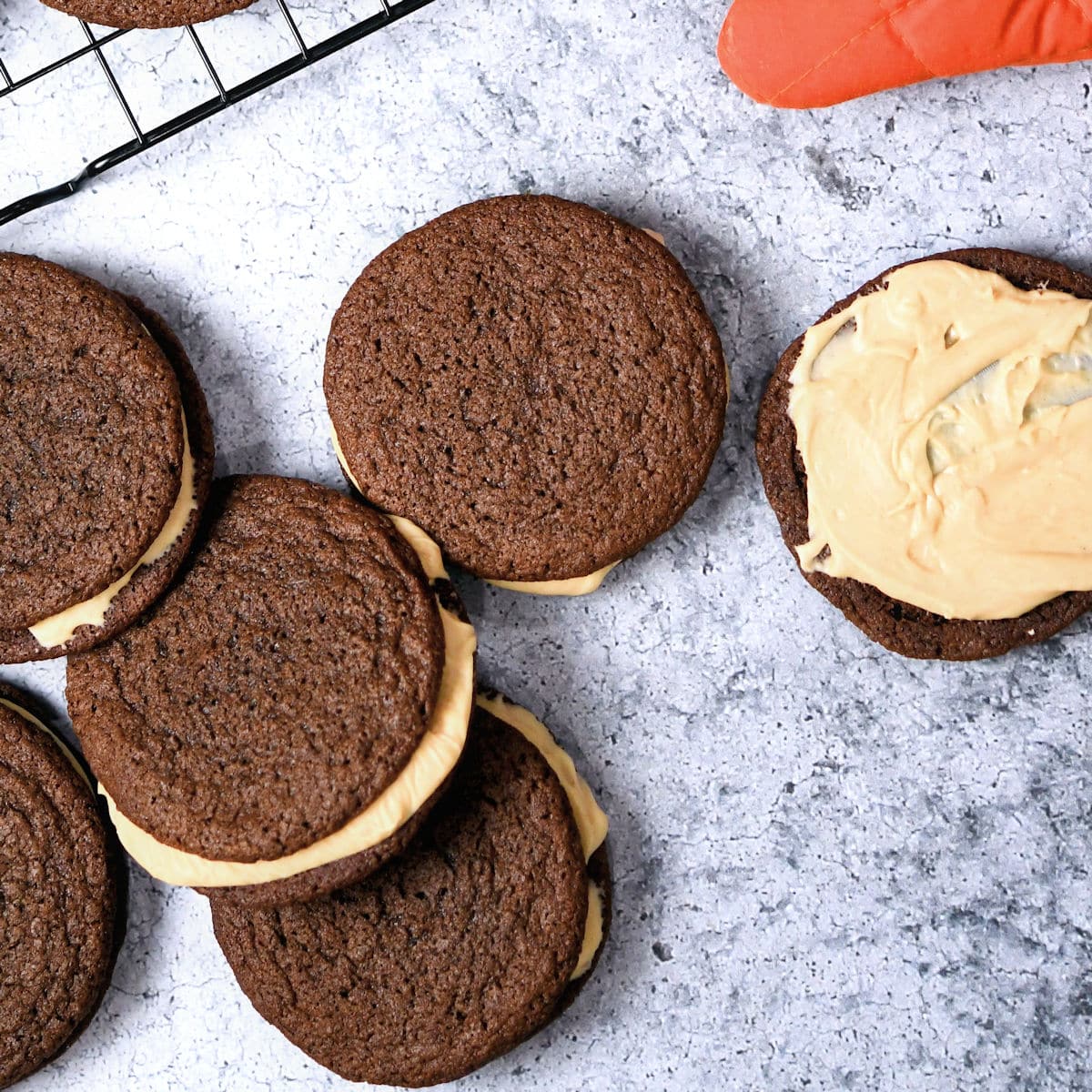 Recipe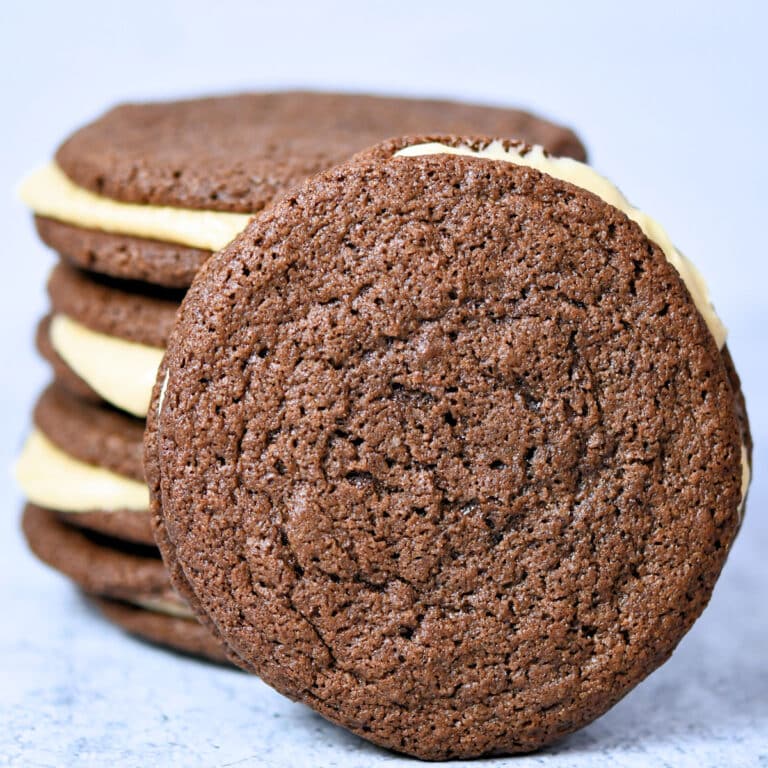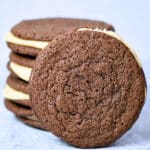 Pin Recipe Now
Chocolate Sandwich Peanut Butter Cookies
Tap to leave a star rating
Servings:
12
sandwich cookies
Save or Print
Chocolate sandwich cookies with peanut butter filling remind me of oatmeal cream pies except with chocolate. It's the perfect combination.

For more information, be sure to check the recipe details in the attached 24Bite® post.
Ingredients
Chocolate Cookies
1 ¾

cup

All Purpose Flour

½

cup

Cocoa Powder

,

like Hershey's Naturally Unsweetened

1

teaspoon

Baking Soda

½

teaspoon

Baking Powder

1

cup

Salted Butter

,

two sticks, softened (if using Unsalted Butter, add 1 teaspoon salt)

1 ¼

cup

Brown Sugar

,

packed

½

cup

Granulated Sugar

2

large

Eggs

2

teaspoons

Vanilla Extract
Peanut Butter Frosting
½

cup

Peanut Butter

,

smooth

3

cups

Powdered Sugar

,

sifted to remove lumps

⅓

cup

2% Milk

,

up to ½ cup
Instructions
Cookies
Whisk together flour, cocoa, baking soda and baking powder in medium bowl until well combined. Set aside. (If using, unsalted butter, add 1 teaspoon salt as well.)

Beat butter, brown sugar and granulated sugar in large bowl until creamy. Add eggs, one at a time, beating well after each addition. Mix in vanilla extract.

Gradually add flour mixture, about ½ cup at a time, mixing well after each addition.

With 1.5" cookie scoop (or about 1 ½ tablespoon or so per cookie), drop on parchment paper lined cookie sheet, about 2 inches apart. No need to roll into a circle or flatten.

Place cookies in preheated oven for 9-11 minutes. Cookies will completely flatten then take them out immediately. They are intended to spread out so you don't want to chill the dough.

Remove from oven and cool on wire rack until cool enough to remove from pan then allow to cool completely before adding frosting.
Frosting
Check to see if there are lumps in the powdered sugar and sift, if necessary.

Mix together peanut butter, powdered sugar and ⅓ cup milk until smooth. You'll be starting with ⅓ cup milk but you can use up to ½ cup total to get the consistency you desire.

Once cookies are completely cooled, spread frosting on underside of cookie and add another cookie for the top.
Note: If there is a video, it will not display while there is an adblocker.
Notes
The total estimated time considers 6 cookies being baked at a time. If you have larger baking sheets or a larger oven, you will be able to bake more at a time to finish sooner.
Don't worry about the cookies if they seem very crisp. Once you put the filling inside the cookie sandwich and let it sit overnight, the cookie will soften perfectly.
The nutrtional information is purposely over-estimated. Sometimes, I'm able to make 13 or 14 sandwich cookies instead of 12. The amount of frosting is also exaggerated. There is leftover frosting which makes calculations difficult. Still not a diet food, obviously, but not 500+ calories unless you're eating the frosting with a spoon. But, who am I to judge? 😉
Nutrition Facts
Chocolate Sandwich Peanut Butter Cookies
Amount Per Serving (0 g)
Calories 527
Calories from Fat 198
% Daily Value*
Fat 22g34%
Sodium 299mg13%
Carbohydrates 79g26%
Protein 7g14%
* Percent Daily Values are based on a 2000 calorie diet.
______________________
Percent Daily Values are based on a 2000 calorie diet. All amounts are estimates and 24Bite® takes no responsibility for actual figures since calculations vary by packaging and supplier. Please calculate the amounts yourself based on package labeling if you have specific dietary requirements. 24Bite®, Kim Guzman or Christian Guzman shall not be liable for adverse reactions or any other outcome resulting from the use of recipes or recommendations on this website or actions you take as a result.
© 2019-2023 Kim Guzman and Christian Guzman. All rights reserved. Subscribe to 24Bite email newsletters.
Follow 24Bite: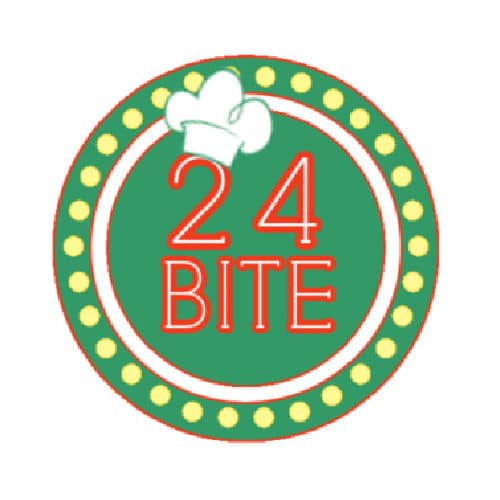 Twitter | Facebook | Pinterest