This Dairy Free Tres Leches Cake ("three milks" in Spanish) is made using all non-dairy milks which give the cake a delicious coconut flavor. It's tradition with a twist.
You'll love this decadent cake, traditionally made with three milks. This twist keeps all the decadence but you'll use non dairy milks instead.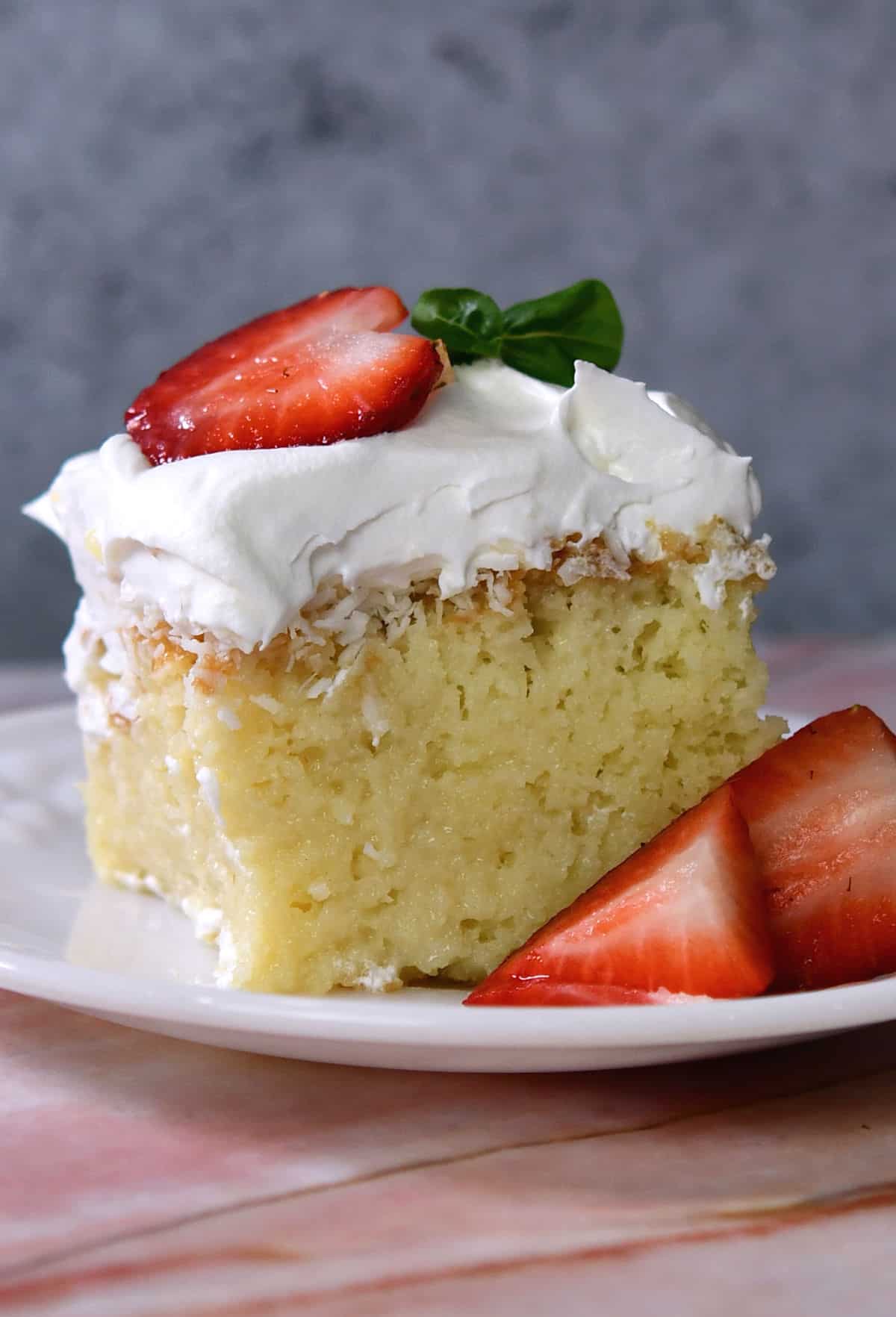 Ingredients
For Tres Leches Cake, you start with the cake first. I've used a homemade yellow cake, flavored with vanilla and a touch of coconut.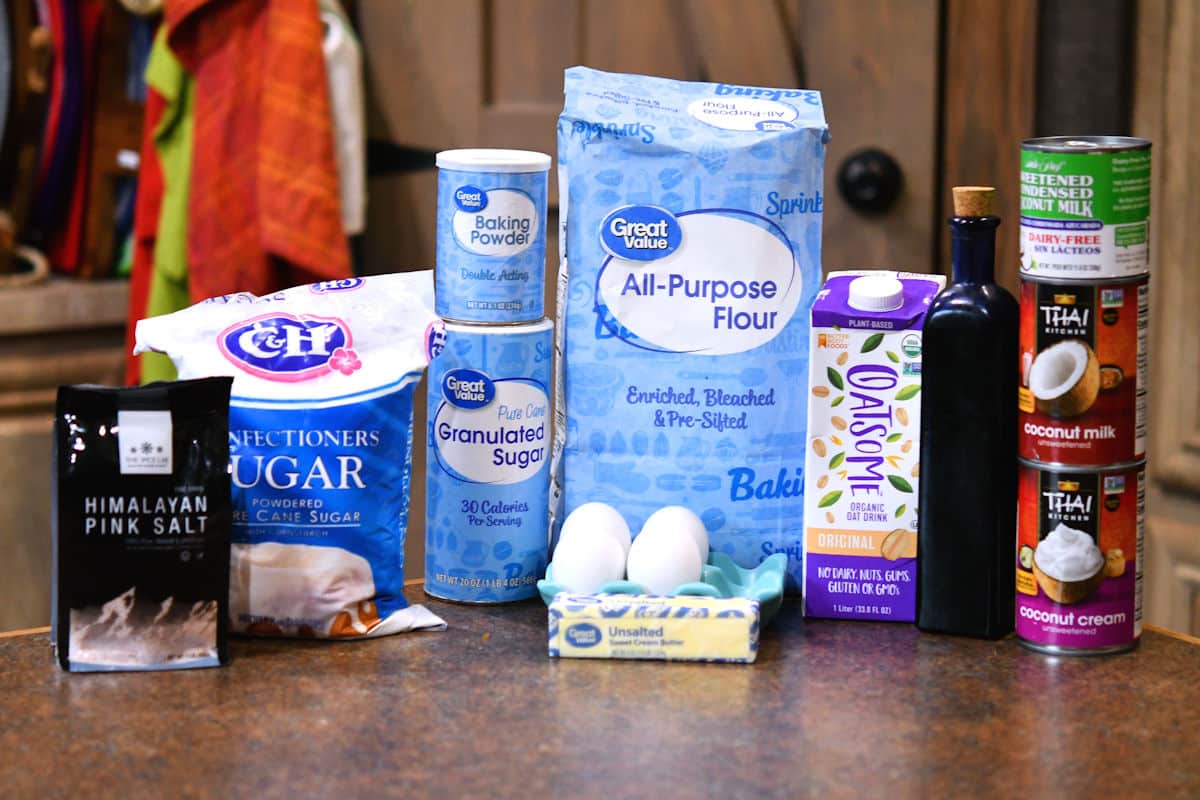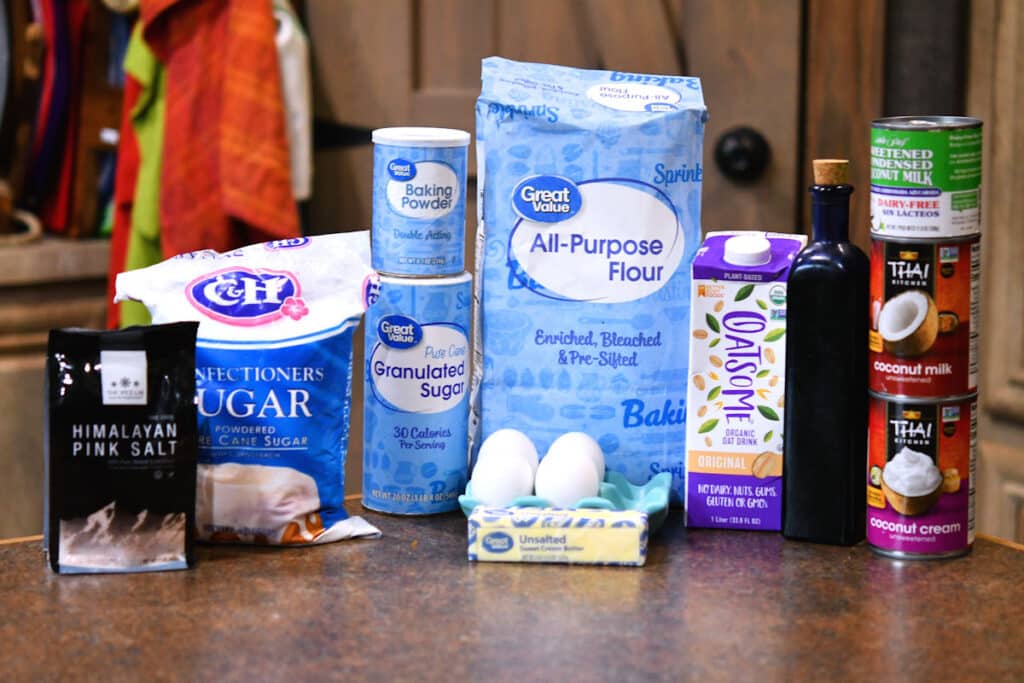 If you're in a time crunch, you could use a boxed yellow cake mix. See if you can find one of those extra moist box cakes for best results.
Once you get the cake finished, the trick is to convert the "three milks" to make a dairy free tres leches cake version. In today's market, you can find so many alternatives and substitutes for dairy milk. Let's get started.
Traditional Three Milks
The traditional Mexican Tres Leches Cake means "three milks" cake in Spanish. It's called three milks because of the three different milks that are poured over the top in poke cake fashion.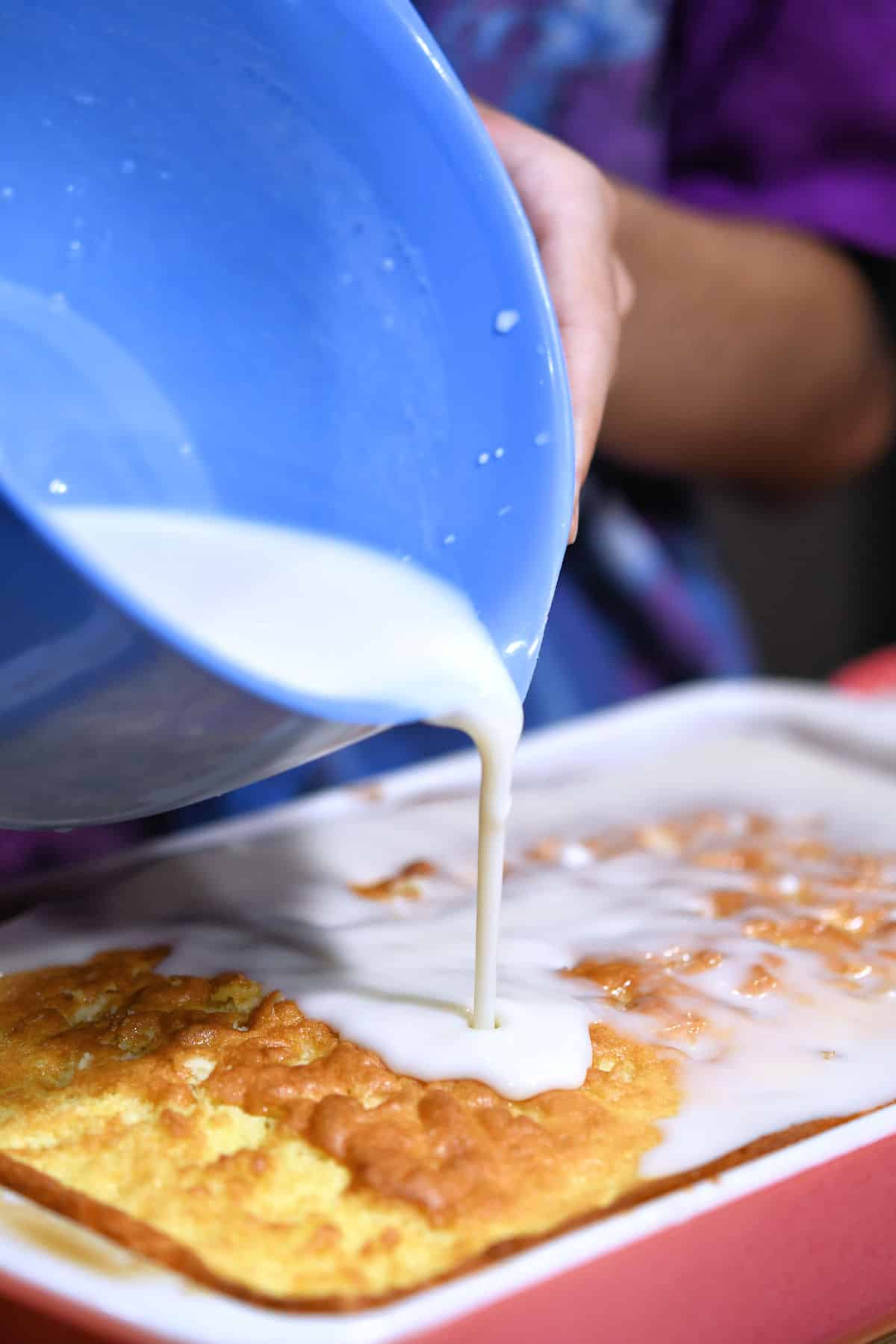 Ordinarily, these three milks are evaporated milk, sweetened condensed milk and whole milk.
To make this cake in a dairy free version, I needed to do some experimenting, but it all started with the sweetened condensed milk.
Sweetened Condensed Milk Substitute
It was by accident that I discovered coconut sweetened condensed milk. I needed to make a coconut pie and put "coconut" in the search bar. Imagine my surprise when this milk showed up in search.
Coconut sweetened condensed milk has all the flavor of regular but it also has the flavor of coconut. I can't explain it.
If you're a fan, you may want to buy two, just in case your spoon wanders.
Whole Milk Substitute
I've substituted oat milk for whole milk after reading that Epicurious says that oat milk is the best substitute in baking.
Allrecipes says that soy milk is the best for baking. Maybe I'll try this one next time.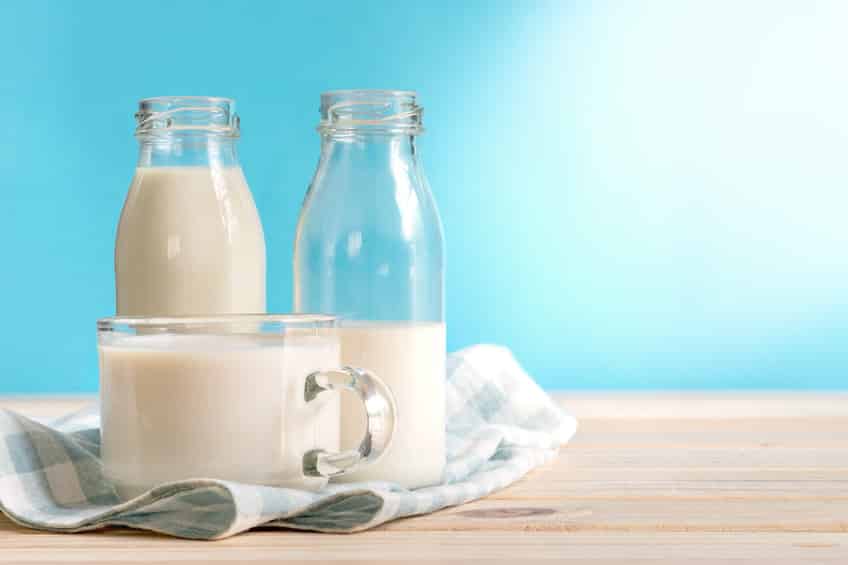 You could also use almond milk. I didn't have any on hand but, if I had some, I would have added it to the soaking milks but I would have still used the oat milk to the cake itself.
What does oat milk taste like?
I tasted the oat milk because I was curious. If you're curious as well, it kind of tasted like the milk leftover in the bowl after eating Lucky Charms except not as sweet.
It's good and I will definitely be enjoying the rest of it. Make sure to chill it first, though.
Evaporated Milk Substitute
Since I started with the coconut flavor profile, I went ahead, full throttle. The evaporated milk substitute is coconut milk. Easy enough, right?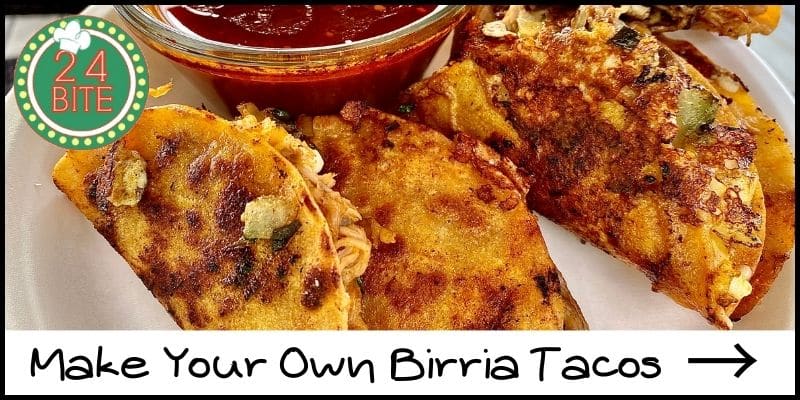 Dairy Free Whipped Topping
I was unable to find a commercially prepared non-dairy whipped topping at our store. If you don't want to make your own, see if your store carries So Delicious Cocowhip. I'm going to continue looking for it.
You can make your own coconut whipped topping by using coconut cream and powdered sugar. Coconut cream is thick and delicious. Once you strain out the liquid, it can be whipped just like you would with heavy whipping cream.
It was fairly incredible. It was surprising that it worked at all, if we're being honest.
I didn't create the recipe for the whipped topping. Try this coconut topping recipe from Minimalist Baker here. No need to reinvent the wheel so I'll defer to the master.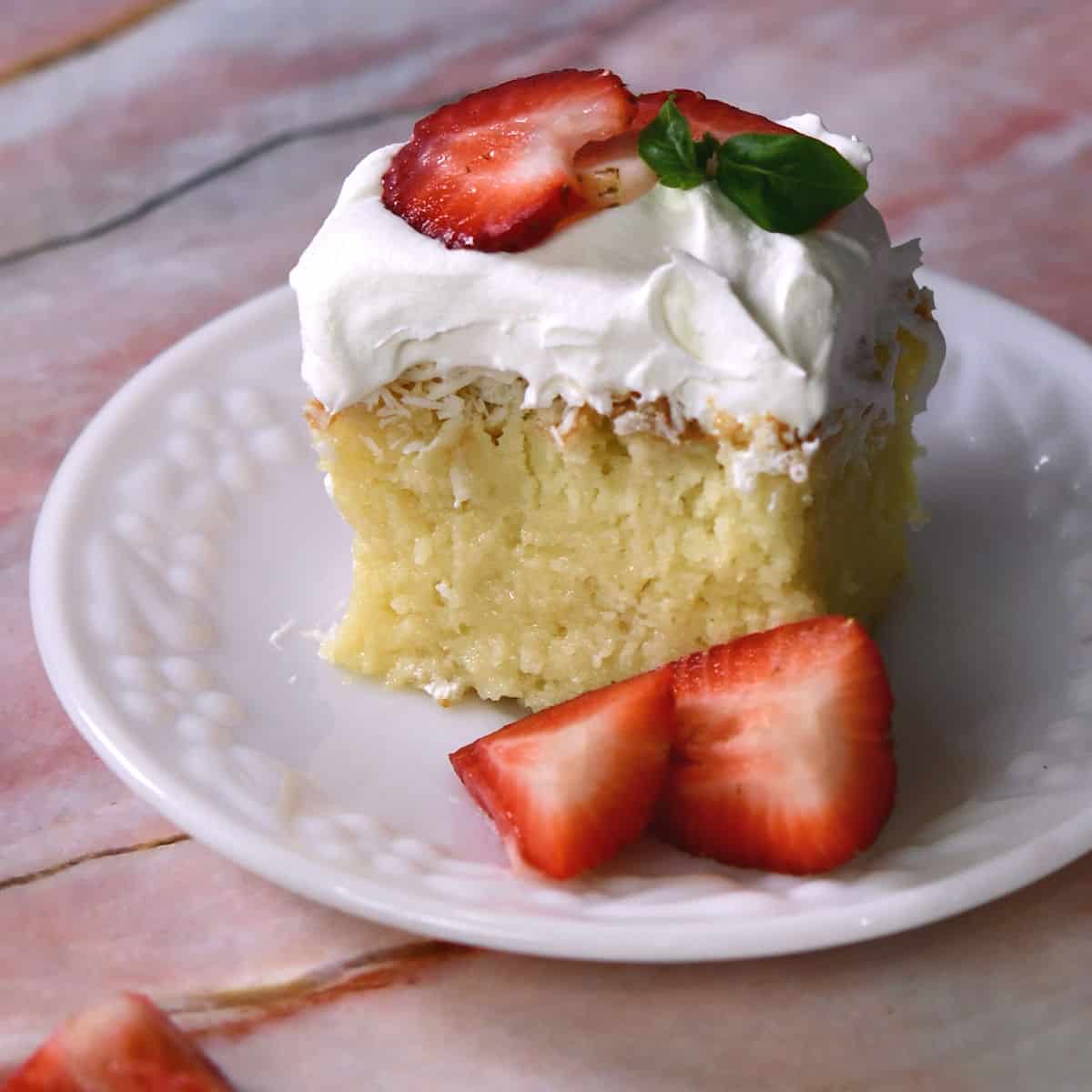 Not worried about it being dairy free?
No worries! You can change the oat milk to regular milk and the coconut milk to evaporated milk. The whipped topping can be any frozen whipped topping.
I still think you should try the coconut sweetenened condensed milk, though. It tastes like a Mounds bar, without the chocolate. I'm going to make sure it's in the pantry all the time!
More Dessert Recipes
If you're looking for more desserts, don't miss these.
Now that you know how to make Tres Leches Cake, you may want to make it for every occasion.
Recipe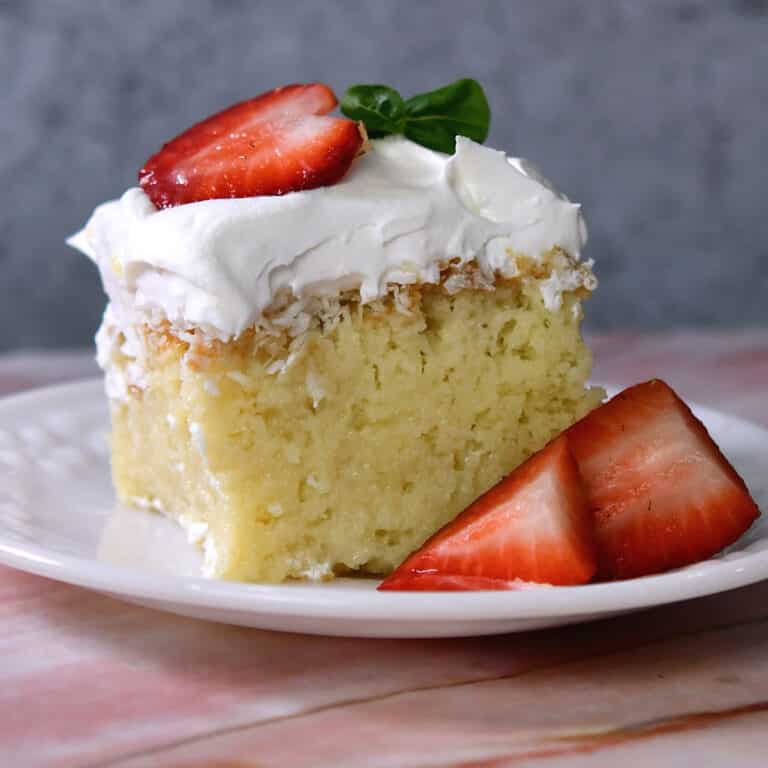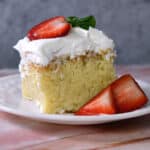 Pin Recipe Now
Dairy Free Tres Leches Cake Non Dairy
Tap to leave a star rating
Save or Print
This creamy tres leches cake ("three milks" in Spanish) is made using all dairy free milks which give the cake a delicious coconut flavor. It's tradition with a non dairy twist.

For more information, be sure to check the recipe details in the attached 24Bite® post.
Ingredients
4

large

Eggs

,

separated

1 ½

cups

All Purpose Flour

1

tablespoon

Baking Powder

¼

teaspoon

Salt

,

used fine Himalayan Pink Salt

1 ½

cups

Granulated Sugar

3 ½

tablespoons

Unsalted Plant Butter

,

stick form for baking, room temperature

1 ½

teaspoons

Vanilla Extract

,

divided

13.66

ounces

Unsweetened Coconut Milk

,

divided, used Thai Kitchen brand

1

cup

Oat Milk

,

divided

Baking Spray

11.6

ounces

Coconut Sweetened Condensed Milk

,

used Taste of Thai brand
Whipped Topping
13.66

ounce

Coconut Cream

,

used Thai Kitchen brand

¾

cup

Powdered Sugar
Instructions
NOTE: This cake requires chilling overnight. Plan ahead.

Separate eggs into two bowls; whites in one bowl and yolks in the other. Place the bowl of egg whites in the refrigerator.

In a medium mixing bowl, combine flour, baking powder and salt. Stir well. Set aside.

Place egg yolks in a large mixing bowl. Add sugar, butter and ONE TEASPOON vanilla extract. Mix until fluffy and creamy.

Add ½ the can of coconut milk (not sweetened condensed milk or coconut cream) and mix well.

Add half the flour mixture and mix well.

Add ½ cup of oat milk and mix well

Add the remaining flour mixture and mix well. Set aside.

In a separate large mixing bowl, whip egg whites until stiff peaks form (tips stand straight when a spoon is dipped into it and removed), about 4-5 minutes.

Pour whipped egg whites into other bowl (the one with the batter mixture) and fold gently until combined. Don't be too rough or you'll remove the air from the eggs.

Spray baking pan and pour batter into pan. Bake for 25-35 minutes or until golden and a toothpick comes out clean.

Mix together remaining coconut milk, remaining oat milk and full can of coconut sweetened condensed milk.

While cake is still hot, poke holes all over the top with a fork, end of wooden spoon or meat shredding claws. Slowly pour milk mixture all over the cake. Where it pools on the edges, scoop it up gently with a spoon and pour into the center.

Allow cake to cool completely (about 1 ½ hours) then cover with foil and refrigerate 4 hours or overnight.

If making the coconut cream whipped topping, you'll need to chill the can overnight, along with the cake. Other ingredients include powdered sugar and vanilla extract.

Whipped topping: See below for notes on where to find the recipe for the non dairy whipped topping.
Note: If there is a video, it will not display while there is an adblocker.
Notes
TIP: Spray the foil with cooking spray before placing on top of the cake to keep it from sticking.
For the coconut whipped topping recipe, I followed the instructions at the Minimalist Baker. She has many great tips and details so, rather than try to make my own recipe, I've decided not to reinvent the wheel. 
Garnish with sliced strawberries, if desired. You can also garnish with sweetened shredded coconut, if you like.
Nutrition Facts
Dairy Free Tres Leches Cake Non Dairy
Amount Per Serving
Calories 565
Calories from Fat 252
% Daily Value*
Fat 28g43%
Sodium 119mg5%
Carbohydrates 75g25%
Protein 6g12%
* Percent Daily Values are based on a 2000 calorie diet.
______________________
Percent Daily Values are based on a 2000 calorie diet. All amounts are estimates and 24Bite® takes no responsibility for actual figures since calculations vary by packaging and supplier. Please calculate the amounts yourself based on package labeling if you have specific dietary requirements. 24Bite®, Kim Guzman or Christian Guzman shall not be liable for adverse reactions or any other outcome resulting from the use of recipes or recommendations on this website or actions you take as a result.
© 2019-2023 Kim Guzman and Christian Guzman. All rights reserved. Subscribe to 24Bite email newsletters.
Follow 24Bite: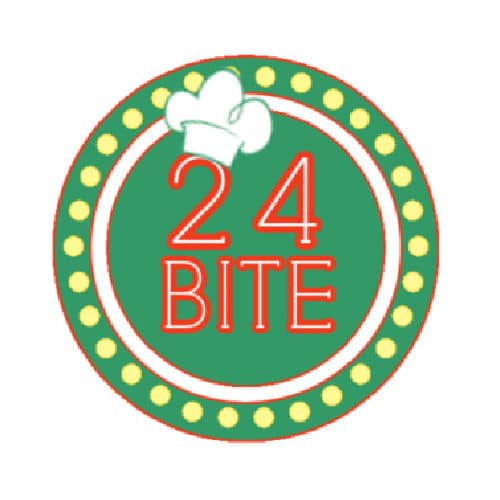 Twitter | Facebook | Pinterest