Cheesy Ranch Potatoes are what you need for your next meal. Two kinds of cheese and rich cream make a mouthwatering side dish you won't forget.
Recipe | Using a Mandolin | What's the Difference Between Scalloped and Au Gratin?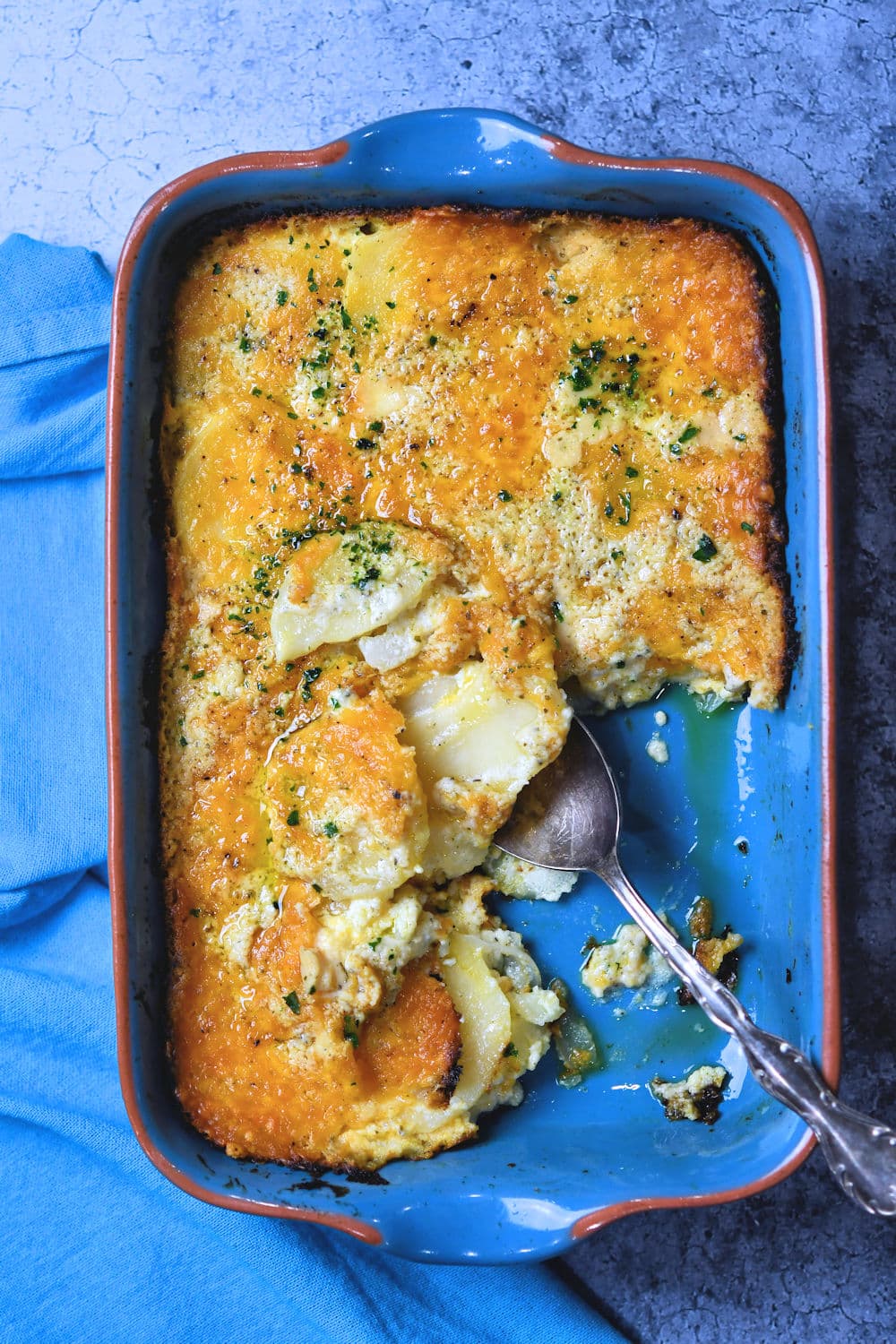 Ingredients
It will only take a few ingredients to make the most delicious potato bake casserole you've ever had.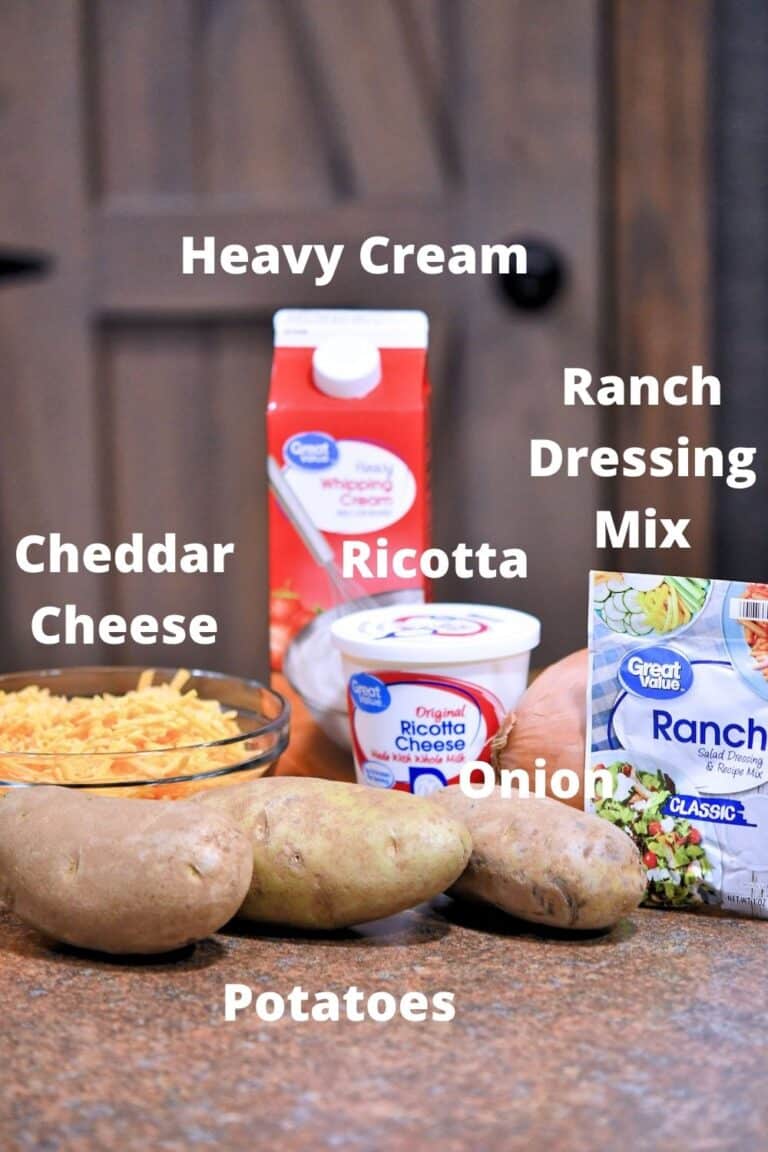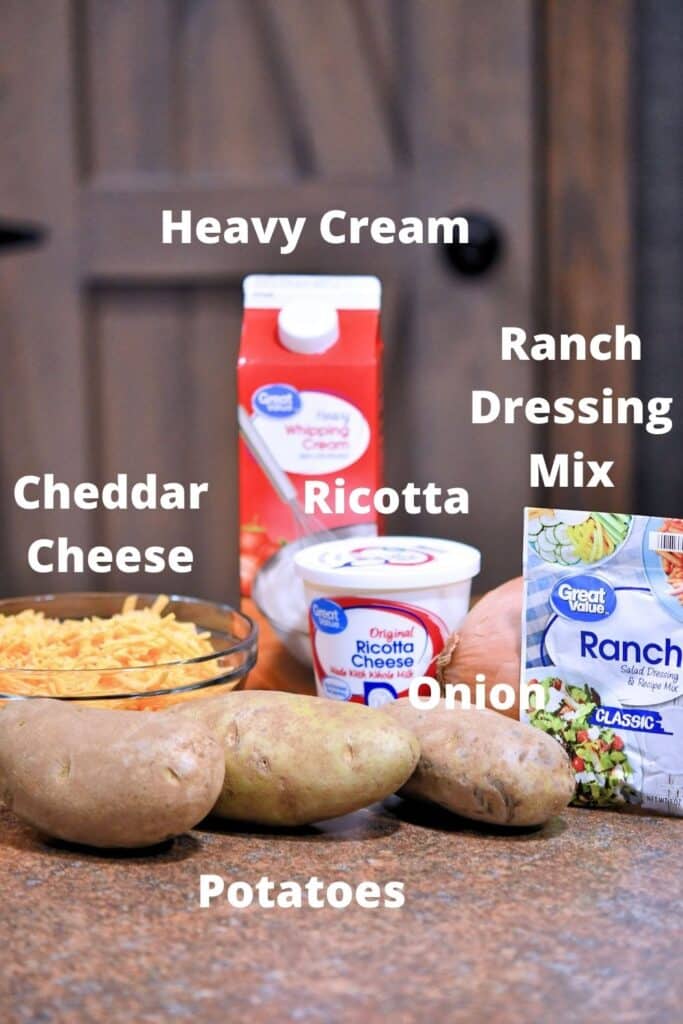 What's better than your regular plain 'ole cheesy potato bake? Two cheeses! When you add cream and Ranch dressing? You have a match made in cooking heaven.
This recipe includes cheddar cheese, ricotta cheese, a little bit of onion and Ranch dressing mix to smother your potatoes in creamy goodness.
Instructions
This recipe isn't going to take very long. Go ahead and turn on your oven to preheat.
Cut your potatoes to ¼″ thick. For me, that was the highest setting on our mandolin.
Using a mandolin for uniform slices
You haven't heard of a mandolin? It's a wonderful little device that helps you cut up potatoes (or anyhing, really) in nicely uniform sizes.
If you don't have a mandolin, have a look at this Prepworks Folding Mandolin (aff link) which we use. It's inexpensive and works like a charm.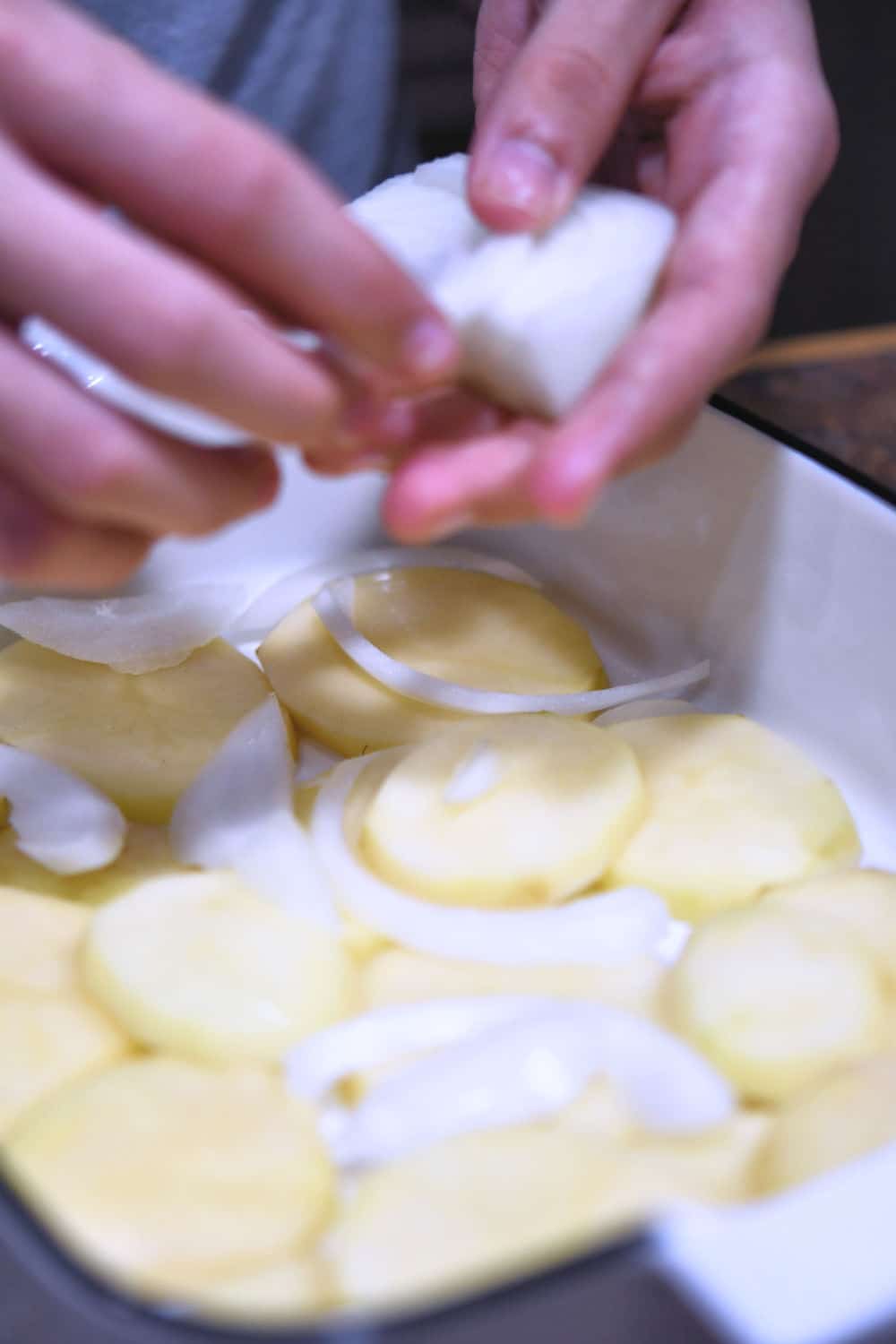 Secret tip
When you slice up the potatoes, make three separate piles of sliced potatoes. Don't mix them all up together.
I know that may sound silly but, take it from me. The first time I started developing this recipe, I got WAY too many potato slices on the bottom. The top was barely covered.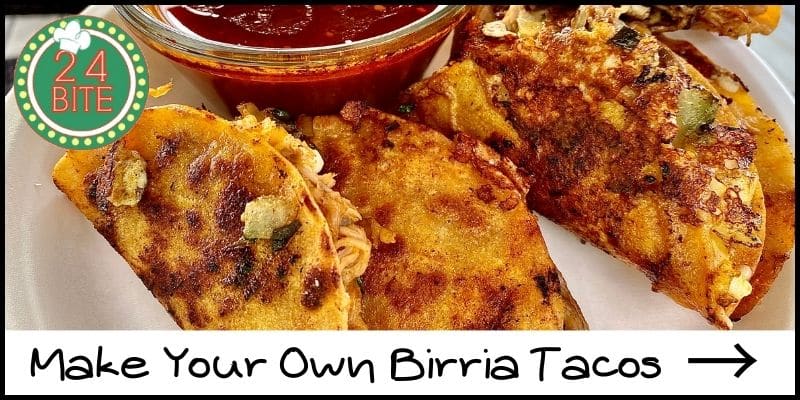 If you keep the potatoes separated, you will have the same amount for each row. Easy peasy, right?!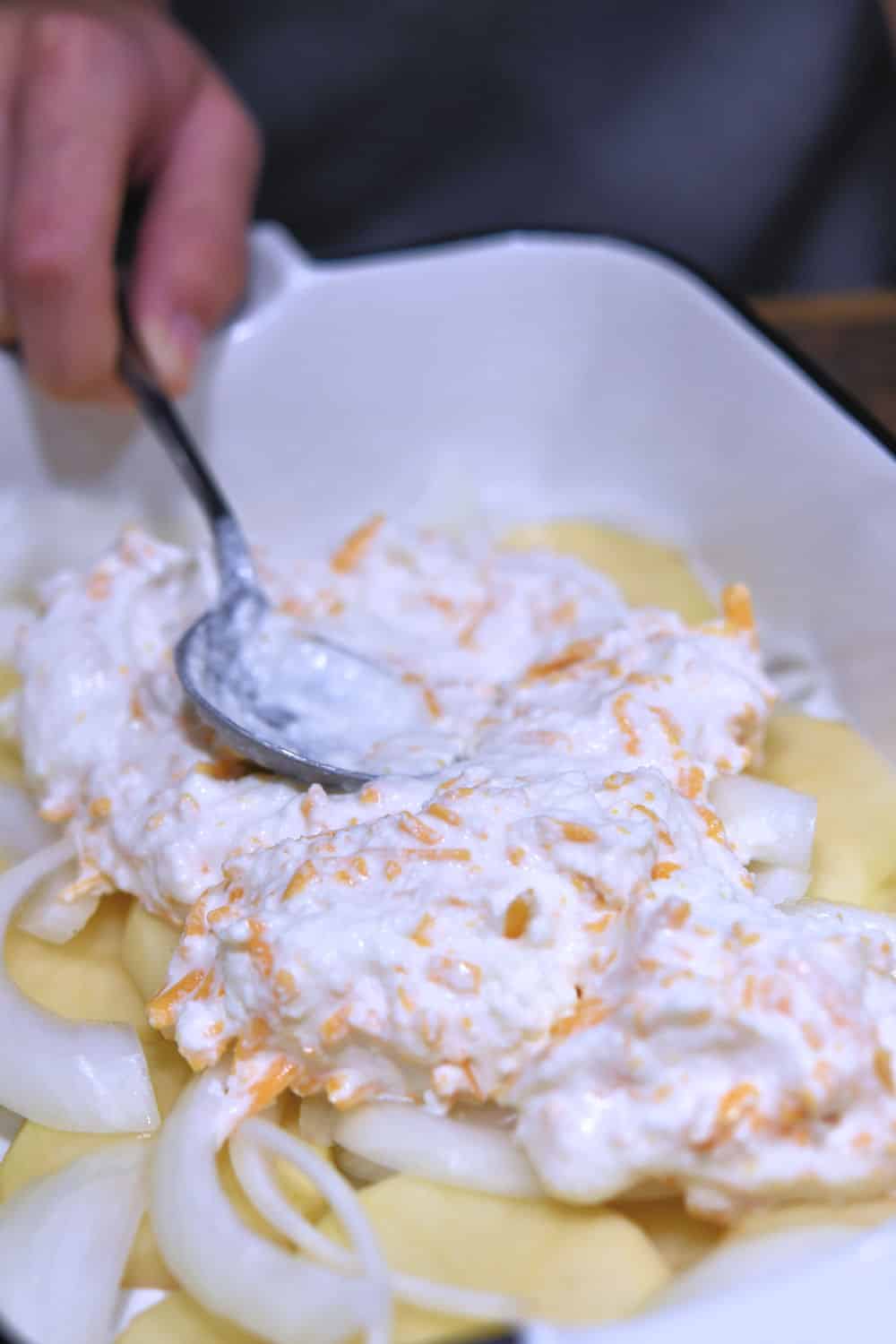 When you spread on the cheese mixture, don't worry about getting everything perfect. You want it all the way out to the edges, but you don't need to worry if you have lumps and bumps.
Everything is going to melt and get sorted when baking.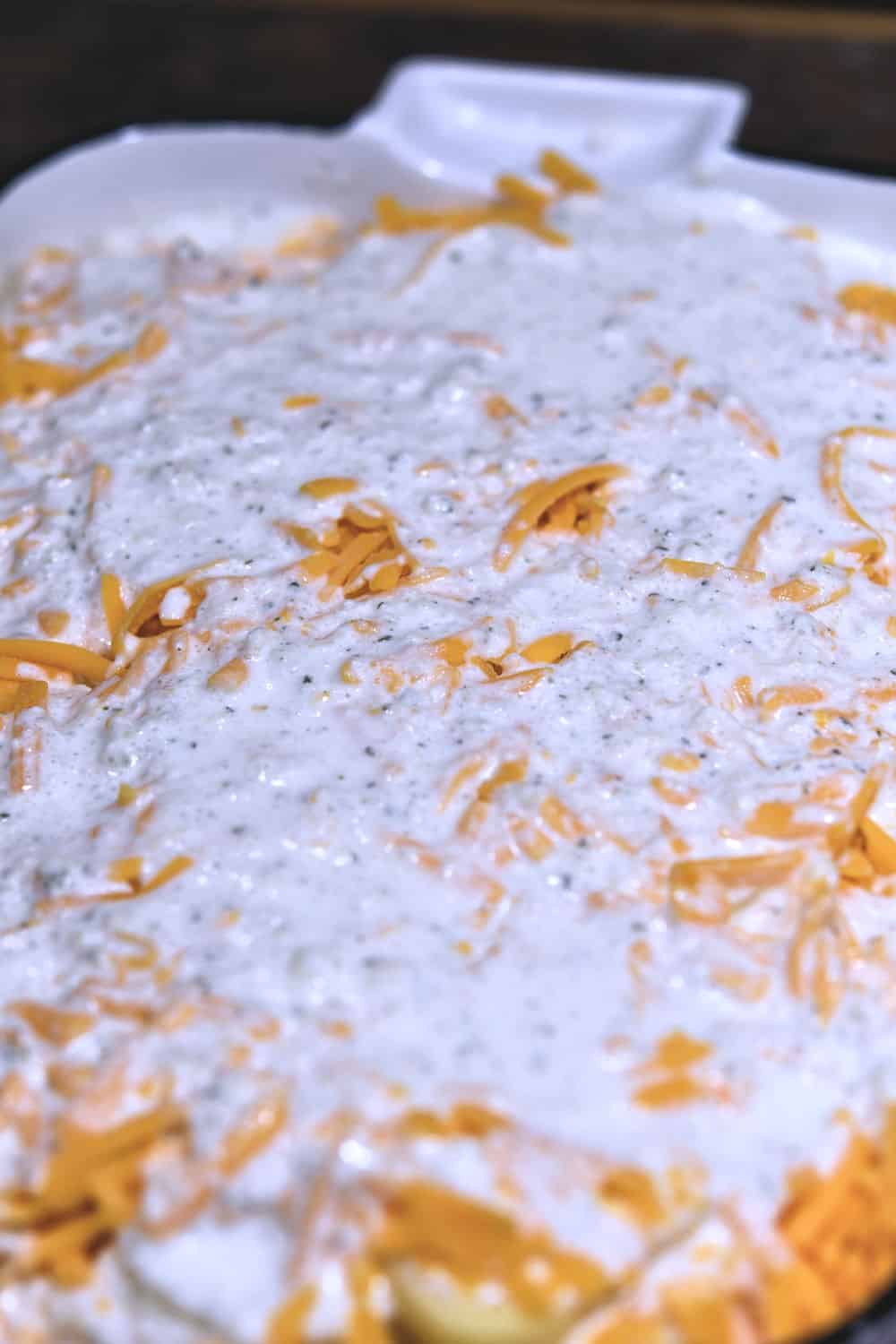 Cover the top with the ranch dressing mixture then cover it with aluminum foil to go into the oven.
Potatoes take quite awhile to cook so expect it to take an hour before you even have to think about it again.
That's a lie. You're going to be thinking about it a lot while it's cooking… when you start smelling it!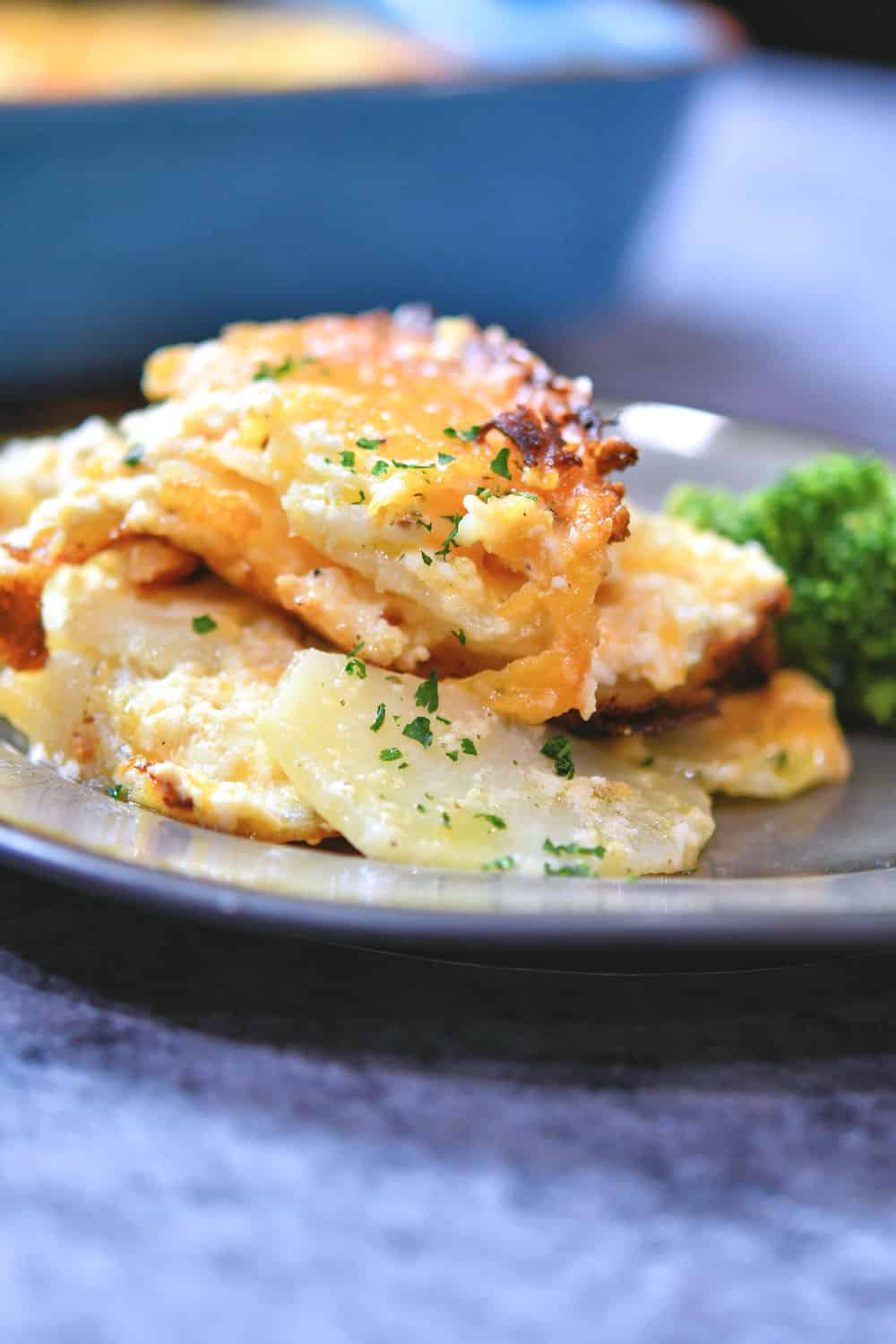 That closeup is what we're going for here. See that golden brown? That's what happens when you remove the foil and let it continue cooking. Yum!
Frequently Asked Questions
Should au gratin potatoes be peeled?
I've peeled these potatoes but it's not entirely necessary. If you don't want to peel them before slicing, you better have a stiff brush to wash off all the dirt from the potatoes. They grow in the ground, after all!
How long will cheesy ranch potatoes last in the refrigerator?
Keep them tightly covered and they should last you 3-4 days, but I can't imagine you waiting that long to eat them!
Is ranch dressing mix gluten free?
Hidden Valley Original Ranch Dressing Mix is confirmed by the manufacturer to be gluten free and keto friendly. I'm not sure that all brands of ranch dressing mixes are gluten free so you'll need to check the label to be certain.
What can you serve with ranch potatoes?
We served this with ham for Thanksgiving dinner. It works beautifully with smoked food. Try it with smoked turkey too.
This recipe is so easy to make that it works well for any meal. Try it with this Keto Stuffed Chicken Breast. It would be fantastic with this Easy Creamy Chicken Dinner. I'm starting to think that I may have an obsession with cheese.
For a different, not so cheesy alternative, maybe try this Gluten Free Chicken Piccata.
Recipe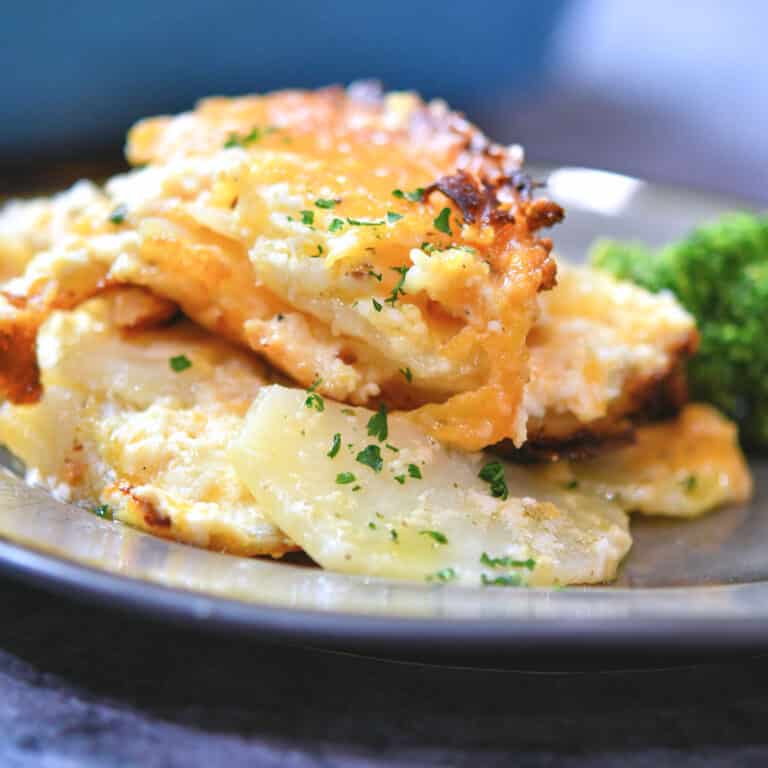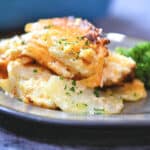 Pin Recipe Now
Double Cheese Cheesy Ranch Potatoes
Tap to leave a star rating
Save or Print
Cheesy Ranch Potatoes are what you need for your next meal. Two kinds of cheese and rich cream make a mouthwatering side dish you won't forget.

For more information, be sure to check the recipe details in the attached 24Bite® post.
Equipment
2-quart baking dish, rectangle or oval
Ingredients
3

Potatoes

,

large (about 2 pounds total)

¼

Onion

,

thinly sliced or slivers

12

ounces

Mild Cheddar

,

shredded

1

cup

Ricotta Cheese

,

divided

1 ½

cup

Heavy Cream

,

divided

1

teaspoon

Pepper

1

ounce

Ranch Dressing Mix

Cooking Spray

,

like Pam
Instructions
Preheat oven to 400℉. Spray baking pan on bottom and sides with cooking spray.

Peel and slice potatoes in ¼" cuts, keeping each potato in separate piles. Set aside.

Slice onions thinly or cut in slivers. Set aside.

Make two separate bowls as follows: ½ cup shredded cheese, ½ cup ricotta cheese, ¼ cup cream and ½ teaspoon pepper. Stir well. Set aside.

Layer in baking pan as follows: ⅓ sliced potatoes, ½ sliced onions, one bowl of cheese mixture, ⅓ sliced potatoes, remaining onions, remaining cheese mixture, remaining potatoes and remaining shredded cheese.

In a separate bowl, mix together ranch dressing and remaining cream until completely combined. Slowly pour over top of layered potatoes as evenly as possible.

Cover with aluminum foil and place in oven. Cook for 60 minutes. Remove foil and cook for another 15-20 minutes until golden and bubbly.
Note: If there is a video, it will not display while there is an adblocker.
Nutrition Facts
Double Cheese Cheesy Ranch Potatoes
Amount Per Serving
Calories 362
Calories from Fat 252
% Daily Value*
Fat 28g43%
Sodium 462mg20%
Carbohydrates 15g5%
Protein 13g26%
* Percent Daily Values are based on a 2000 calorie diet.
______________________
Percent Daily Values are based on a 2000 calorie diet. All amounts are estimates and 24Bite® takes no responsibility for actual figures since calculations vary by packaging and supplier. Please calculate the amounts yourself based on package labeling if you have specific dietary requirements. 24Bite®, Kim Guzman or Christian Guzman shall not be liable for adverse reactions or any other outcome resulting from the use of recipes or recommendations on this website or actions you take as a result.
© 2019-2023 Kim Guzman and Christian Guzman. All rights reserved. Subscribe to 24Bite email newsletters.
Follow 24Bite: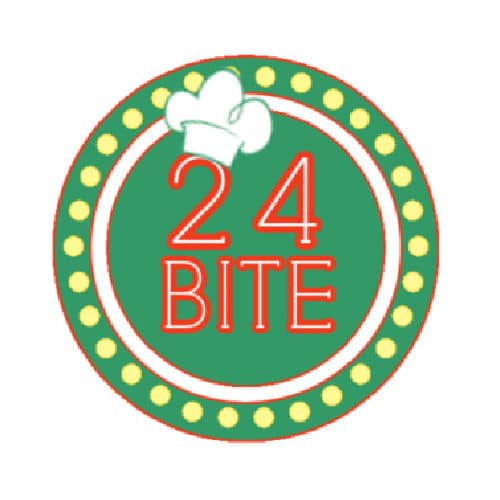 Twitter | Facebook | Pinterest