This website contains affiliate links. Any purchases through affiliate links will provide me with the income necessary to keep this site available at no extra cost to you. Please see
Privacy Policy
 page for more information.
I love white chocolate. Yes, I know. It's not "real" chocolate but it doesn't matter. I love it!
Here are the ingredients for these Raspberry White Chocolate Blondies. As you can see, the sugar is only brown sugar, no white. Blondies are usually flavored with brown sugar and vanilla.
For this recipe, I used my own vanilla, made with brandy, instead of vodka, for a richer flavor.
I always start off by mixing the dry ingredients together in a medium bowl. This ensures that you have the baking powder mixed well and it doesn't end up in one spot.
This recipe calls for four eggs, beaten. It's easier to add them to the mixture if you separate them into two portions instead of adding four eggs at once.
You'll be working with completely melted butter, not softened. When you add the brown sugar to the butter, it mixes quickly.
I like to melt butter in the microwave in a Pyrex glass measuring cup. When melting butter, use 30 second intervals in the microwave, stirring after each time. Depending on the amount of butter, this will take only two to three times total. It only took a minute this time.
Add eggs and mix well, two at a time.
Add the flour mixture and mix well.
Stir in the white chocolate chips by hand.
I think this may have been the most difficult part. There must be a clever way to fold the parchment paper so that it will look nicer. In the end, it didn't matter once it was cooked but I just felt like I must be doing it wrong.
Spoon or pipe the raspberry filling in lines on top of the batter. Use a knife to cut into it and swirl as desired. Once you cook it, the batter cooks up and around most of the filling so it won't be sitting on top like this. It's more to the inside so don't worry about perfection.
I used a raspberry filling from Henry & Henry because I had it on hand but you could just as easily use something like Comstock Pie Filling. I even thought about using jelly but the Henry & Henry filling is so good and doesn't have any seeds. There is quite a bit left so I'll have to find another use for it except eating it by the spoon because it really is that good.
Print Recipe
Raspberry White Chocolate Blondies
Instead of brownies, try blondies for a change, flavored with brown sugar and vanilla instead of cocoa. White chocolate and raspberry filling added for that extra special treat.
Ingredients
1 1/2

cup

all purpose flour

1 1/2

teaspoon

baking powder

2

cups

brown sugar

packed

1

cup

butter

melted

4

large

beaten eggs

separated in two bowls

1

tablespoon

vanilla

1

cup

white chocolate chips

3/4

cup

raspberry filling
Instructions
In medium bowl, whisk together flour and baking powder. Set aside.

Place brown sugar in large bowl and pour over melted butter. Mix well.

In two small bowls, beat 2 eggs in each. Add 2 eggs at a time to large bowl, mixing well after each addition. Add vanilla, mix well.

Add flour mixture and mix well.

Hand stir white chocolate chip into batter.

Line 9×12" pan with parchment paper or foil. Pour in batter and smooth with spatula.

Spoon or pipe lines of raspberry filling onto top of batter. Use a knife to cut swirls of raspberry.

Bake for approximately 35 minutes or until blondies spring back to the touch.

Cool completely. Cut into 24 squares.
Follow 24Bite: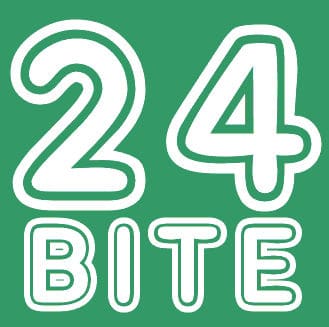 Twitter | Facebook | Instagram | Pinterest
Pin It: