Chipotle Cream Sauce with Shrimp (camarones con crema chipotle) is an elegant, dairy free, mouth watering, restaurant-quality recipe made with three ingredients in less than 30 minutes!
Large shrimp are swimming in a delicious non-dairy coconut cream with a little added kick from smokey chipotle. So good that you may eat it all, right out of the pan!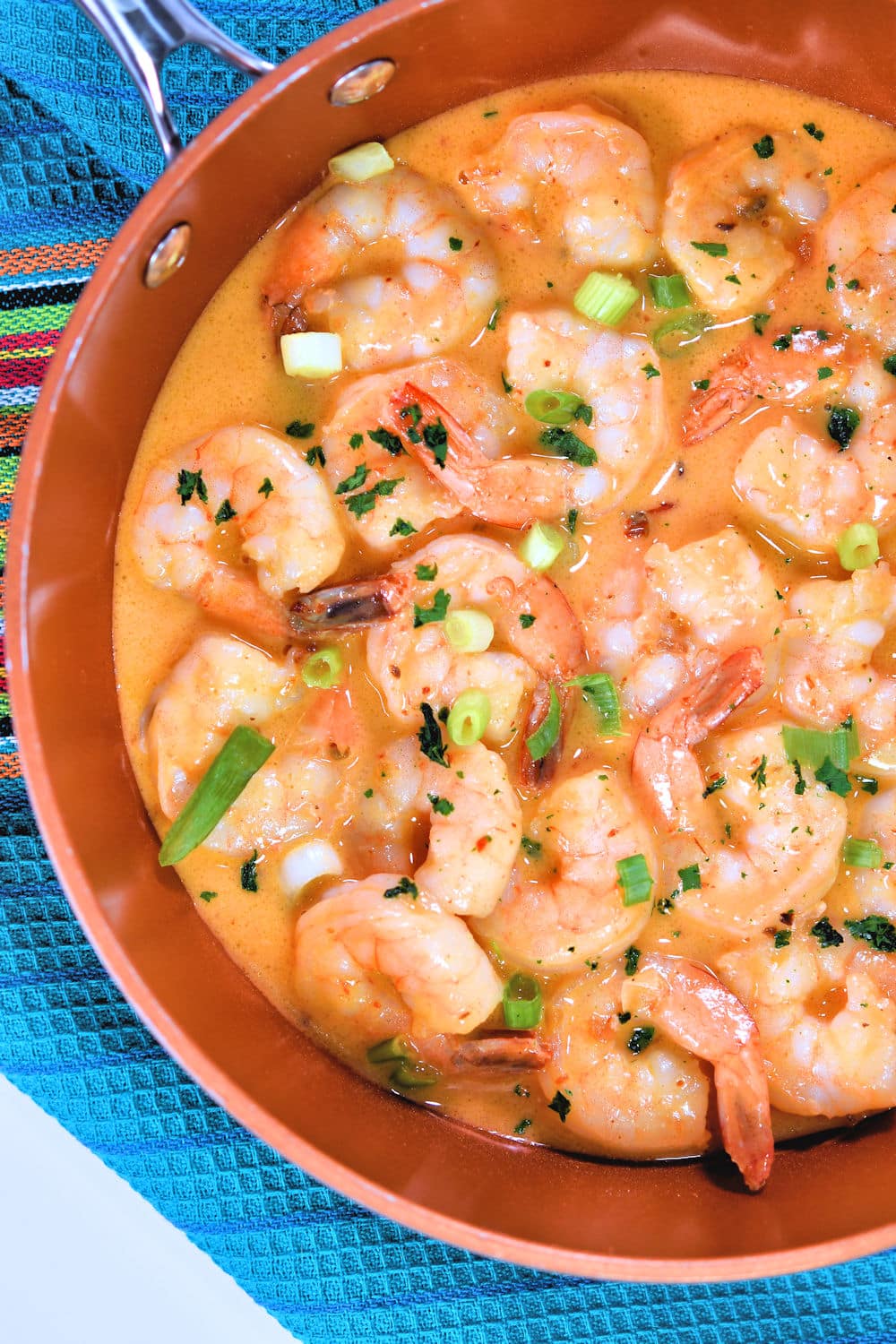 Ingredients
For this recipe, I've used a 12 ounce bag of extra large shrimp. These are in the freezer section so you will need to thaw them first.
Never leave seafood out on the counter to thaw. Never. Thaw it in the refrigerator overnight. Be sure to use it right away. It doesn't keep very long.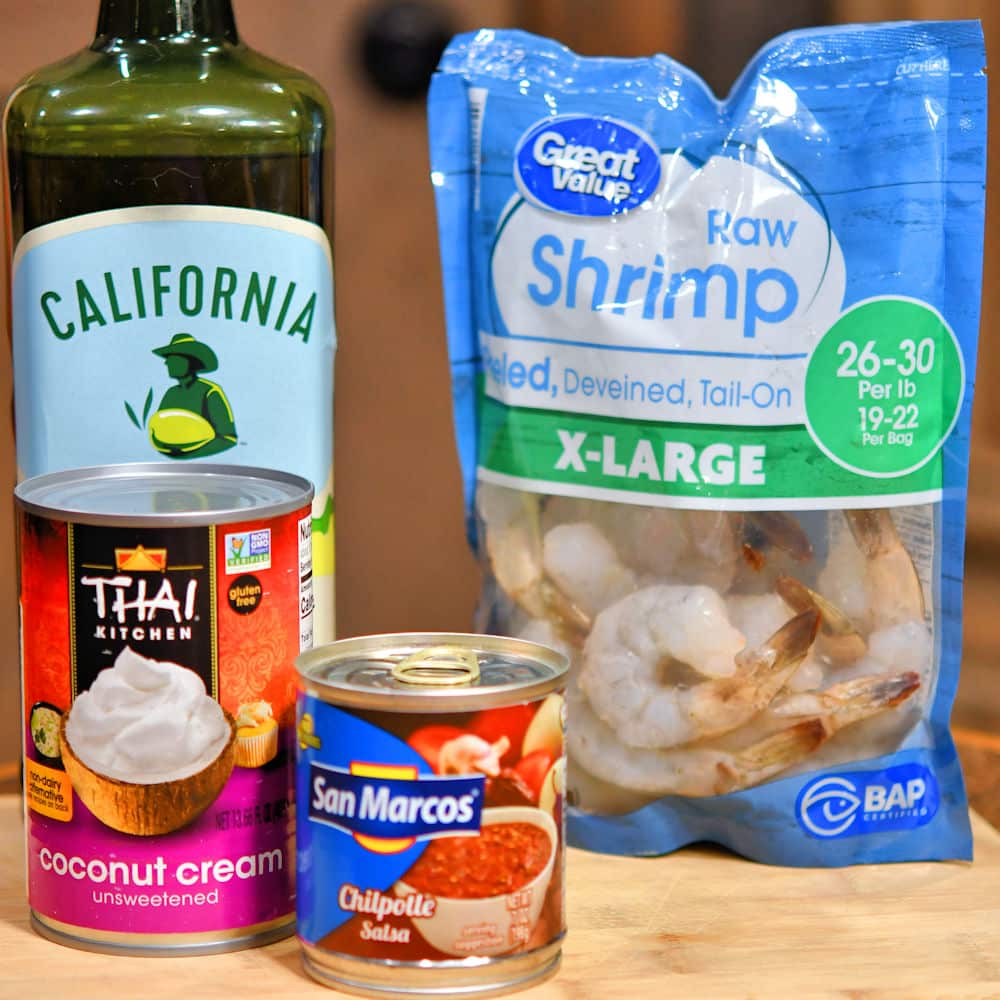 This shrimp is very handy since it's already peeled and deveined. I think that's really the most time consuming part of making shrimp.
If you're unable to get the shrimp already prepped like this, check out this video from Gordon Ramsay on how to properly peel and devein.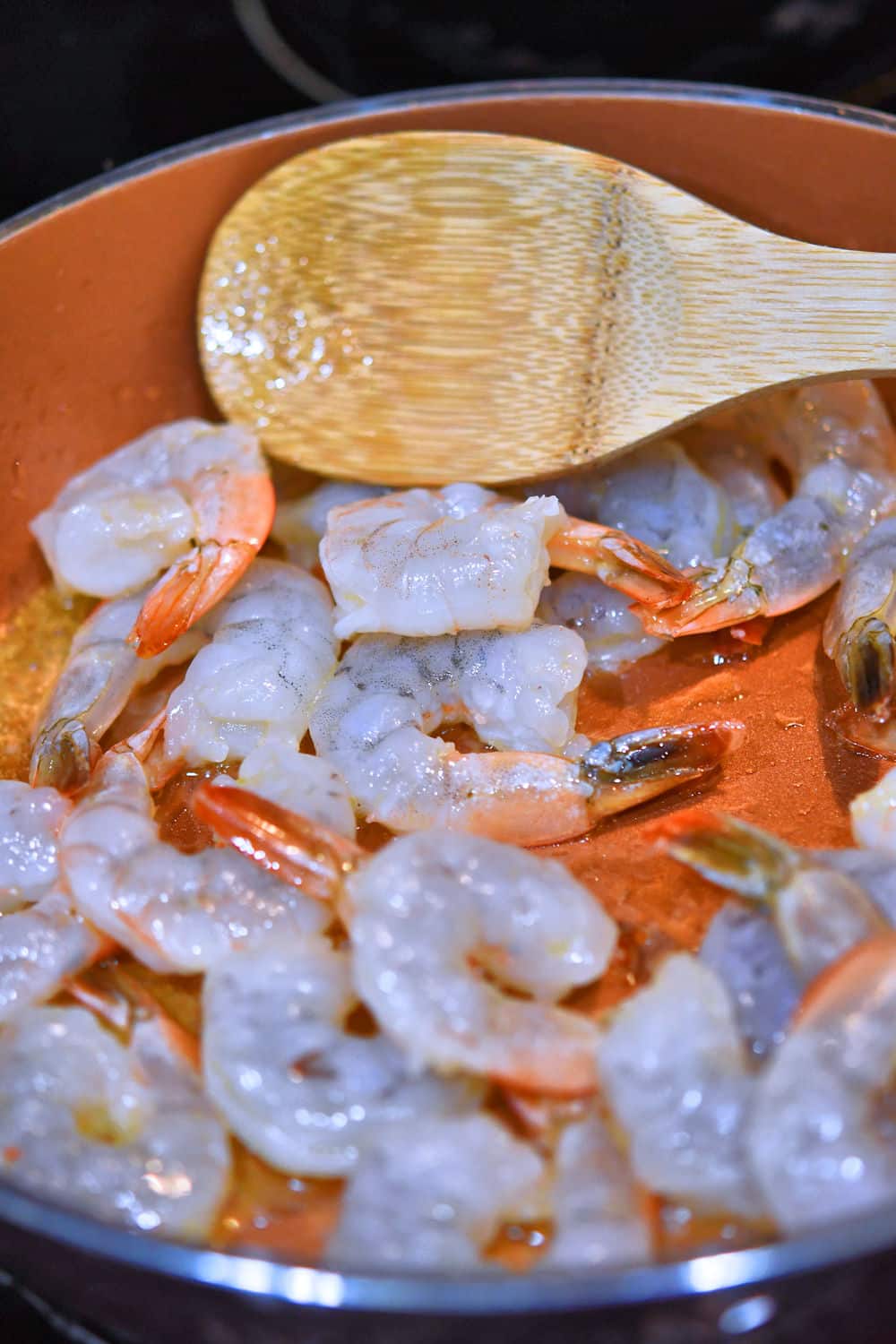 Don't Overcook the Shrimp
When you first put the shrimp into the pan, you can see that it's gray and sort of translucent. Watch closely because it only takes about five minutes for shrimp to cook. You don't want it to overcook and get rubbery.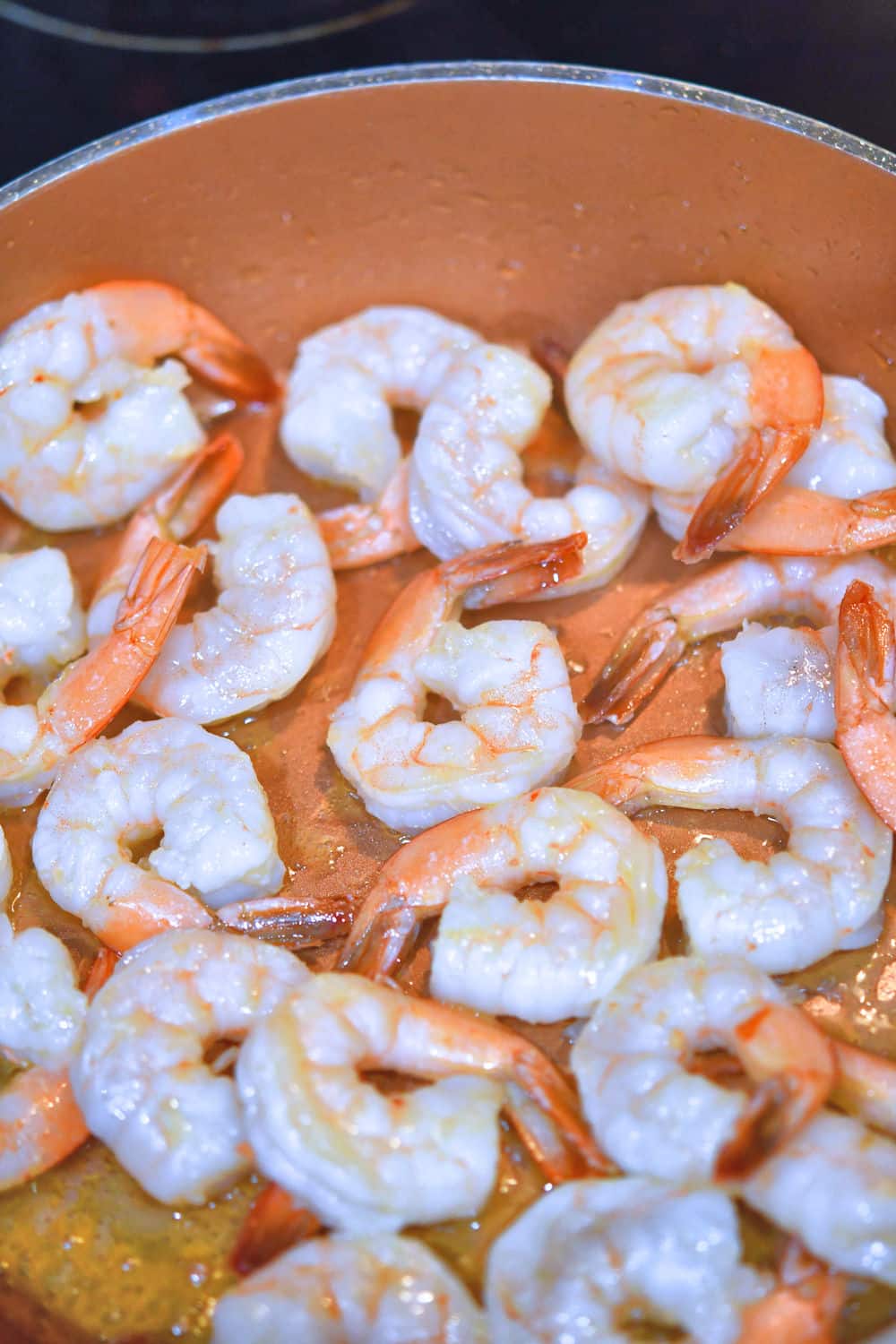 Don't crowd the pan because you want the shrimp to cook evenly. If you want to double the recipe, make sure to use a skillet large enough so you don't have a lot of overlapping.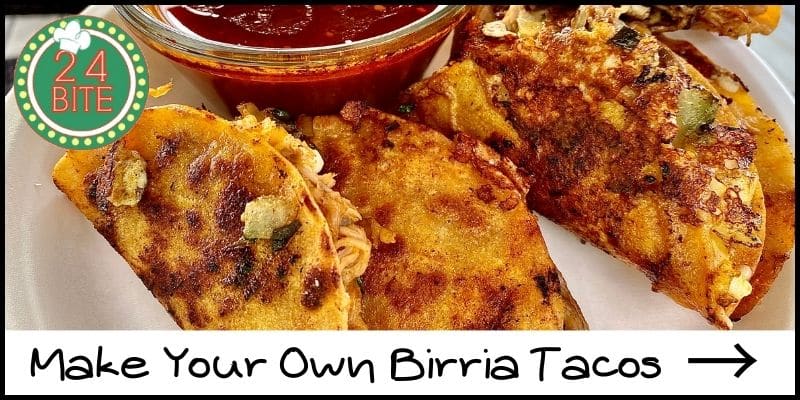 What's the difference between coconut milk and coconut cream?
The brand we find readily available for both coconut cream and coconut milk is Thai Kitchen. The difference is that the coconut cream is thicker than coconut milk because it has more fat and less water. Think of it like the difference between regular dairy milk and heavy cream.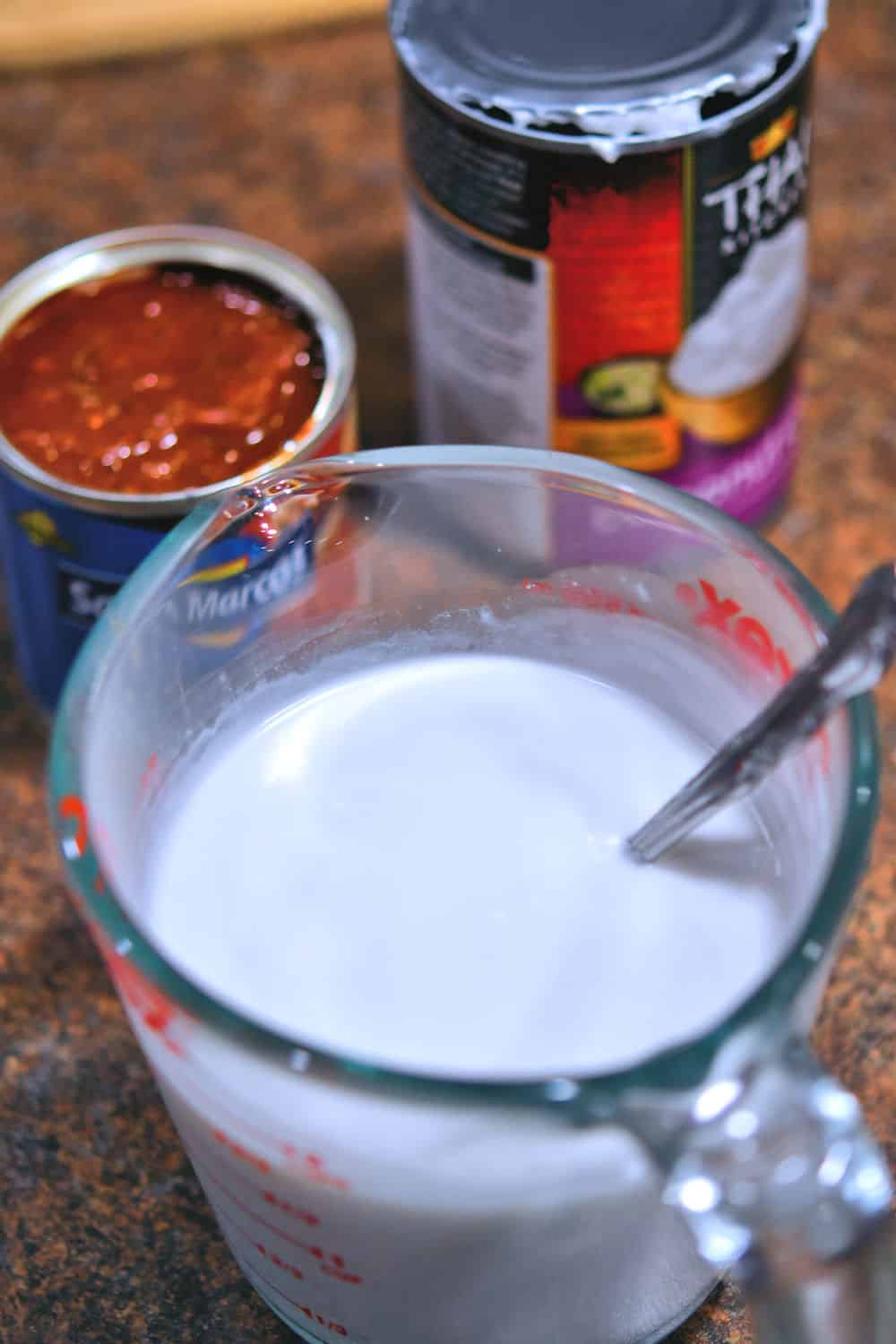 Coconut cream is a great substitute for full dairy cream when baking and making non-dairy cream based soups. Although I haven't tried it yet, the label says that you can use it to make vegan whipped topping as well.
Be careful that you don't try to substitute "Cream of Coconut". That's not the same. It's completely different. Cream of coconut is a sweetened coconut liquid. It's used for desserts and tropical cocktails, like this Pina Colada Mocktail at Miss In The Kitchen. It's not exactly the same as sweetened condensed coconut milk, but it's fairly close.
What can I substitute for coconut cream?
I purposely wanted to make this Mexican Chipotle Shrimp in a non-dairy version. You can go more traditional with the same amount of heavy cream or half n half instead.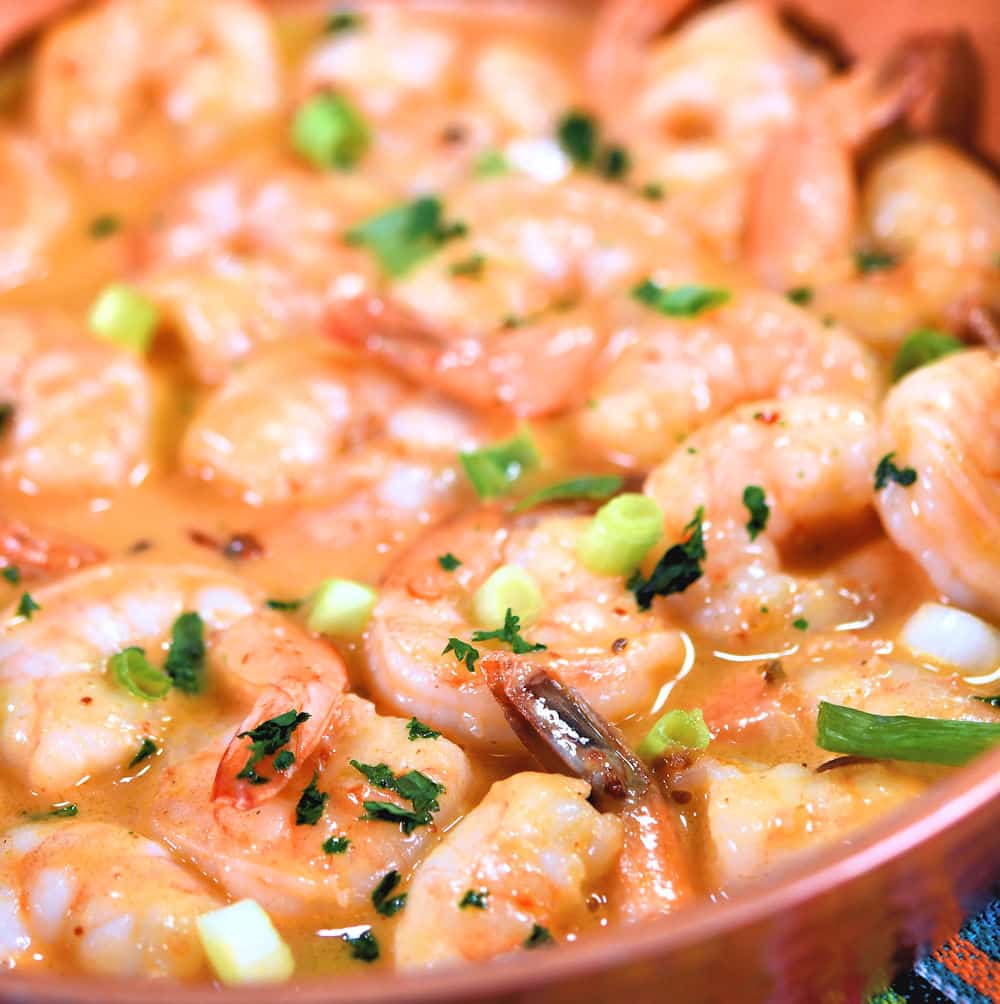 What can I substitute for chipotle salsa?
If you are unable to find the chipotle salsa, see if you can find a can of whole chipotles in adobo sauce. You can use the adobo sauce straight out of the can and save the whole chipotles for something else.
Can I use different chiles besides chipotle?
I love the smokey taste of chipotles, especially when combined with this creamy, milky sauce. But, I know that you may not always want the spicy heat or you may not like the smokey flavor.
Make your own quick little tomato-based sauce to substitute using these ingredients:
2 tablespoons Tomato Paste and ½ teaspoon each of
Apple Cider Vinegar
Worcestershire Sauce
Choice of Chile Powder: cayenne, ancho, jalapeño or other
Mix well then add to the recipe as you would the indicated chipotle salsa.
Read more about the heat level of different chile peppers with our Scoville Heat Index.
Is this Camarones a la Diabla?
This isn't the same as shrimp diablo since this is made with milk. Camarones a la Diabla is made with a very red sauce. It's tomatoes and red chiles. It doesn't necesarily need to be hot as fire but it does look that way!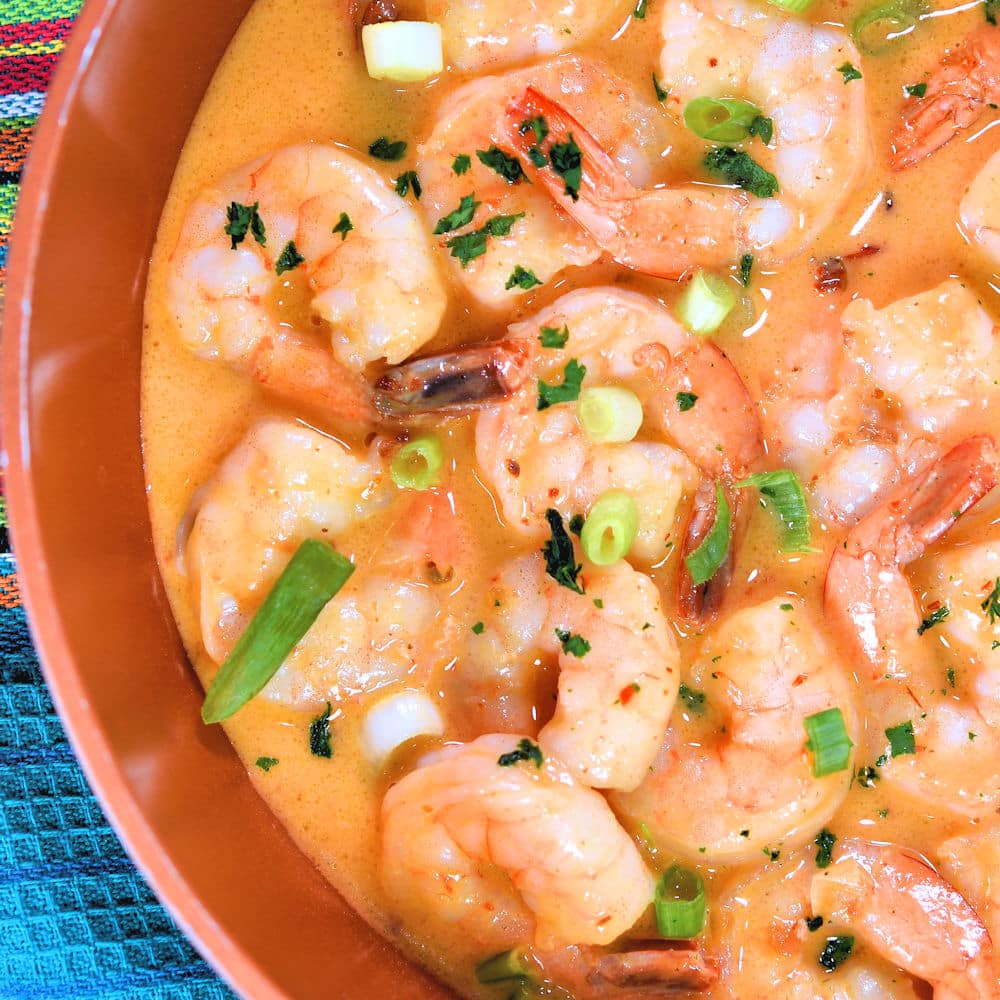 More Traditional Mexican Food
Be sure to try one of these traditional Mexican food recipes as well:
Browse through all of our Mexican food recipes or check out the Tamales recipes too!
Recipe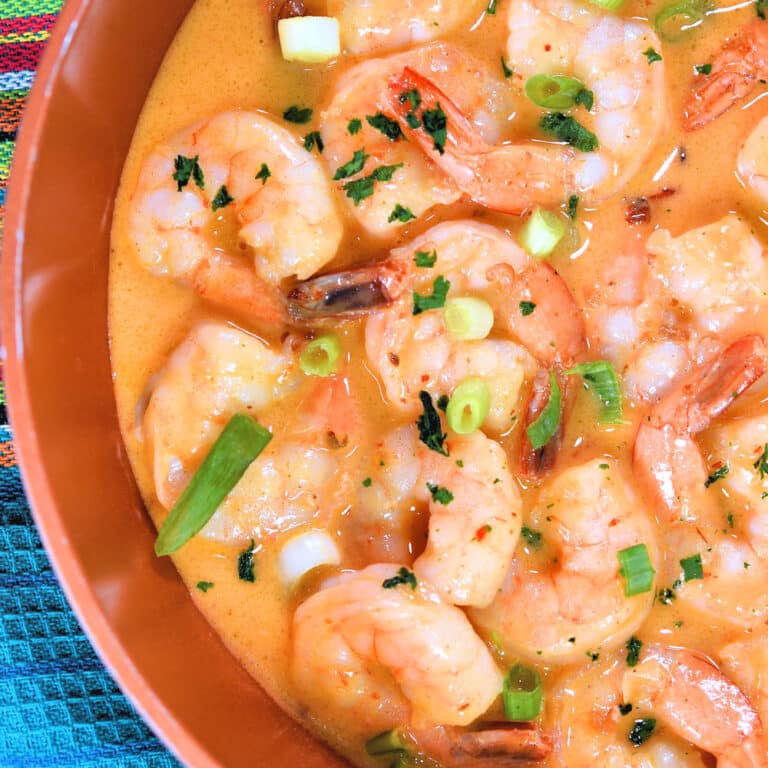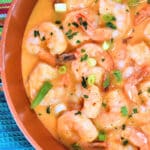 Pin Recipe Now
Chipotle Cream Sauce with Shrimp Dairy Free
Tap to leave a star rating
Save or Print
Creamy Shrimp in Chipotle Sauce (camarones con crema chipotle) is an elegant, mouth-watering, restaurant-quality recipe made with three ingredients in less than 30 minutes!

For more information, be sure to check the recipe details in the attached 24Bite® post.
Ingredients
12

ounces

Extra Large Shrimp

,

raw, peeled, deveined

1

tablespoon

Olive Oil

7

ounces

Coconut Cream

,

unsweetened, like Thai Kitchen brand

1 ½

tablespoons

Chipotle Salsa

,

San Marcos Empacadora
Instructions
Rinse shrimp in cool water. If necessary, peel and devein. If desired, remove tails.

Heat olive oil in skillet over medium high heat. Place shrimp in skillet and cook, stirring frequently, until cooked through. Shrimp will change color from an almost transparent when raw, to a pinkish orange white when fully cooked, about 5-7 minutes. Do not overcook. Remove to bowl.

Coconut cream separates when stored. Before use, stir together briskly until combined. This recipe calls for half a can. Mix together coconut cream and chipotle salsa until combined.

Place coconut cream mixture in same skillet, bring to boil. Lower heat and simmer about 10 minutes. Remove from heat and gently stir in shrimp to coat. It will thicken as it cools.
Note: If there is a video, it will not display while there is an adblocker.
Notes
Serve with saffron rice or pasta. Garnish with sliced green onion and chopped cilantro.
If desired, double the recipe by using two bags of shrimp in order to use the entire can of coconut cream (with 3 tablespoons chipotle salsa). 
This recipe also makes tasty shrimp tacos.
Nutrition Facts
Chipotle Cream Sauce with Shrimp Dairy Free
Amount Per Serving
Calories 378
Calories from Fat 261
% Daily Value*
Fat 29g45%
Sodium 966mg42%
Carbohydrates 5g2%
Protein 26g52%
* Percent Daily Values are based on a 2000 calorie diet.
______________________
Percent Daily Values are based on a 2000 calorie diet. All amounts are estimates and 24Bite® takes no responsibility for actual figures since calculations vary by packaging and supplier. Please calculate the amounts yourself based on package labeling if you have specific dietary requirements. 24Bite®, Kim Guzman or Christian Guzman shall not be liable for adverse reactions or any other outcome resulting from the use of recipes or recommendations on this website or actions you take as a result.
© 2019-2023 Kim Guzman and Christian Guzman. All rights reserved. Subscribe to 24Bite email newsletters.
Follow 24Bite: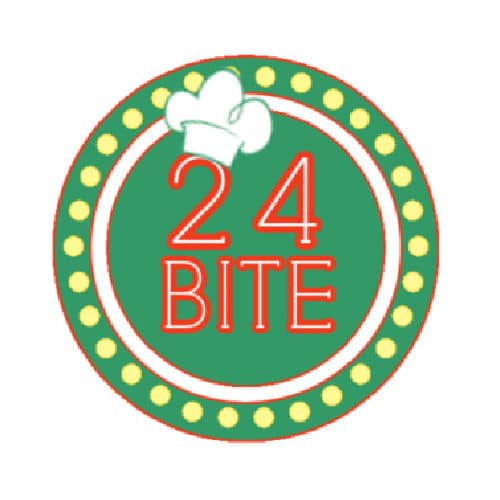 Twitter | Facebook | Pinterest