Delicious Bread Machine Soft Pretzels are a fun family treat, great by themselves or dipped in melty butter. Make them easily at home, instead of going to the mall.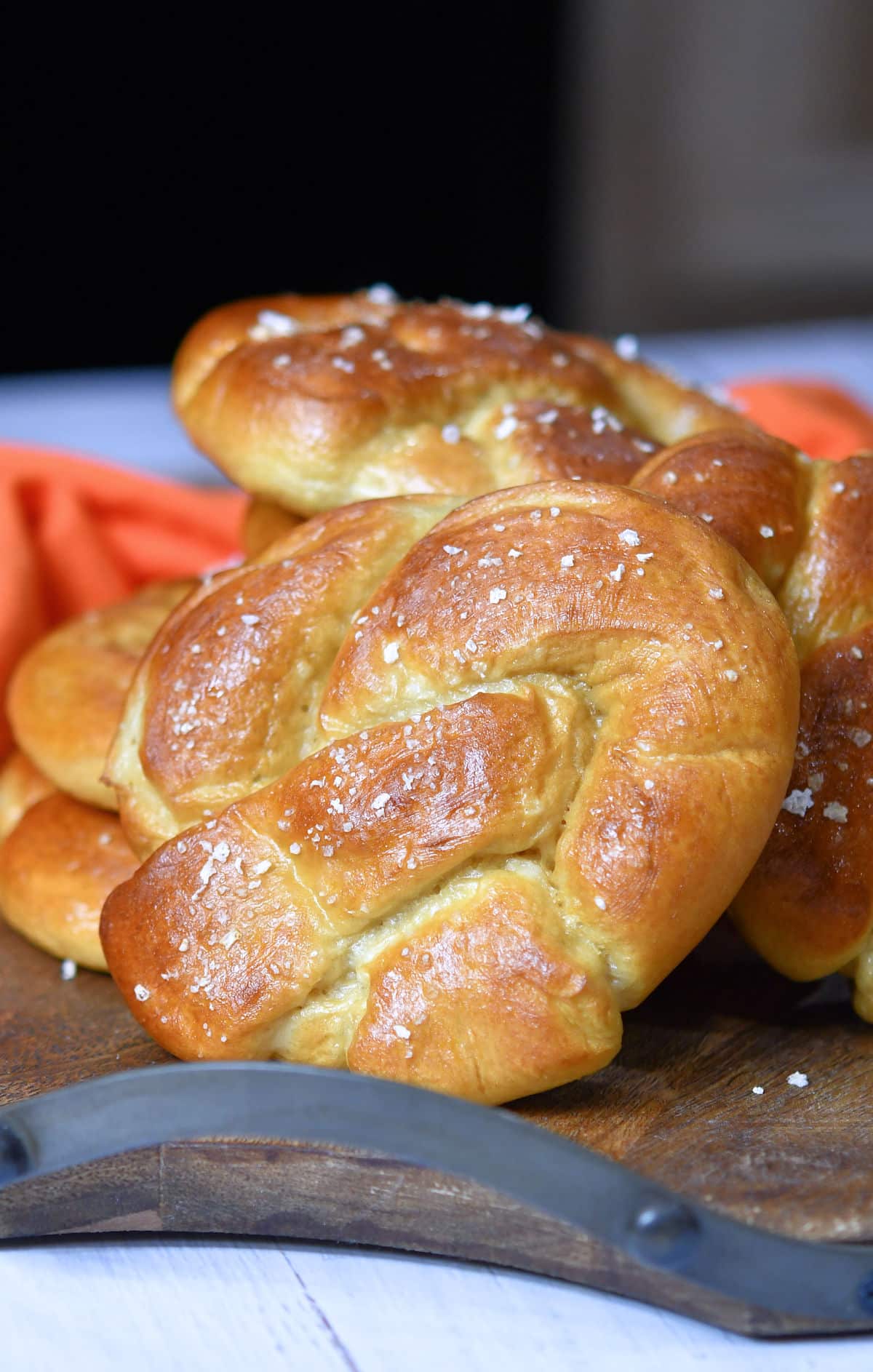 Ingredients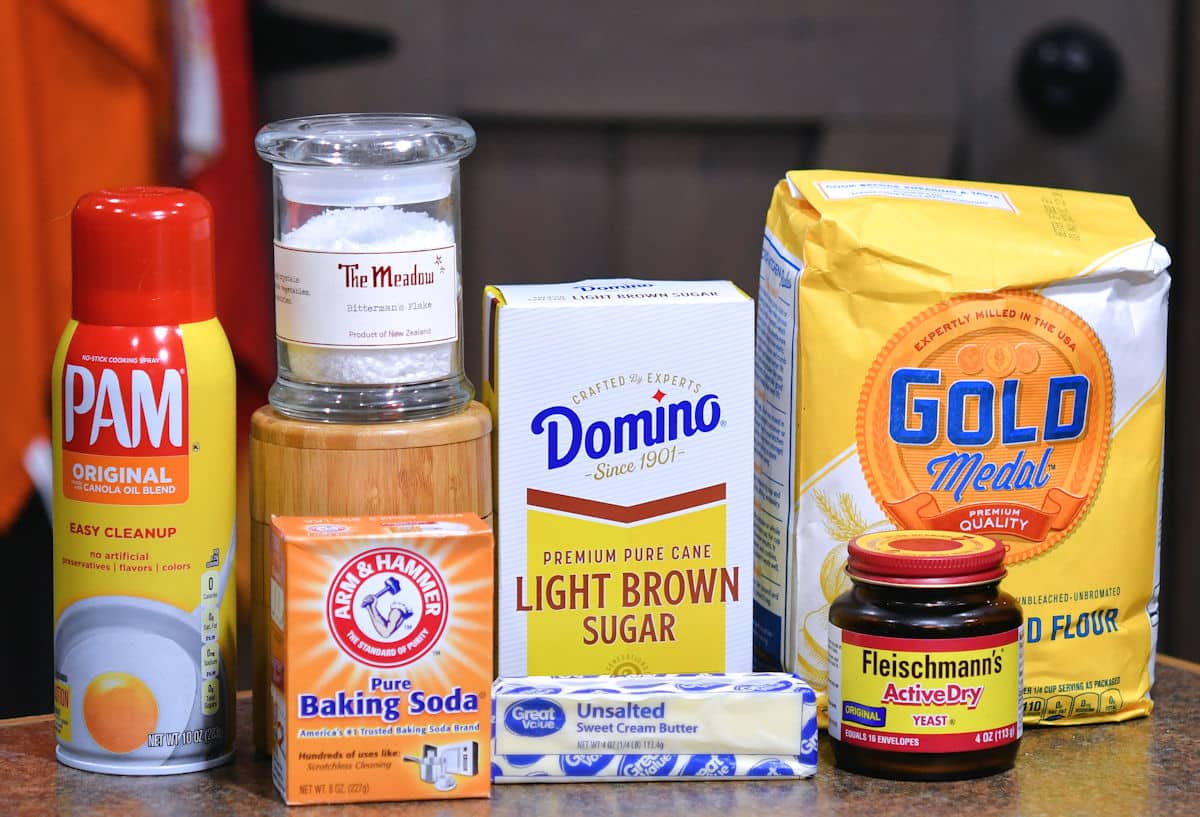 It's hard to believe that, with only these few pantry staples, you can create delicious soft pretzels from scratch!
The only thing you may not have is the Bittermans Flake Salt. It turns out that it's the perfect salt for soft pretzels. You can find it online at The Meadow. A little goes a long way so don't feel like you need to buy a lot, unless you really want. I won't tell!
While you're browsing, be sure to check out the lemon salt and the popcorn salt. I can recommend both without hesitation. Yum!
How to Shape Soft Pretzels
For this recipe, you make eight balls of dough. All recipes say to "roll it into a long rope". I'm here to tell you that it's not as easy as it sounds.
For these pieces, I did more squeezing into shape, while pulling on the dough. I also played a little game of jump rope and suspended the dough rope above the kitchen counter in order to let gravity take its course.
Just be careful while you're shaping the rope. It can easily rip. You're looking for 18-20 inches.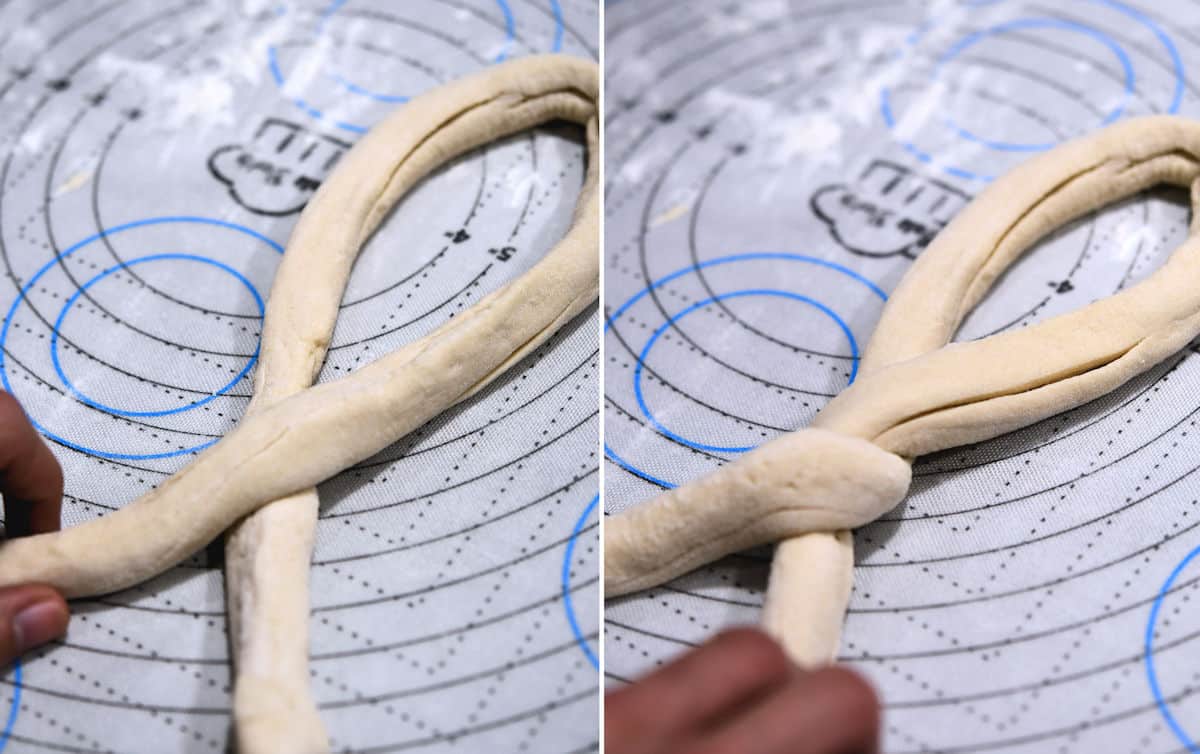 To start, form an upside down "U" then cross the two ends. Then cross them again. Now, just fold it in half so the ends are touching the top of the curve. Easy, peasy.
Let the Dough Rise
I find that my favorite method for the final rise of any bread dough is to use the oven.
Turn on the oven to the very lowest temperature. My oven has a low temperature of 170℉. Allow the oven to preheat then turn it off completely.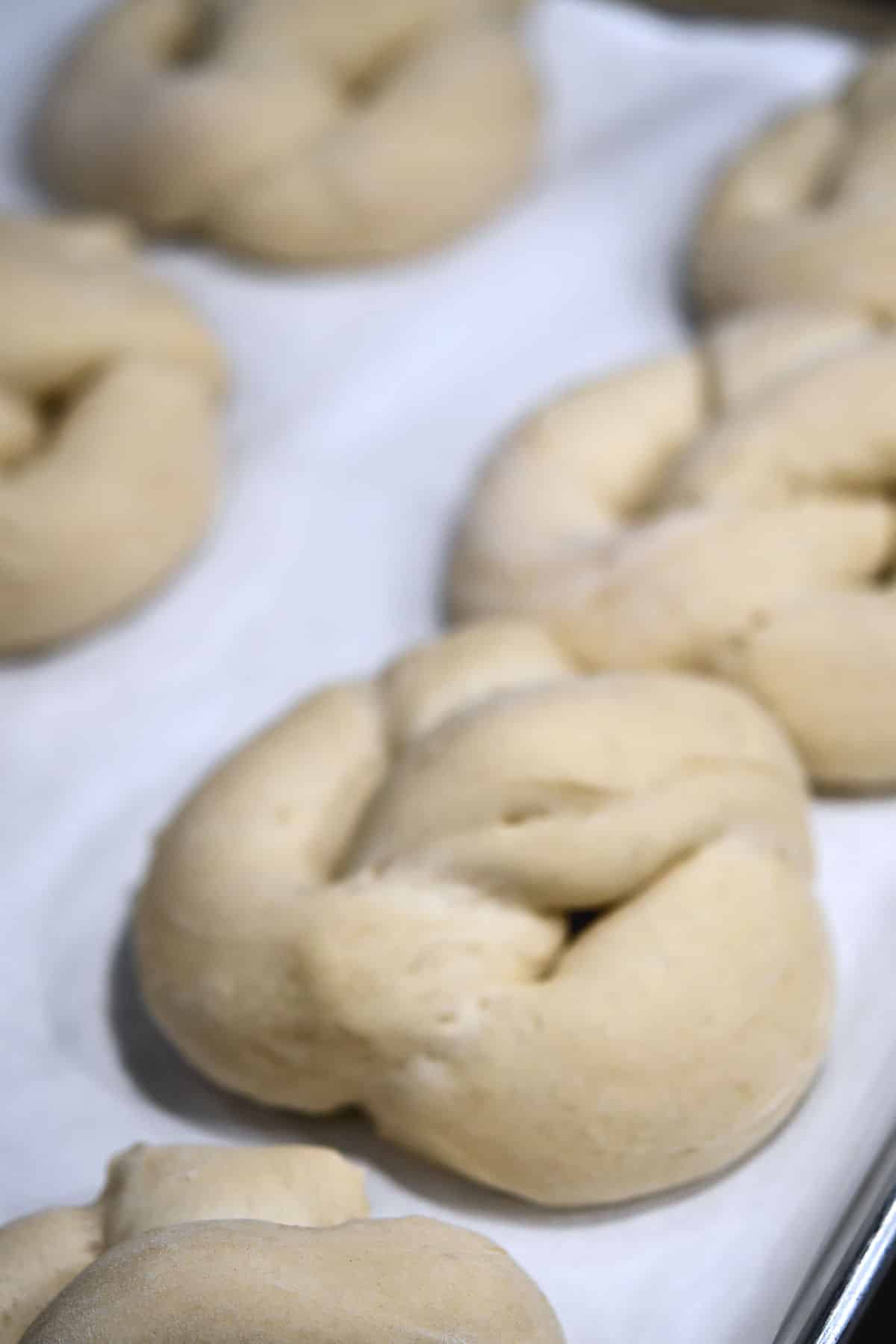 Place the dough in the oven, covered with a clean, dry cloth. Let rise until doubled. This usually takes about 30 minutes. The pretzels will be nice and fluffy.
Frequently Asked Questions
Why do you add baking soda to boil pretzels?
What I've noticed is that, if you try to put wet dough in the oven, it just bakes to a pasty yellow or gray color. The baking soda is crucial to give the beautiful golden color. You don't want to skip that part.
What gives the pretzel its flavor?
There's a little bit of butter and brown sugar, but the predonimant flavor you're tasting is baking soda. If you have a big factory, you may find lye flavoring the pretzels, but you can just stick to baking soda in the family kitchen.
What's the Difference Between Bread and Pretzels?
The difference is the shiny surface and the chewy texture. Soft pretzels have a distinct look and feel. This surface is made by boiling the pretzels before baking. You do the same thing with bagels.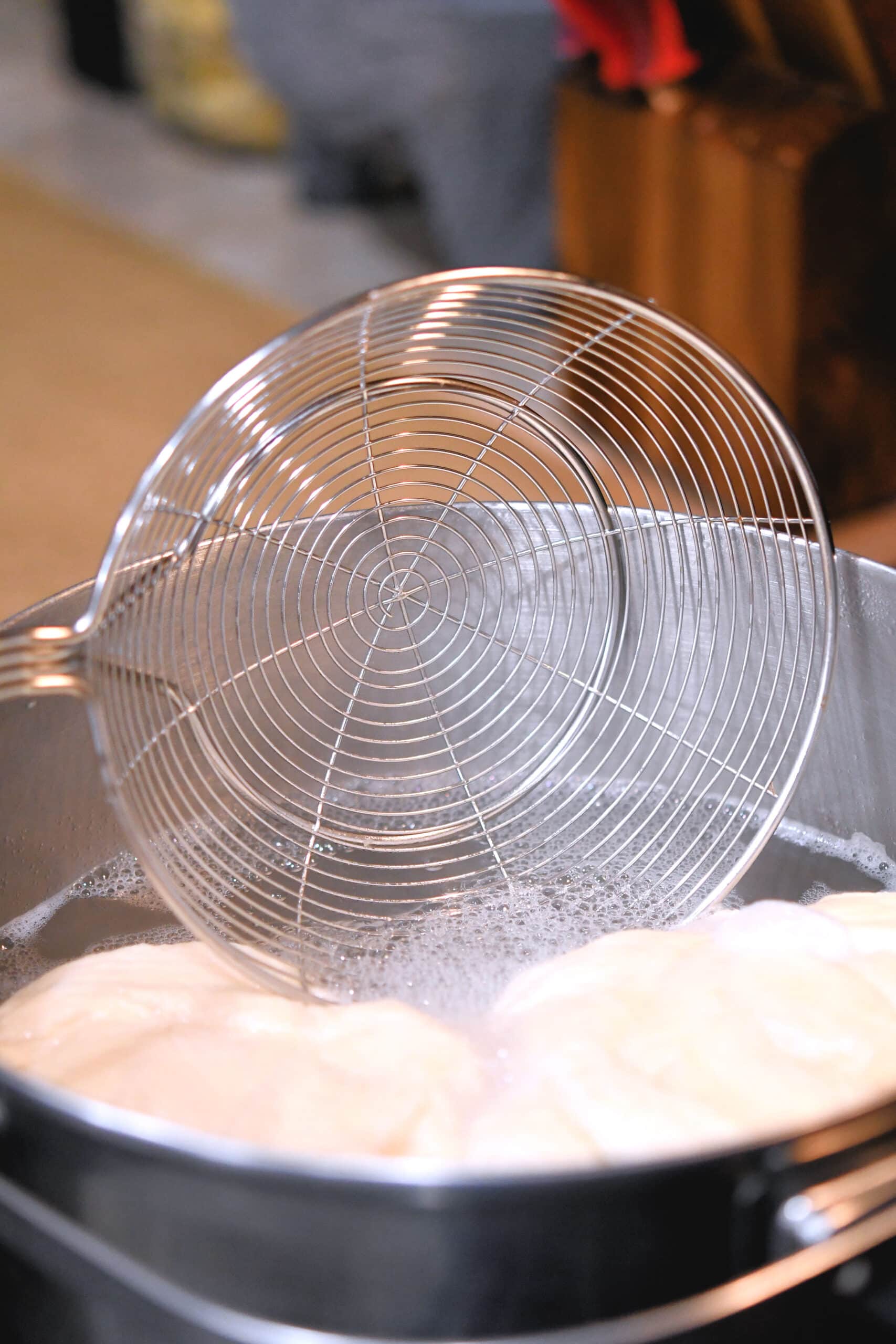 Have a look at this 8″ Stainless Steel Spider Strainer (aff link). This is perfect for lifting out pretzels, bagels and so much more.
For this recipe, I like to boil the pretzel for about 60 seconds on each side. After the full 2 minutes, it will be a little more solid. If you try to remove it sooner, the pretzel is still really loose and floppy. It doesn't hold its shape and can tear apart easily.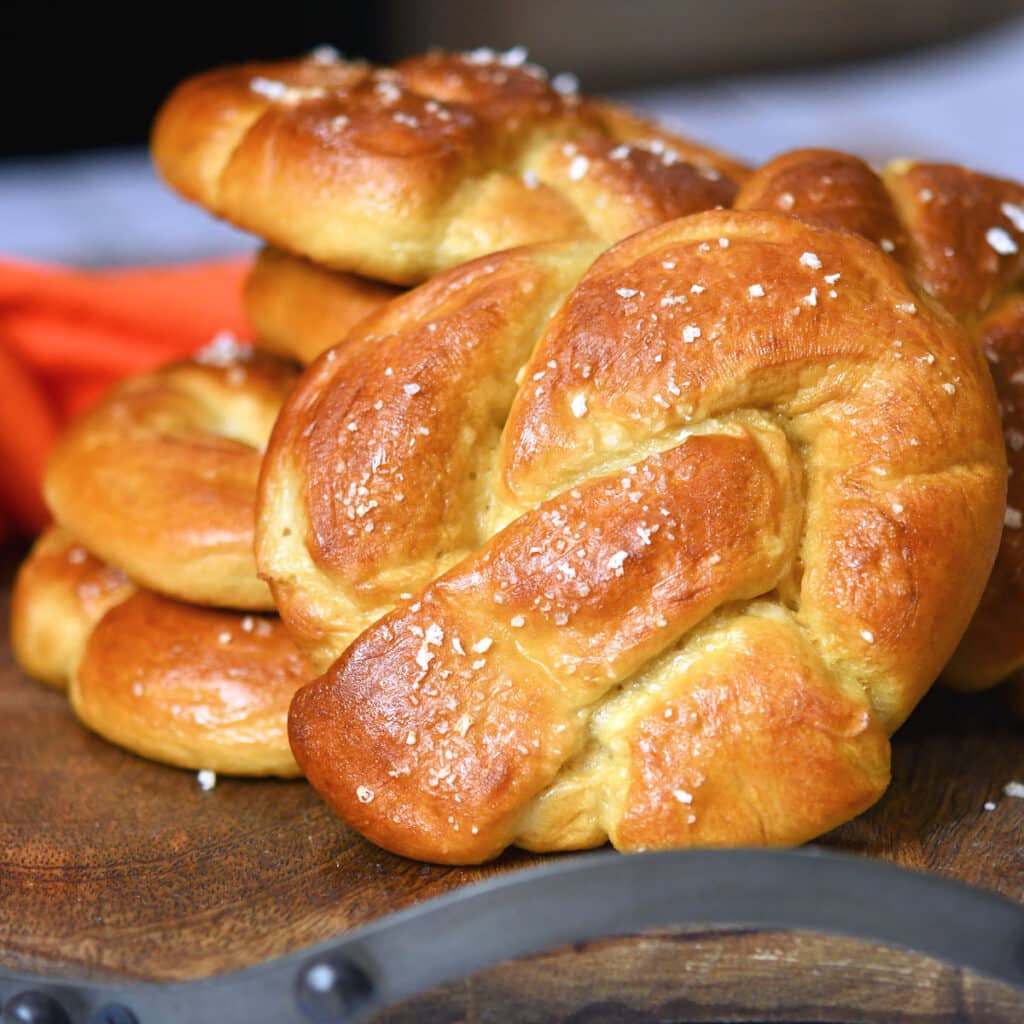 More Recipes
I use the bread machine quite a bit, sometimes twice a week. I have lots of recipes, savory and sweet. Check out all my Bread Recipes or here are my favorites:
Recipe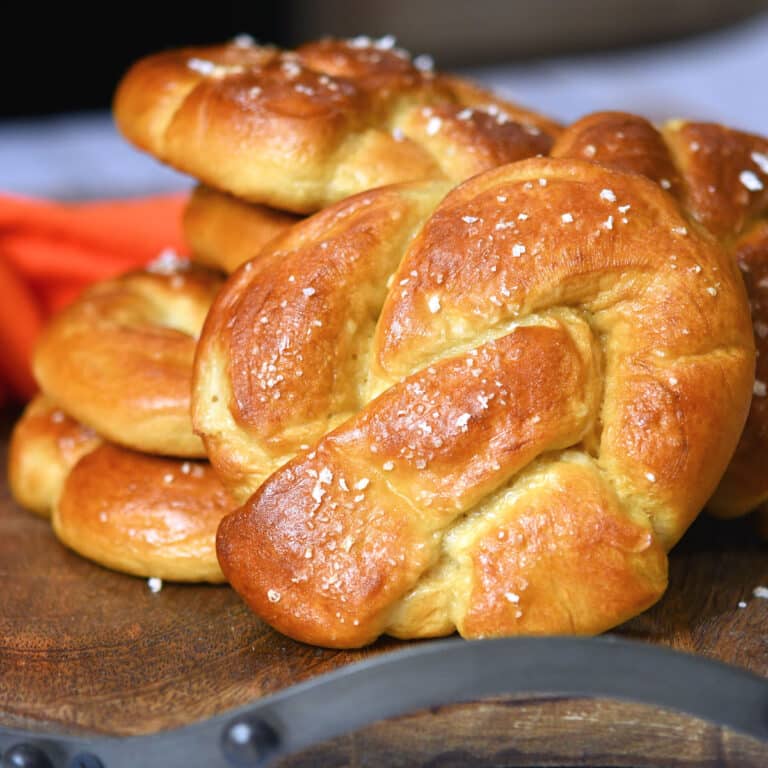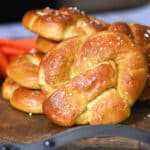 Pin Recipe Now
Bread Machine Soft Pretzel Recipe
Tap to leave a star rating
Save or Print
Delicious Bread Machine Soft Pretzels are a fun family treat, great by themselves or dipped in melty butter. Make them easily at home, instead of going to the mall.

For more information, be sure to check the recipe details in the attached 24Bite® post.
Equipment
Bread Machine, if using Bread Machine instructions (Cuisinart Bread Maker 2 Pound used)

Standing Mixer with dough attachment, if using Standing Mixer instructions

Baking Sheet

Parchment Paper

Plastic Wrap
Ingredients
Dough
1 ⅛

cups

Water

,

very warm, about 105-110℉

2 ½

teaspoons

Yeast

2

tablespoons

Brown Sugar

3

cups

Bread Flour

2

tablespoons

Butter

,

cut into 8 equal pieces

1

teaspoon

Salt
Finishing
Salt

,

course grind, optional

Cooking Spray

6

quarts

Water

⅓

cup

Baking Soda
Instructions
Proof the yeast: In a small bowl or glass measuring cup, stir together water, yeast and brown sugar until mixed well. Set aside.

After 5-15 minutes, check the yeast to see that it has a nice foam layer to ensure the yeast is viable. If there is no foam layer, check your yeast. It may be expired and you'll need to try again.

Place yeast mixture and flour in bread pan, distribute the bits of butter over the top and add salt. Set bread machine to make dough only. It will take about 1 ½ hours.

Remove dough from bread pan and wrap dough ball loosely in plastic wrap, set on large plate and place in the refrigerator. Chill for 30 minutes. The dough will expand when chilled. If you need to chill longer (or overnight), wrap with a second layer of plastic wrap after the dough has expanded for 30 minutes.

Cut dough ball into 4 pieces then cut each into 2 pieces, for a total of 8 pieces.

Place parchment paper on baking sheet and spray lightly with cooking spray.

On a lightly floured surface, roll each piece of dough into an 18-20" rope. Form a "U" shape. Cross the ends then twist them again. Fold in half so the edges are touching the curve of the "U" and press lightly. See tips above on rolling out the dough.

Cover with a clean towel and allow to rise until double, about 30 minutes. See tips above on this rise. Remove from oven.

Place a medium stock pot or Dutch oven on stove with 6 quarts water and baking soda. On medium high heat, begin bringing to boil. The water needs to be very hot. It needs to be up to boiling temperature, not a little bit of simmering bubbles at the bottom.

Using a thin spatula, very carefully remove pretzel from baking sheet and slide into water. Cook for 60-70 seconds then turn to the other side and cook 60-70 seconds more. The time may vary. You will be able to tap it lightly with the spatula and feel that it's a little more solid and no longer as fluffy soft. (You WILL be disappointed if you don't reach the point where the dough gets more solid. Don't remove it until it's no longer fluffy soft.) Remove with a large slotted spoon to a platter or parchment paper. Sprinkle course salt over top while it's still wet. Boil no more than two at a time. This portion won't take very long and should be about ready when the oven finishes preheating.

Place a fresh parchment paper on a baking sheet and spray lightly with cooking spray. Place the boiled pretzels on the sheet and bake 12-15 minutes until golden brown.
Note: If there is a video, it will not display while there is an adblocker.
Notes
Important Note: Please follow the instructions carefully. This recipe may not be like other recipes you've tried. I like to think of this method as a reverse baking, like reverse searing. You may not be familiar with it. Most of the baking is done in the water then the color is added in the oven. This is done purposely, based on this method. If you want this recipe to turn out, you'll need to do the same thing as stated otherwise you will be disappointed.
Instructions for Standing Mixer with Dough Attachment: Add the ingredents in the same order except add the flour, one cup at a time, until well mixed before adding the next cup. 
Place the dough in a lightly greased bowl. Cover the bowl with plastic wrap and let the dough ball rise until doubled in size, about 60-90 minutes.
Punch down the dough gently and continue with the instructions, beginning with #4 (chilling the dough briefly in the refrigerator).
Serve with dipping bowls of melted butter or cheese sauce. I don't recommend that you add melted butter to the pretzel itself, unless you are serving immediately. It will be too wet and will get soggy.
To reheat: one minute in the air fryer is perfect.
The nutritional information doesn't include the extra salt sprinkled on the top.
Preview the web story at Bread Machine Soft Pretzels Story.
Nutrition Facts
Bread Machine Soft Pretzel Recipe
Amount Per Serving
Calories 217
Calories from Fat 36
% Daily Value*
Fat 4g6%
Sodium 336mg15%
Carbohydrates 38g13%
Protein 7g14%
* Percent Daily Values are based on a 2000 calorie diet.
______________________
Percent Daily Values are based on a 2000 calorie diet. All amounts are estimates and 24Bite® takes no responsibility for actual figures since calculations vary by packaging and supplier. Please calculate the amounts yourself based on package labeling if you have specific dietary requirements. 24Bite®, Kim Guzman or Christian Guzman shall not be liable for adverse reactions or any other outcome resulting from the use of recipes or recommendations on this website or actions you take as a result.
© 2019-2023 Kim Guzman and Christian Guzman. All rights reserved. Subscribe to 24Bite email newsletters.
Follow 24Bite: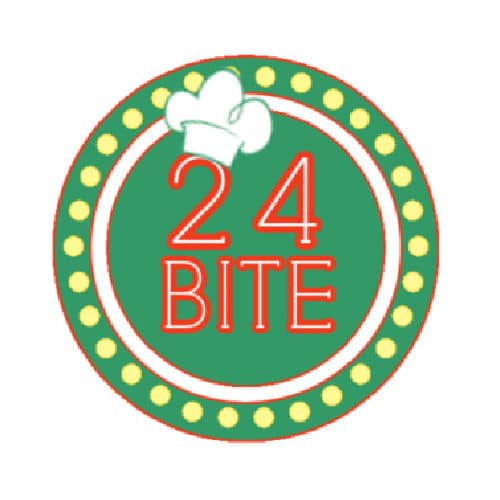 Twitter | Facebook | Pinterest