This Easy Capirotada Recipe, also called Mexican bread pudding, is usually served during Lent and especially for Good Friday or Easter Sunday.
It's made of layers of broken or sliced crusty bread, dried fruits and nuts, covered in either a sugar syrup or a creamy milk mixture then baked.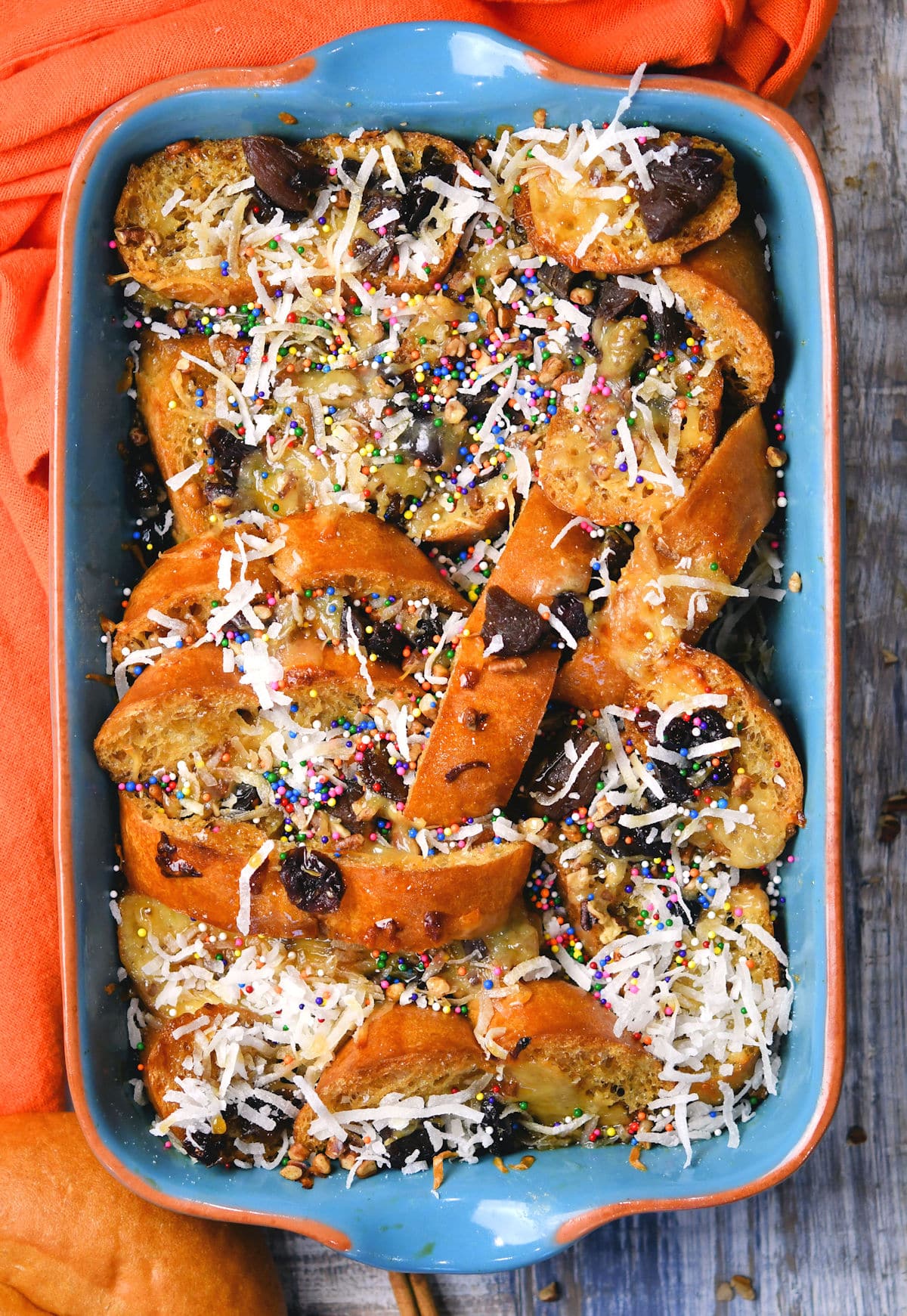 What Is Capirotada?
Capirotada actually originated in Spain in the 1400s. Like other bread pudding recipes, it was primarily invented in order to use up leftover, stale bread.
Capirotada de Agua is the version made with a water-based sugar syrup. Capirotada de Leche is milk-based, sometimes with three different milks, or tres leches, in Spanish.
My personal preference is to use bread slices instead of chunks. I feel like it's easier to serve and looks better too.
This recipe makes enough to form one layer of bread, when placed a little more diagonally. But, I've also seen recipes with multiple layers of bread. Sometimes, though, that gets a little dry because the syrup can't reach the upper layers.
What Do The Ingredients Mean?
At some point in history, the bread pudding became very popular for Easter and Lent season. You'll find it in most Mexican homes at this time, but you could make it any time of year and serve it with coffee for breakfast or as a dessert.
The bread in this recipe is said to represent the body of Christ. The syrup represents His blood. The wood of the cross is represented by the cinnamon sticks and the nails are represented by the whole cloves. Lastly, the cheese represents the cloth covering His body.
You'll find all these primary ingredients of bread, syrup, cinnamon, cloves and cheese in most all authentic recipes. Beyond that, you can get more creative.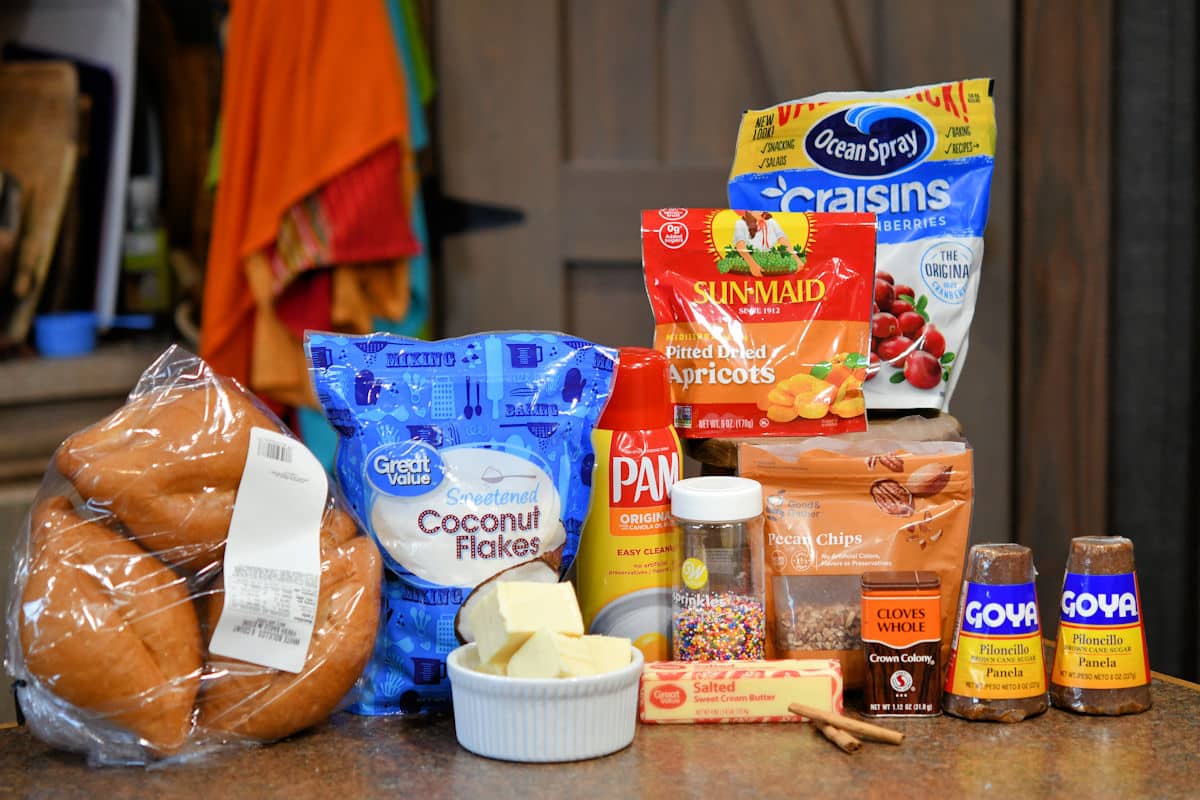 Ingredient Variations
This is where a different region of Mexico and different families have influenced the Mexican Capirotada. There are many variations to the traditional Mexican bread pudding once you've started with the primary ingredients.
What is Bolillos Bread?
The typical bread used is Mexican bolillo bread. It's a football shaped bread, perfect for tortas (sandwiches) and more. You can use any crusty bread you have from steak rolls to French bread. I've also seen people use other breads like pan dulce, especially conchas (the round bread with colorful sugar topping).
Sometimes, you can find the capirotada pre-packaged toasted bread slices at a local Mexican bakery instead of slicing and toasting them yourself.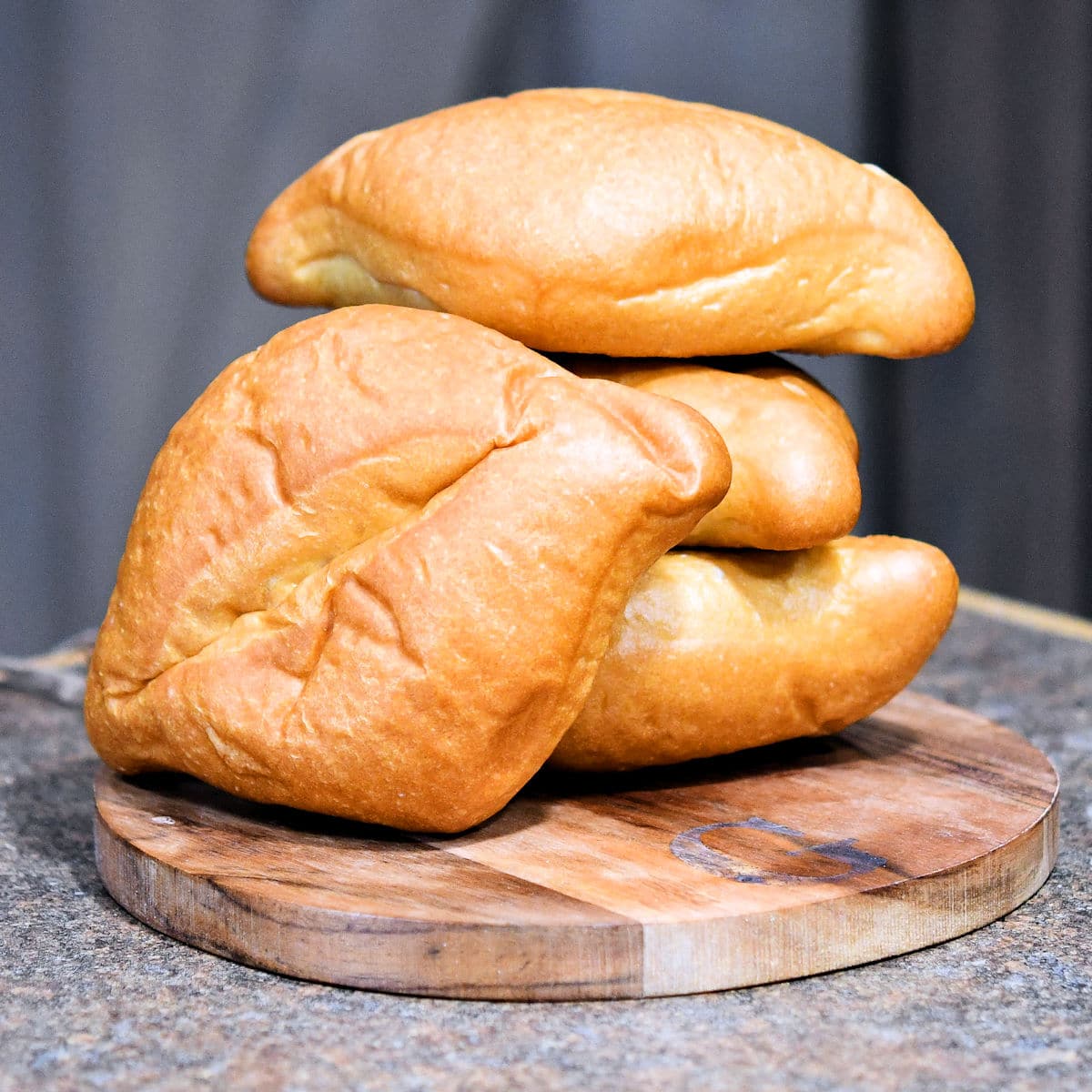 What is Piloncillo?
Traditionally, you use a Mexican sugar to make the sweet piloncillo syrup. Piloncillo is an unrefined whole cane sugar, sometimes called Mexican brown sugar. It's used in many traditional Mexican dessert recipes. It's hard as a rock and must be reconstituted in some liquid before using.
If you are unable to find the little blocks of piloncillo, you can use packed dark brown sugar.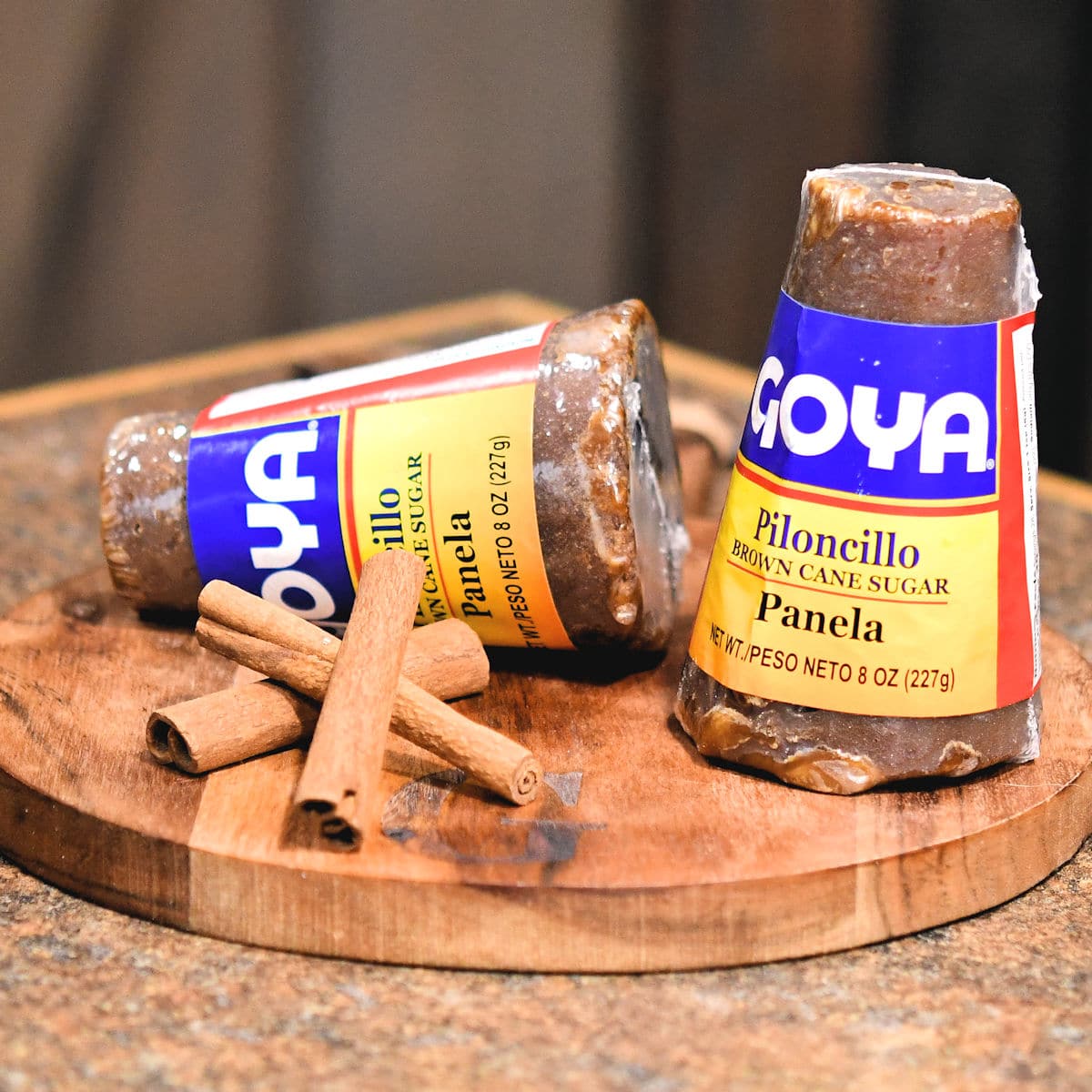 Dried Fruits
I usually use a cup of dried fruits. For today's recipe, I've used half dried cranberries and half apricots. Because the apricots are bigger, I chopped them into smaller pieces. I prefer to rehydrate these types of fruit in the sugar syrup.
You can really use any dried fruits you like such as raisins, prunes, etc. You may also go in a different direction with dried pineapple and banana chips.
Nuts
I used pecan bits because I found a package of them at Target. So much easier than chopping them myself. You can toast them. Or not.
I've also seen chopped walnuts and almond slices or slivers. Use your favorite or whatever you have in your pantry.
Types of Cheese
I know what you're going to say. Cheese with a sweet dessert? It's crazy, right? But, you'll just have to trust me.
I've used Monterey Jack cheese because it's easy to find. But, you can also use Mexican Cotija cheese or Chihuahua cheese, any cheese that makes a great melted cheese. Queso fresco or queso Oaxaca can also be used.
Chihuahua cheese can also be called Menonita cheese because it's traditionally made by the Menonite community in Chihuahua, Mexico.
I don't recommend mild cheddar cheese since it's not a traditional Mexican cheese, but, if that's all you have, I won't tell.
Topping
I've added some coconut. If you don't like coconut, omit it. But, please, whatever you do, you must use the sprinkles. Lots of sprinkles!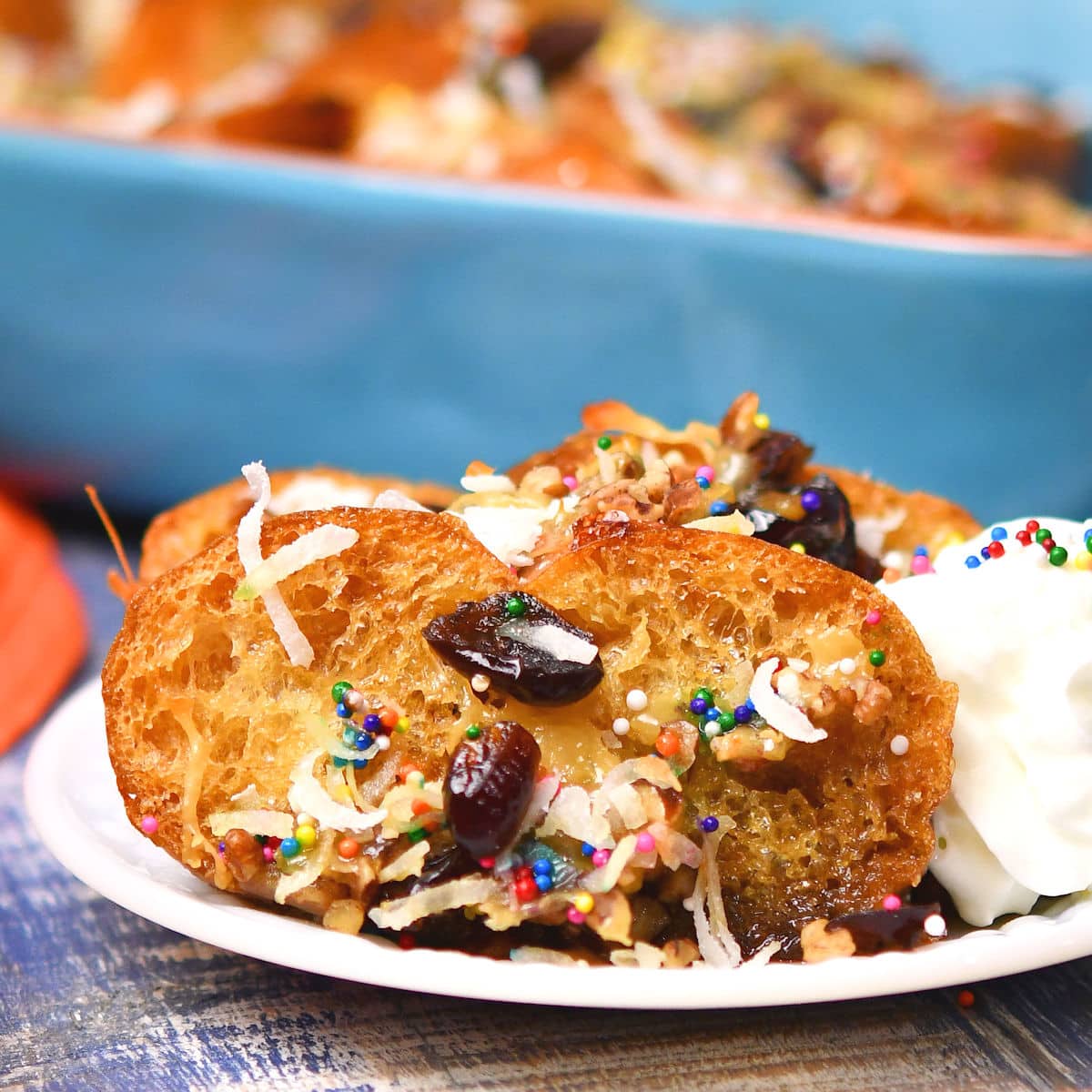 Can You Make Ahead?
I have made the layers for this Easy Capirotada Recipe and I've made the sweet sugar syrup ahead of time. I didn't like adding the syrup until I was ready to bake. Letting the bread soak in the syrup overnight didn't produce the same results.
It made the bread pudding more like this Apple Cinnamon French Toast Casserole. It's still tasty, but you can't get the individual bread slices when serving if you soak it overnight.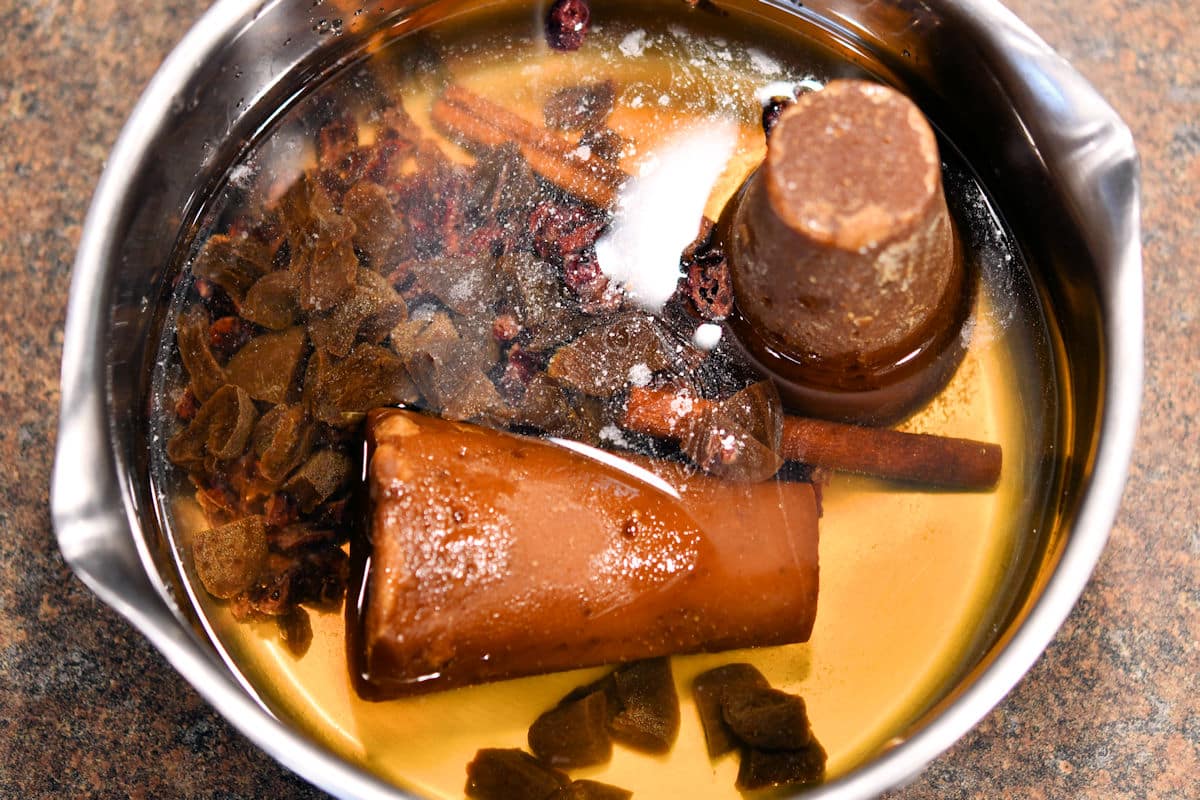 Baking The Bread Pudding
For a special occasion like Good Friday, you may want to use your nicest casserole baking dish that is oven safe. You will need to cover it with aluminum foil to keep it from drying out and you serve in the same dish.
How To Handle Leftovers
You can use the rest of the syrup when serving at the table, if you like. It's also tasty in coffee or hot chocolate.
The leftover capirotada should be placed in an airtight container in the refrigerator for 3 or 4 days, at the most. It starts getting way too dry to eat if you try to keep it any longer.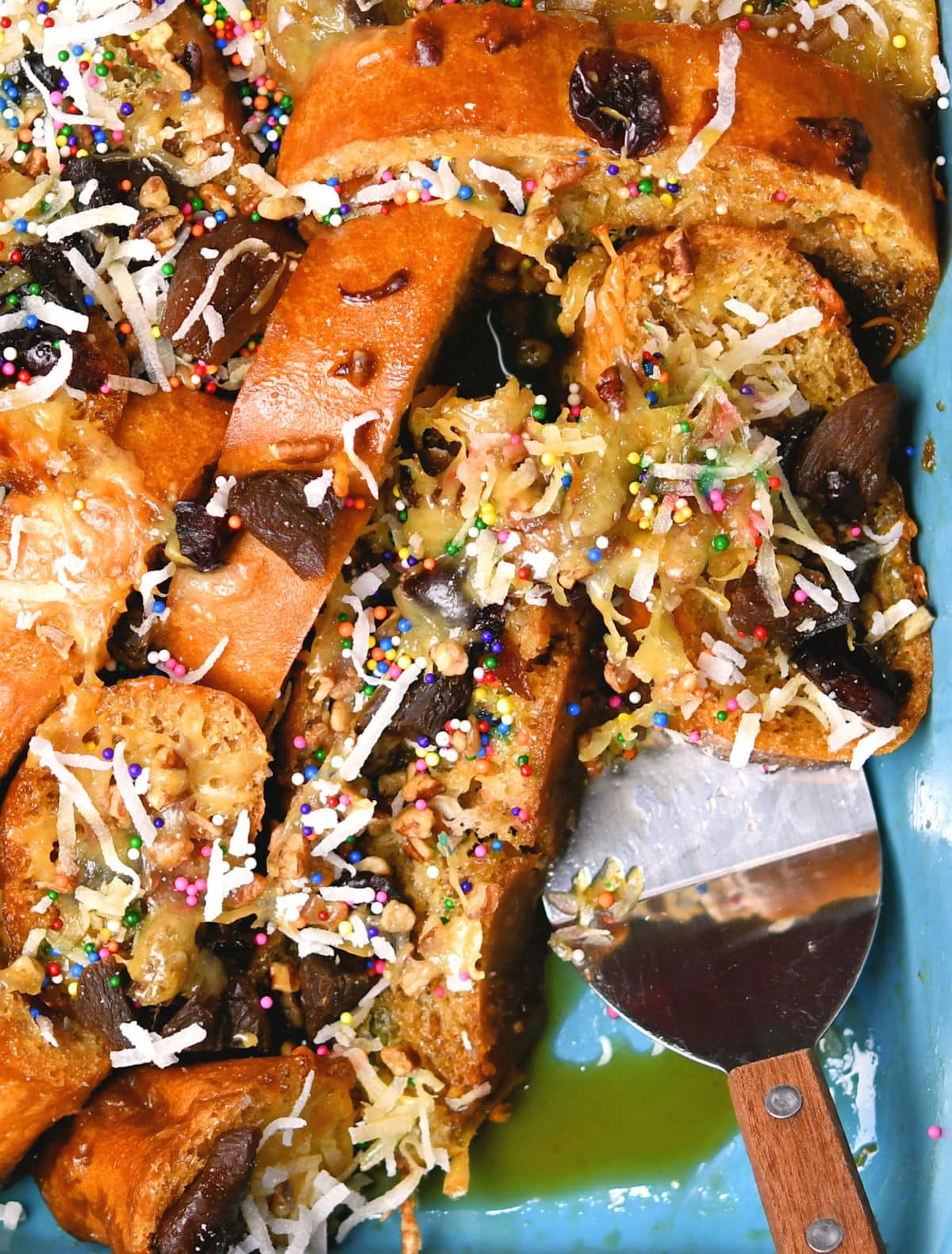 More Recipes
You may also like these other recipes.
Recipe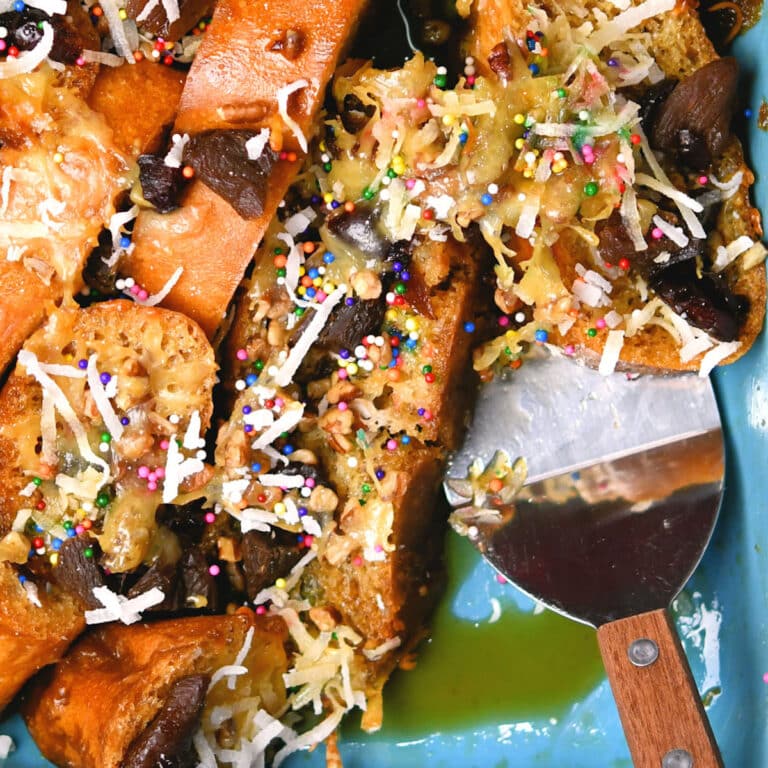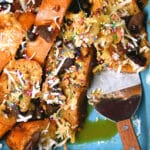 Pin Recipe Now
Easy Capirotada Recipe
Tap to leave a star rating
Save or Print
This Easy Capirotada Recipe, also called Mexican bread pudding, is usually served during Lent and especially for Good Friday or Easter Sunday.

For more information, be sure to check the recipe details in the attached 24Bite® post.
Equipment
Large baking sheet

9" x 13" Deep Dish Casserole

Aluminum Foil
Ingredients
4 ½

cups

Water

2

Piloncillo

,

or 2 cups packed dark brown sugar

½

cup

Dried Cranberries

½

cup

Dried Apricots

,

loosely chopped

2

Cinnamon Sticks

2

Whole Cloves

5

Bolillo

8

ounces

Butter

,

softened and easy to spread

½

cup

Pecans

,

chopped

4

ounces

Monterey Jack Cheese

,

shredded

Cooking spray

,

like Pam

½

cup

Coconut Flakes

,

optional

Candy Sprinkles

,

optional
Instructions
Slice bolillos to ½" or up to ¾" with a serrated knife. Using ONLY 6 tablespoons of the butter, spread on each side of the bread and place the slices on a large cookie sheet. Bake in preheated oven for about 4-5 minutes each side. Remove from oven and set aside. (Set aside the remaining butter for later.) You'll need the oven preheated for baking the capirotada as well.

While toasting the bread, add water, piloncillo, cranberries, apricots, cinnamon sticks and whole cloves to medium saucepan and heat on medium until piloncillo is completely melted. Heat to a medium boil and allow to boil for about 15 minutes. Set aside to cool.

Using the remaining 2 tablespoons softened butter, spread on bottom and sides of 9" x 13" baking dish. If you don't have enough butter, you can use cooking spray.

Add toasted bread slices to baking dish. I prefer placing them a little diagonal and haphazard rather than completely flat.

Strain the sugar syrup. DON'T THROW OUT THE LIQUID OR THE OTHER INGREDIENTS. Remove and discard the cinnamon sticks and whole cloves. Sprinkle the rehydrated cranberries and apricots on top of the toasted bread.

Sprinkle the pecans and shredded cheese on top.

Pour sweet syrup over the capirotada, making sure that you get some on each piece of bread. You don't need more syrup than halfway up the sides of the bread.

Spray a piece of aluminum foil (to fit baking dish) with cooking spray to keep it from sticking to the melted cheese. Cover and allow to sit on the counter for 15 minutes.

Place in preheated oven. Bake for 15 minutes, or until the cheese is melted and the syrup is hot. Uncover and heat about 5-10 minutes longer, or until cheese is golden.

Allow to cool about 15 minutes.

Sprinkle coconut flakes and candy sprinkles on top.
Note: If there is a video, it will not display while there is an adblocker.
Notes
Capirotada can be served either hot or cold. It can be served as breakfast with coffee or hot chocolate or as a dessert, especially for Good Friday or Easter Sunday.
Any leftover sweet syrup can be served at the table when serving.
Nutrition Facts
Easy Capirotada Recipe
Amount Per Serving
Calories 320
Calories from Fat 216
% Daily Value*
Fat 24g37%
Sodium 335mg15%
Carbohydrates 23g8%
Protein 6g12%
* Percent Daily Values are based on a 2000 calorie diet.
______________________
Percent Daily Values are based on a 2000 calorie diet. All amounts are estimates and 24Bite® takes no responsibility for actual figures since calculations vary by packaging and supplier. Please calculate the amounts yourself based on package labeling if you have specific dietary requirements. 24Bite®, Kim Guzman or Christian Guzman shall not be liable for adverse reactions or any other outcome resulting from the use of recipes or recommendations on this website or actions you take as a result.
© 2019-2023 Kim Guzman and Christian Guzman. All rights reserved. Subscribe to 24Bite email newsletters.
Follow 24Bite: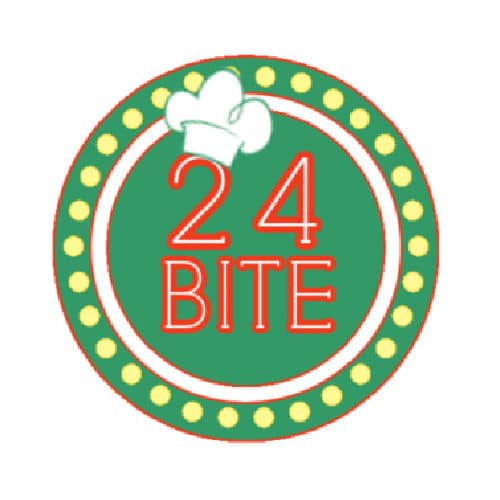 Twitter | Facebook | Pinterest