As a new chef, I am trying other recipes as well because it helps me continue to learn and grow in my skills.
Peach Sour Cream Pound Cake from Mama Needs Cake
The only change I made to this recipe is for the peaches. The recipe calls for canned peaches but we had a bag of frozen peaches that needed to be used. Because they were frozen, they lost their shape after thawing but they worked great for cake! And, a delicious cake, it is! Get the recipe.
No Bake Cookie Dough Bars from A Mom's Take
Everyone enjoyed this one. No one can resist the cookie dough! I plan on making some for my older sister for her birthday. She'll love it! Get the recipe.
Cherry Garcia Cookies Recipe from Lady and the Blog
These cookies were awesome. When you drain the cherries, be sure to save the juice to add to your soda or tea! Get the recipe.
Baked Bacon Recipe from Inspired Taste
I'm using Wrights Maple Bacon so I increased the cook time to 24 minutes. It could go a little bit longer and I'll shoot for 29 minutes next time. Delicious! Get the recipe.
Easy Lemon Bars Recipe from Half-Scratched
I had everything on hand except the coconut to sprinkle on top. You can easily make the recipe without a mixer. It's delicious! Tastes like lemon brownies with icing. I definitely recommend! Get the recipe.
Spinach Strawberry Salad Recipe from Savory with Soul
I added some crumbling Cacique Queso Fresco. This is a wonderfully sweet and tart salad and I will be making it again! Get the recipe.
Follow 24Bite: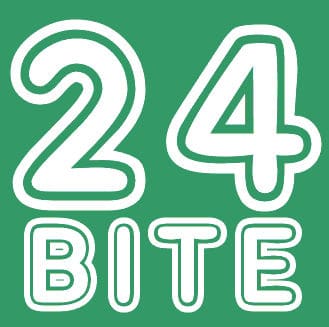 Twitter | Facebook | Instagram | Pinterest