Disclaimer:
This website contains affiliate links. Any purchases through affiliate links will provide me with the income necessary to keep this site available at no extra cost to you. Please see
Privacy Policy
 page for more information.
Light and refreshing green tea with just a touch of mango flavor, perfect for warmer weather.
I love iced tea. I especially love iced green tea. It's very light and refreshing. I recently discovered how wonderful it tastes with a touch of mango syrup. So fresh! It's perfect for spring and summer.
This is the green tea I've been buying for several years. Prince of Peace has several products that I've come to love.
I have this glass tea kettle. I had a different tea kettle for many years but they kept rusting. It was probably our climate. Glass is so much better! Here are some tips:
Don't overfill it.
Don't put it on a burner that is too big for it.
Don't put the burner to higher than medium heat.
Once the tea comes to a boil, remove from the heat source and add four tea bags to it to steep. Only steep for three or four minutes. Set a timer! I once forgot to set a timer and the tea was too bitter.
Because I use this glass pitcher, I like to cool the hot tea for awhile before adding it. Boiling hot tea could break a glass pitcher. Once you add it to the pitcher, fill it with ice and water. If you use the little inner ice holder, you will have about two quarts of tea. If you just put the ice in the pitcher with the tea, you will have about 2 3/4 quarts of tea.
To serve, put ice in a glass, add about two teaspoons of mango syrup, and fill to the top with green tea. Stir and enjoy.
Mango Green Tea
Print Recipe
Light and refreshing green tea with just a touch of mango flavor, perfect for warmer weather.
Ingredients
1

quart

water

4

teabags

green tea

Torani mango syrup

sugar free

additional water and ice to make almost 3 quarts total
Instructions
Bring 1 quart water to boiling and remove from heat.

Add 4 teabags and steep for 4 minutes. Remove teabags. Do not squeeze them.

Allow green tea to cool and add to 2 1/2 quart pitcher. Add enough ice and water to fill pitcher.

When ready to serve, put ice in a glass, add two teaspoons of mango syrup (or desired amount) and fill with prepared green tea. Stir and enjoy.
Nutrition
______________________
Percent Daily Values are based on a 2000 calorie diet. All amounts are estimates and 24Bite™ takes no responsibility for actual figures since calculations vary by packaging and supplier. Please calculate the amounts yourself based on package labeling if you have specific dietary requirements. 24Bite™, Kim Guzman or Christian Guzman shall not be liable for adverse reactions or any other outcome resulting from the use of recipes or recommendations on this website or actions you take as a result.
© 2019-2020 Kim Guzman. All rights reserved.
Follow 24Bite: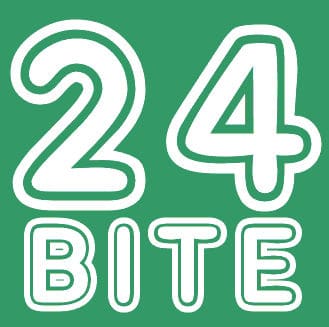 Twitter | Facebook | Instagram | Pinterest
Pin It: