Spicy barbecue sauce made from a sweetened tomato and dried red chile base for some warm spicy heat is perfect for grilling. It flavors pork perfectly!
Homemade spicy barbecue sauce is obviously the way to do things around the Guzman household. You all know how much I love to make my own sauces. This time I used my red tamale sauce recipe as a base for this delicious grilled rack of pork ribs.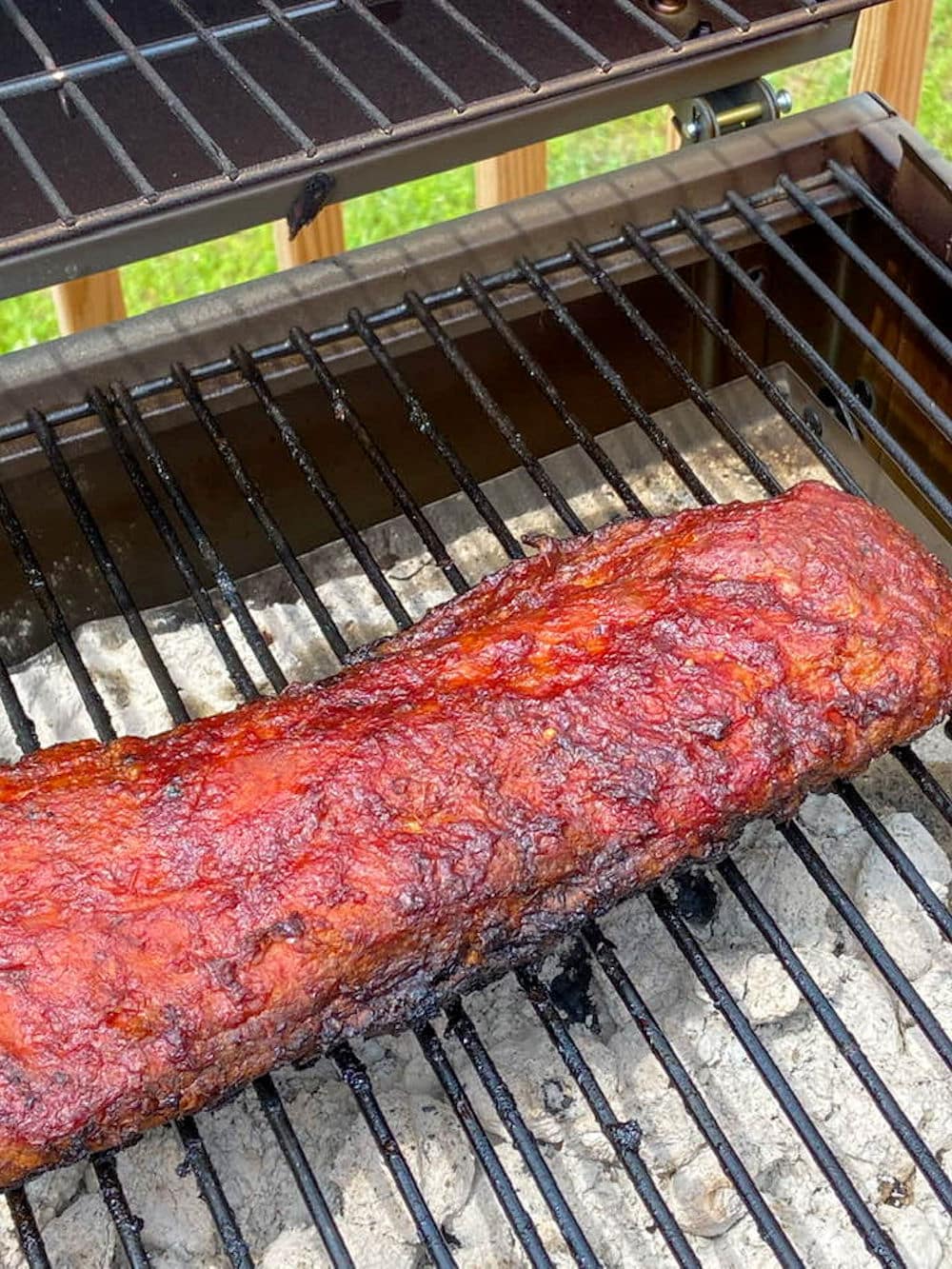 Learning to cook on the grill is apparently a "rite of passage" for many. For me, it's going to be more of a take it low and slow, one step at a time. Mom and I are having to learn this together, mostly through trial and error.
Choosing the Grill
About a month or two ago, mom bought a grill. It's the first grill mom has ever had so it's going to take some practice for both us at the same time! It's certainly not the first time we've had to figure something out on our own.
Naturally, I had to put it together myself. Wowzah! That was an all-day job. You'll understand if you've ever put together a grill before. Mom jokingly said it was "payback" for the hours she had to spend putting together my Christmas gifts. ha!
We weren't sure whether we would enjoy grilling so we decided that spending a lot of money on a propane grill wouldn't have been an economical decision. Plus, mom is really afraid of the entire "hooking up the propane thing". Propane was out of the question.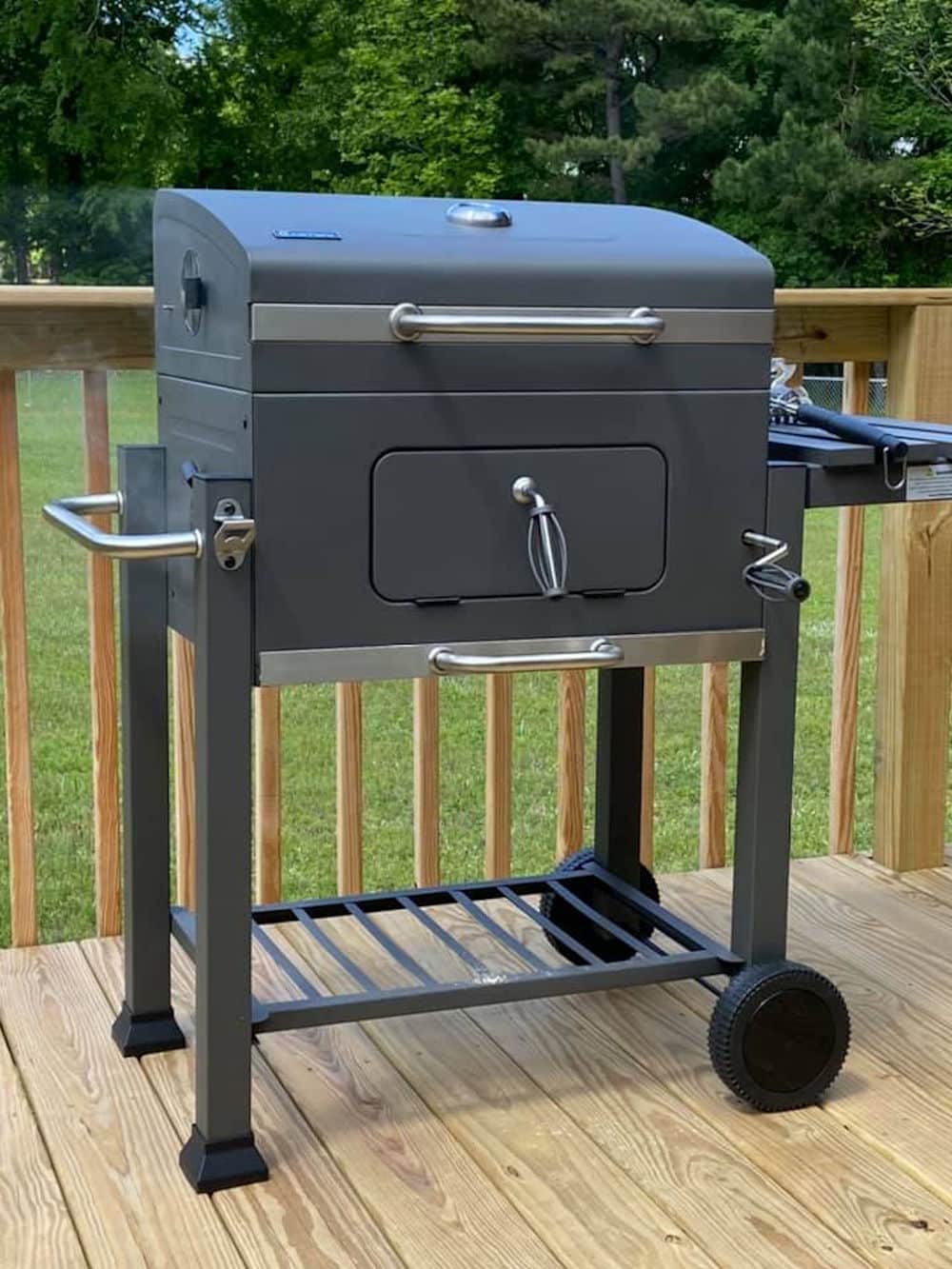 We researched and finally settled on a nice medium-sized charcoal grill. It's just the perfect size for a starter grill for two people.
The most important thing on this grill is the thermometer. It helps so much to actually know the temperature instead of using the "hand held over the grills for a certain number of seconds" method.
The first thing we made on the grill was charred poblanos for enchilada sauce. Tasty! This weekend, I made a small slab of ribs, just to give it a whirl.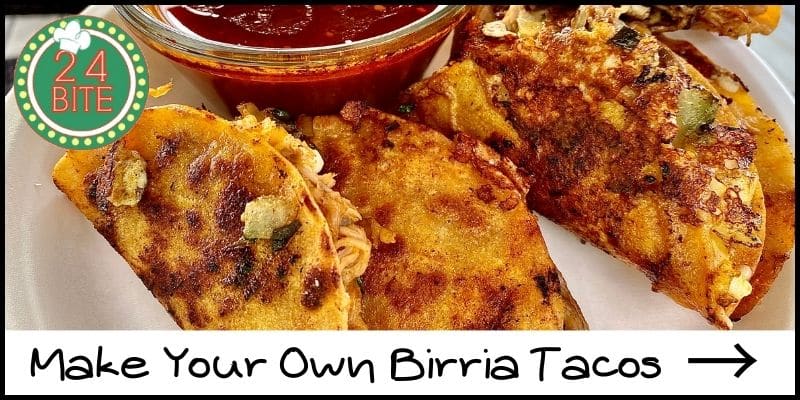 Getting Started
Making the sauce was first on the agenda. I started off by making our red tamale sauce as a base, except I reduced all the seasonings to one teaspoon instead of one tablespoon.
You will remember that, when you're making tamales, you add more seasoning because you're making four dozen tamales. If you don't have enough seasoning, your tamales will be bland since it's spread out further.
When I'm using the sauce for other things like enchiladas, tacos or burritos, I use less seasoning.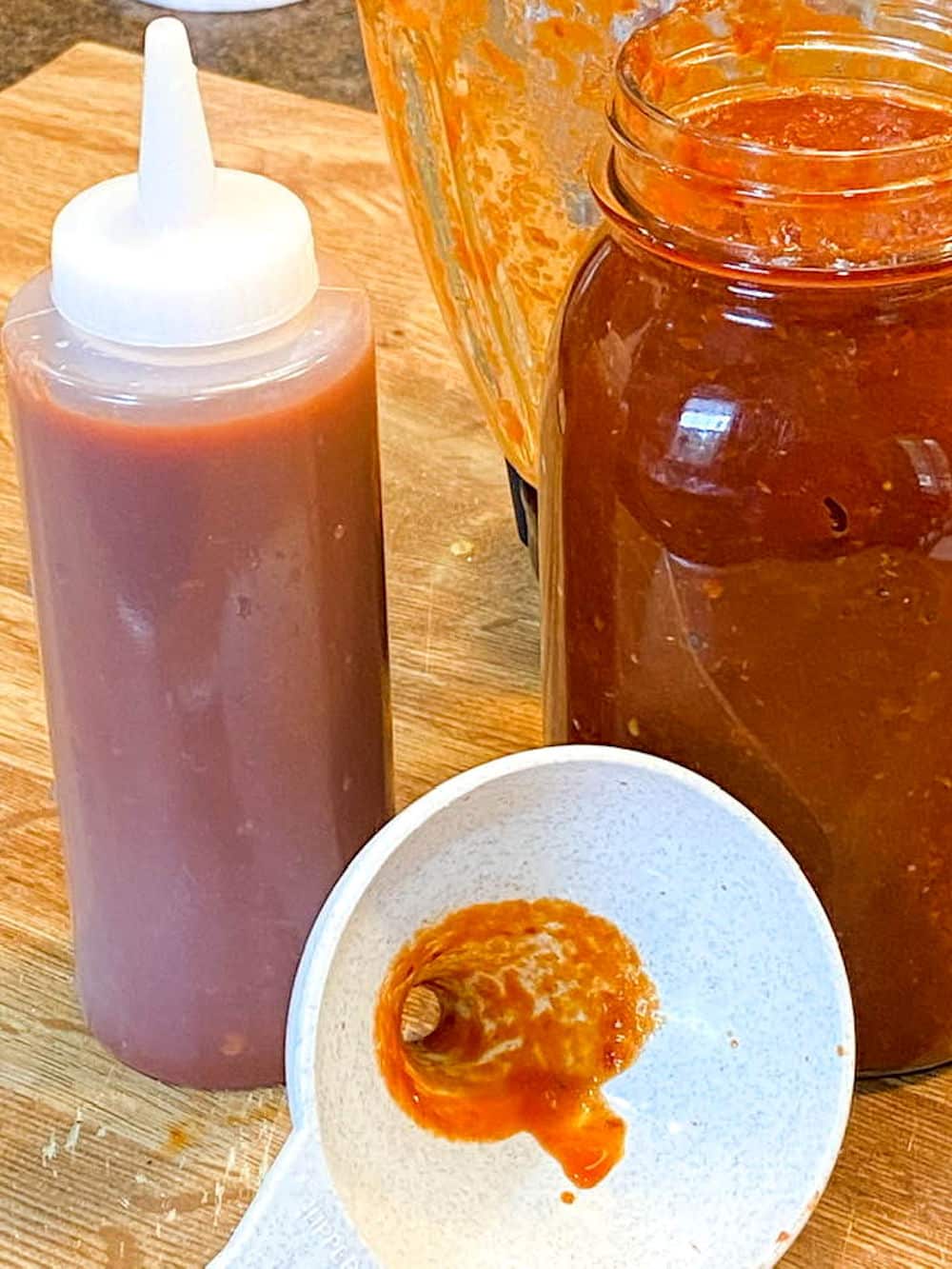 I ended up with a little over a quart of sauce so I also filled up a squeeze bottle with some squeezable taco sauce. It's great to have a good base sauce recipe since you can "doctor it up" to make so many different things.
Barbecue Sauce Ingredients
Making the spicy barbecue sauce was easy once I had the tamale sauce base. Be sure to taste it to check whether you need to add more seasonings. Don't add too much at a time because you can add it but you can't take it away!
Half quart red tamale sauce (see recipe card below)
¼ cup packed brown sugar
1 tablespoon apple cider vinegar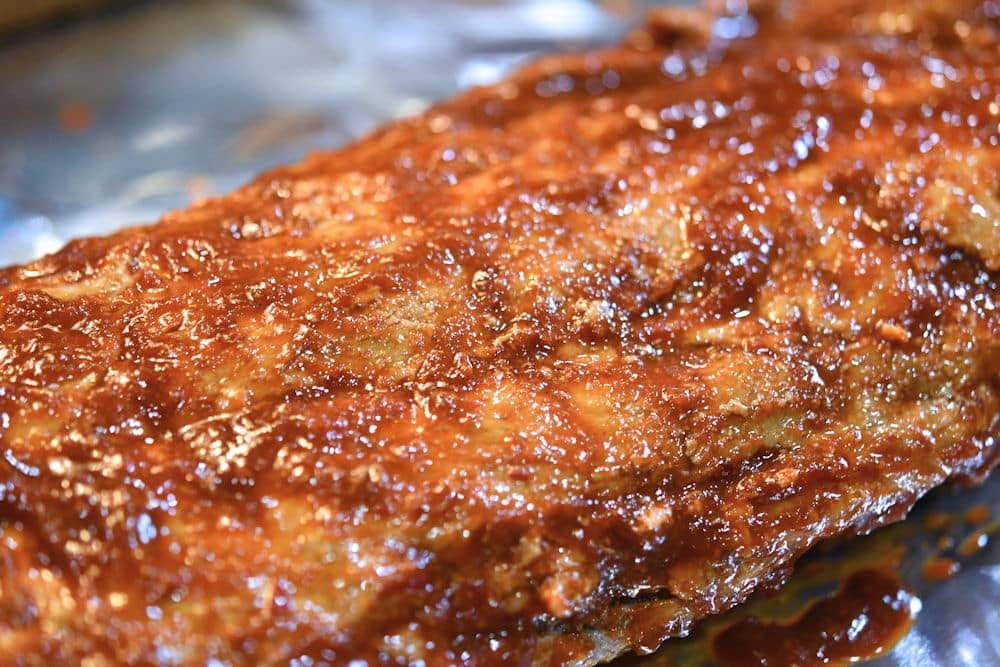 Grilling the Ribs
To start, I boiled the ribs on the stove in lightly salted water for two hours. Ribs take awhile to get tender so I started inside the house.
Once boiled, slather them with barbecue sauce on both sides and put in heavy duty aluminum foil. Cook on the grill for 30 minutes. Open up and slather with more barbecue sauce. Close up the foil and another 30 minutes on the grill.
Open up the foil and place the ribs directly on the grill. Discard the foil. Slather with more barbecue sauce and cook for about 30 minutes, or until done.
Delicious! I will be making this again!
Note: I've decided not to make an official recipe card for the grilling part of this recipe since it requires knowledge that I don't have yet. There is so much I need to learn about grilling before I feel like I can make a proper recipe. Will keep you posted! In the meantime, grab the barbecue sauce recipe below!
Recipe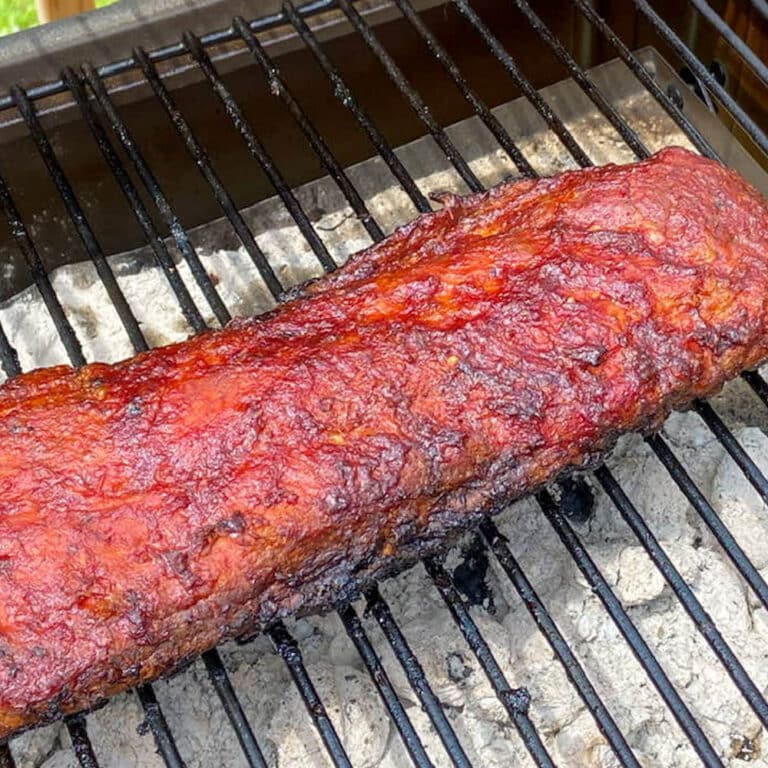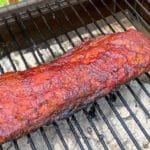 Pin Recipe Now
Homemade Spicy Barbecue Sauce for Grilled Ribs
Tap to leave a star rating
Save or Print
Homemade barbecue sauce made from a sweetened tomato and dried red chile base for some warm spicy heat.

For more information, be sure to check the recipe details in the attached 24Bite® post.
Equipment
Blender (standing or immersion)
Ingredients
4

Red Anaheim Peppers

,

dried

2

Arbol Peppers

,

drived

1

Tomato

,

medium, quartered

½

Onion

,

medium, quartered

2

Garlic Cloves

1

teaspoon

Ground Cumin

1

teaspoon

Salt

1

teaspoon

Garlic Powder

¼

cup

Brown Sugar

,

packed

1

tablespoon

Apple Cider Vinegar
Instructions
Carefully split the peppers and remove seeds and membranes. The arbol peppers are SPICY! I only used two of them. You may be able to simply tap them in order to get the seeds out.

Using a firm bristle brush, wash peppers.

Place peppers, tomato, onion and garlic cloves in pan with enough water to cover. Heat on medium to boil, then reduce to low and simmer for 30 minutes.

With slotted spoon, remove vegetables from pan and place in blender. Use just enough water so the blender will move freely. Many people say that the water from the pan is bitter. I haven't noticed this, but you can use fresh water, if you prefer. Blend on low then high until solids are removed.

Add remaining ingredients to blender and pulse to combine well. Add enough water to make a half quart or to desired consistency. Stir well.
Note: If there is a video, it will not display while there is an adblocker.
Notes
This recipe is for the barbecue sauce only. Please see notes above for grilling the ribs. I don't feel comfortable writing recipes for grilling yet. Soon, though!
The recipe makes ½ quart which was the perfect amount for brushing on the ribs three times, as shown in notes above.
Nutrition Facts
Homemade Spicy Barbecue Sauce for Grilled Ribs
Amount Per Serving
Calories 9
Calories from Fat 9
% Daily Value*
Fat 1g2%
Sodium 74mg3%
Carbohydrates 2g1%
Protein 1g2%
* Percent Daily Values are based on a 2000 calorie diet.
______________________
Percent Daily Values are based on a 2000 calorie diet. All amounts are estimates and 24Bite® takes no responsibility for actual figures since calculations vary by packaging and supplier. Please calculate the amounts yourself based on package labeling if you have specific dietary requirements. 24Bite®, Kim Guzman or Christian Guzman shall not be liable for adverse reactions or any other outcome resulting from the use of recipes or recommendations on this website or actions you take as a result.
© 2019-2023 Kim Guzman and Christian Guzman. All rights reserved. Subscribe to 24Bite email newsletters.
Follow 24Bite: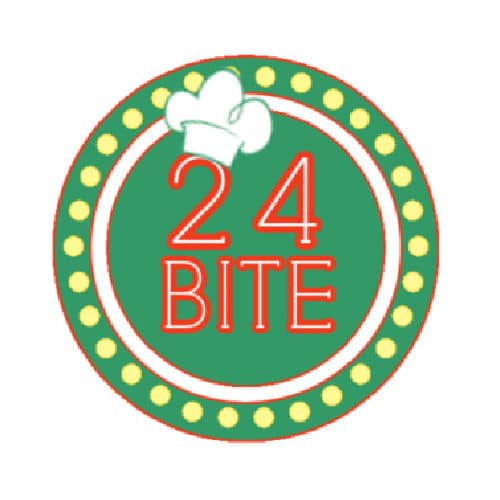 Twitter | Facebook | Pinterest