Spinach and mushrooms are a great combination! Add diced chicken breast and pasta for a complete pasta dinner recipe in one dish.
For added protein, chicken breast is a staple here and chicken breast recipes are popular at the Guzman house.
I know it may sound strange but Christian absolutely loves spinach and mushrooms! He's loved spinach since he was little which is fairly amazing since he's always been such a picky eater.
Christian prefers a one-dish meal. It's just so easy to grab a bowl and a spoon when you're a busy teenager!
I had purchased this spinach to make some pesto but I forgot to get basil. Next time!
You will only be using a small amount of the chicken broth. If you can't find another use for it right away, you will want to consider freezing it for later. I like to freeze it in ice cube trays and, once frozen, put in a freezer bag for storage.
Add a cube or three to water for making Spanish rice or pop in a cube when making green beans for extra flavor.
Christian minced four large cloves of garlic. This is a really handy tool for mincing garlic. It's easy to use and does a great job. I suggest rinsing it out immediately after use so it's not difficult to clean.
We used olive oil to cook the onions and garlic. Use a different oil, if you like. Ghee would give it a nice flavor too.
I always use baby portobello mushrooms but feel free to substitute your favorite.
The chicken should be about bite-sized. I always prep and freeze one pound portions of diced chicken for future chicken breast recipes.
Don't worry about the spinach leaves looking like they're going to fall out or take over the entire pan. In just a few minutes, they're going to reduce in size.
Milk is added as a final step since you don't want to overcook it. It could scorch or burn. It's better to add it at the end and bring it to heat and then finish up.
Now, it's time to mix it all together! If you have used a big enough skillet, you can mix it all in the same skillet. My skillet wasn't quite big enough for the pasta to be mixed, so we used a mixing bowl.
Chicken Spinach and Mushroom Pasta
Print Recipe
Spinach and mushrooms are a great combination! Add chicken and pasta for a complete meal in one dish.
Ingredients
8

Ounces

Rotini pasta

2

Tablespoons

olive oil

4

Large garlic cloves minced

1

Medium onion chopped

1

Cup

mushrooms chopped

1/2

Teaspoon

ground pepper

1/2

Teaspoon

salt

1

Pound

chicken breast meat

1/4

Cup

chicken broth or stock

3

Ounces

baby spinach

1/4

Cup

milk whole

1-1/2

Cup

Parmesan cheese shredded
Instructions
Begin boiling water to prepare pasta according to package instructions.

Pour oil in skillet and swirl to coat.

Add onions and garlic to pan and heat on medium high until slightly tender. Add mushrooms, salt and pepper. Cook about 3-4 minutes. While cooking, cut chicken breast meat into 1″ pieces.

Add chicken and continue cooking until chicken is only slightly pink (about 5-6 minutes more).

Don't forget to check the water for the pasta!

Add chicken stock and lower heat. Simmer for about 10 minutes.

Add baby spinach and cover. Continue to simmer (covered) about 5 minutes.

Stir in milk and bring to boil. Remove from heat.

Pour chicken mixture into large bowl. Drain pasta and add to bowl. Reserving 1/2 cup Parmesan cheese, add only 1 cup of Parmesan cheese to bowl and toss together.

Use remaining Parmesan cheese to garnish each plated serving.
Nutrition
______________________
Percent Daily Values are based on a 2000 calorie diet. All amounts are estimates and 24Bite™ takes no responsibility for actual figures since calculations vary by packaging and supplier. Please calculate the amounts yourself based on package labeling if you have specific dietary requirements. 24Bite™, Kim Guzman or Christian Guzman shall not be liable for adverse reactions or any other outcome resulting from the use of recipes or recommendations on this website or actions you take as a result.
© 2019-2020 Kim Guzman. All rights reserved.
Follow 24Bite: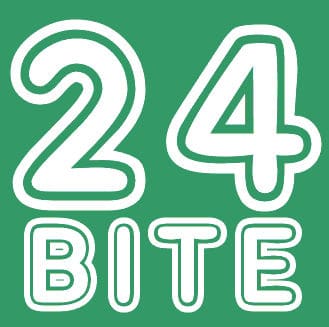 Twitter | Facebook | Instagram | Pinterest
Pin It: